Oneupweb : Has Organic Search Improved?
Google was incorporated in 1998 by a couple of extremely intelligent Stanford PhD candidates and currently employs around 32,000 of the brightest minds on the web; roughly 2,240 of which are PhDs themselves. Needless to say – they're smart.
Since the beginning, their motives have evolved. In the early days, it was all about who had the largest index. In June of 2000, they became the first billion-URL search engine, making them the world's largest search engine. Today, we just don't care about that. We care about getting the most relevant results for our query, quickly and easily.
Those of us in the search engine optimization industry are quite familiar with the frequent, major updates Google makes in an effort to improve the search experience and produce the most relevant results. Caffeine, Instant, Panda, Freshness – all relatively recent and all geared toward that same motive. They predict what we want, localize results based on where we are and take our web history and social networking activity into account. Oh, and all of this can completely change your results based on whether or not you are logged in.
At the end of the day, has this really improved organic results?
Sure, certain features are great. By integrating the answers to common, quick searches right into the results and through the use of rich snippets, I can quickly find out how many centimeters are in a mile (but don't ask Google to define an English person), see live results and schedules for my favorite sports teams, movie times, prices, reviews and so on. Heck, I can even use it as a scientific calculator (the batteries on mine have been dead since my sophomore year of college). But enough of the bells and whistles, what if I want to do a good ol' fashioned web search with meaningful organic results?
Well first, good luck seeing past the plethora of ads above the fold.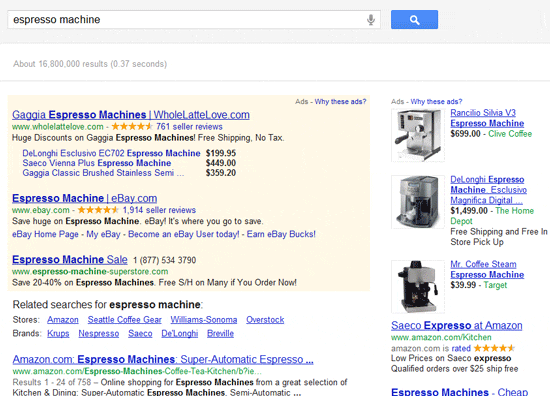 Screenshot from Rand Fishkin at SEOmoz
Okay, pretty easy to see their motives on that one. Google is increasing ad space, including ads at the bottom of SERPs and finding new ways to attract users' eyes and draw clicks. Honestly, I don't see reason to complain too much about this. My response in this situation is similar to that of people's gripes about Facebook beginning to serve ads within the News Feed – Hey, it's a free service, they can make money however they want.
But by pulling videos, images, shopping results and much more into the search results, they continue to push organic web results further down the page, well below the fold.
That aside, what if I'm planning a vacation, and want to book a vacation rental?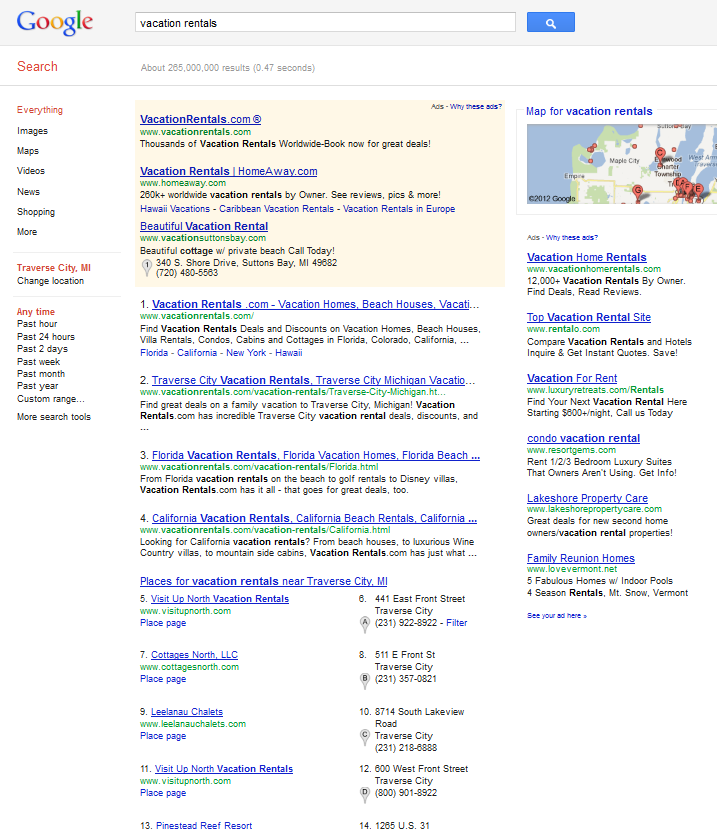 Click to View Full Size Image
Man, Google really wants me to visit Traverse City, Michigan. We have an ad, a map, the 2nd organic result and seven Google Places results that are all specific to Traverse City.
But wait a second; isn't my location set to Traverse City, MI?
Why yes, yes it is keen observer. So why on earth would I want to vacation in the spot I'm researching vacation information from? Unless I'm absolutely terrible at planning vacations (which isn't far off), I wouldn't. From there, for whatever reason, Google seems to think I would like to go to either Florida or California. Hey, Disney World or Disneyland it is. After all, they're the smart ones.
These are, of course, just a couple examples. However, working with search for a living, I average dozens of queries a day and I can't help but notice that despite all of the shiny new features and massive updates, I often can't find a relevant organic result to save my life. It seems to me that Google is making the same mistakes within search results that they've made in the past with the entire company – trying to do way too much without a clear, focused direction. Ever since Larry Page took over as CEO in April 2011, they've been shutting down products, adjusting their business model and streamlining their mission. Hopefully, their search results will follow suit.