Oneupweb : Future Science and Technology Leaders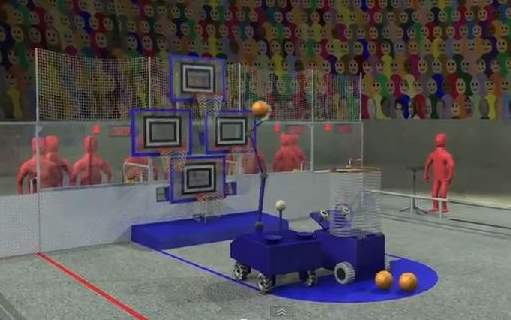 Last Saturday was the kickoff of the FIRST® Robotics Competition season for 2012.
Did you know that thousands of high school students around the United States and the world are prepared to spend the next six weeks designing and building game-playing robots to compete for honor and glory? Not to mention practicing real-world science and engineering skills, including cooperation, leadership and competition.
At today's FRC Kickoff, FIRST teams were shown the new "Rebound Rumble" game playing field and received a Kit of Parts made up of motors, batteries, a control system, a PC and a mix of automation components – but no instructions. Working with adult Mentors, students have six weeks to design, build, program, and test their robots to meet the season's engineering challenge.
My son's team, 1711 Raptors, hosted the event in Traverse City for 13 nearby teams, with support and facilities provided by NMC's Aero Park Laboratories. Included were presentations, workshops and a live webcast from NASA. Finally, this year's challenge was unveiled and a kit of parts was presented to each team, donated by leading national technology companies.
Most impressive to me was a student-led workshop I attended on Design and Prototyping. A high school senior, a four-year participant from the Raptors team, gave a short presentation and fielded questions from a roomful of other students and adult mentors. The knowledge and enthusiasm demonstrated by these students was astonishing.
Another notable aspect of this program is that it includes roles for managing, promoting, fund-raising and aesthetic design. Of course, many participants are focused on the science and engineering, but many more practice the support roles necessary to bring the technology to market.
We adults have much to do looking forward to ensure that the society we leave to our children is the best possible. I recommend efforts, like FIRST®, to prepare our young people today to successfully meet even the unforeseen challenges that will inevitably come.
Please take a look at this video for a quick overview of the Rebound Rumble competition:  Rebound Rumble – FIRST Robotics Competition