Oneupweb : Easing the Pain of Password Fatigue
With the growth of social media sites and the ever increasing popularity of online shopping, there is a good chance you are like most Internet users and have a steadily growing list of user IDs and passwords.  Trying to remember and maintain all these passwords can lead to an affliction known as password fatigue.  Most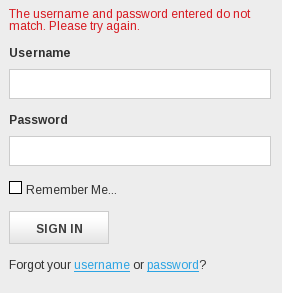 people log on to between five and 15 different systems.  With each system or website requiring different standards for the username and password.  Eventually this becomes too frustrating and users start to look for short cuts.  Using the same user name and password on multiple systems, writing passwords down on a sticky note or creating weak, but easy to remember passwords are short cuts that decrease security and increase the chance a hacker will gain access to your accounts. Fortunately there are several cures for password fatigue that don't include smashing your computer with it's keyboard.
Password Managers
A password manager is a service or piece of software that securely stores all your passwords for you.  Using a password management system will give you access to all your accounts with just one username and password.  There are many great options available.  Some are even free.  One of the better ones is LastPass.  This software works on Mac, Windows and Linux and is very easy to use.  During installation you set up a master password and this is the last password you'll need to remember.  Hence, the clever name LastPass.  As with most password managers, the software keeps an encrypted password file on your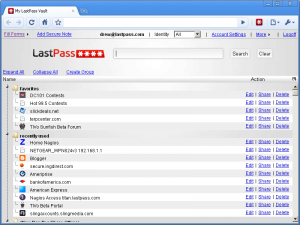 computer, which is then synchronized with the LastPass service.  You can also access your passwords from your "vault" by logging in to the LastPass website using your same master password.  This allows you to use it on different devices.  It is installed as a plug in for your web browser and can also be configured to automatically fill in forms.  LastPass is free and there is a $12 per year premium version that includes additional functions including compatibility with mobile devices.
Single Sign On
Single sign on (SSO) is when a user can log in once and gain access to multiple systems.  SSO is very common within the networks of large organizations, but is also gaining popularity with websites.  Technology like OpenID and Central Authentication Service make this possible.  Many large websites like Google and Yahoo use OpenID.  This is how you can log in to your Gmail account and then make a comment on your friend's blog at Blogspot.com without re-entering your password.  SSO can cut down on the number of passwords you need to enter, but until a standard protocol and method is adopted by everyone it won't completely cure your password fatigue.
A Well Designed Site
There are a lot of examples of poorly designed websites that make authentication very difficult.  Simply not using them, if possible, will ease frustration.  I gave up on the website of a certain cable TV company years ago.  If an online vendor makes its users jump through hoops to log in or reset their password, then find another with a better user experience.
For more in depth information on the subject of authentication, passwords and usability on the web, check out this research.