Oneupweb Reviews : Coca-Cola on Tumblr
Fresh off a pretty radical social marketing experiment in Portugal, Coca-Cola has opened another can of serious social on Tumblr with its "Happiness is…" blog. Aimed at the network's active young blogger demographic, the "Happiness is…" campaign draws on the traditional marketing strengths of both Coca-Cola and Tumblr, respectively: sugary, feel-good sentiment and photography. As reported by Jason Keath for Social Fresh, Coca-Cola launched its Tumblr blog just after Christmas and is one of the first consumer packaged goods (CPG) companies to the use the platform. From what we've seen so far, I'd say they've nailed it. Touchdown, Coke.
What makes the "Happiness is…" campaign tick? Well, being one of the world's most recognizable – and admired – brands certainly doesn't hurt. But it's the design of the Tumblr blog itself that truly distinguishes Coca-Cola's campaign. We'll keep it simple and focus on three important lessons:
1) Less Can Be More
Much like the theme of the campaign itself, "Happiness is…", the Coca-Cola Tumblr page focuses on essence – and is careful not to overpower the user with graphic wizardry and surface static. In doing so, the Coca-Cola team is positioning itself to appeal to the platform's core demographic – young, artistically inclined bloggers looking for authentic experience, not commercial polish.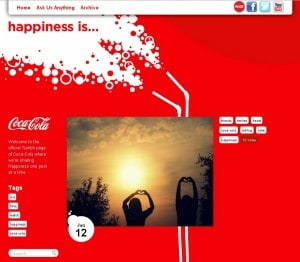 2) Push the Idea, Sell the Product

Social media is all about relationships – and a platform like Tumblr is perfect for forging emotional connection between a brand and its audience. By focusing the conversation on what happiness means, Coca-Cola's "Happiness is…" campaign not only connects the brand with potential customers; it connects the product with a desirable feeling.
3) Hand Over the Wheel
When I can hangout with the Muppets, why would I bother sticking around a brand page that treats me like a museum visitor? Today's social consumer needs to feel involved. While paying close attention to message and design consistency, Coca-Cola has given visitors to its "Happiness is…" Tumblr blog plenty of creative license, posting user-generated content and encouraging interaction with the content.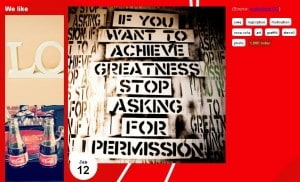 So what do you think? Can this latest social media campaign by the world's 6th most valuable brand maintain its fizz?