Oneupweb : Facebook Business Page Upgrade
In case you haven't heard the news, Facebook has introduced an upgrade to Business Pages. My colleague, Adam, did a fantastic review on this upgrade on Friday. As he mentions, every page will be forced to accept the new design in March.
Oneupweb's CEO, Lisa Wehr, is one who anticipates change. Not long ago she lived in Alaska giving guidance to her sleigh dogs ready for change in a place with relentless weather.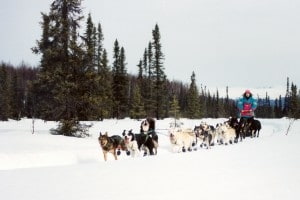 Now she is in Traverse City giving that same guidance to her Oneupweb team in a digital world. Change should always be anticipated. It's what makes you one up!
So whether you like it or not—the design of your page is changing. Here are a few quick tips on how to make sure it looks great, now and in the future.
#1: Don't Freak Out
No one likes change. Well, no one but  Mark Zuckerberg, it seems. However, change isn't always  a bad thing. Sure, your Facebook page isn't going to look like what you're used to. But they really haven't taken away too much functionality. I know when this upgrade accidentally launched a few weeks ago, my big fear was that Facebook was taking away landing tabs. However, that's just not the case. While third party tabs are now a menu of links on the left hand side of the page (under your profile picture), you can still create custom tabs and set them as your landing page. And even better than that, now you can target specific ads to specific tabs.
#2: Tag Important Pictures
As you can see in the image below, your new page will feature a row of pictures that you, as an admin on your page, have uploaded: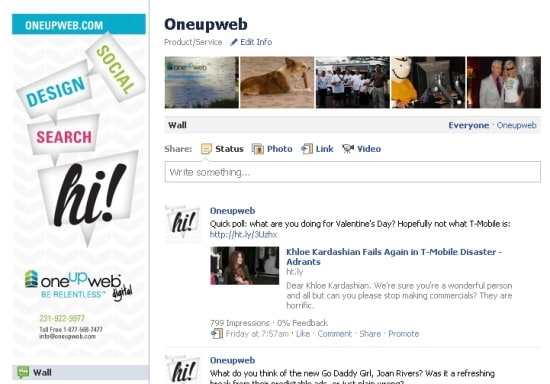 If you have specific pictures you want featured there, log-in as your page (another cool feature) and tag your company in those pictures. A word to the wise: the order of your pictures will change upon refresh.
#3: Aim for Interaction
Facebook is no longer featuring your Wall Posts in reverse chronological order. Visitors to your page can choose to sort Wall Posts by "Everyone" or "Company". According to Inside Facebook, "the Everyone tab shows users posts Facebook thinks will be the most relevant. Recent posts by friends, posts by other users in same language or country, and posts that have received a lot of Likes and comments will bubble to the top." So the moral of the story is, if you want people to see a specific post when they come to your page, try to make it as engaging as possible.
Good luck with setting up your new Facebook page design. And if you need any help, you know right where to find us.