Holiday Shopping Season is Right Around the Corner
Are you ready?
Is anyone else surprised it's Fall and the holiday shopping season is vastly approaching? I don't know about you, but I'm not ready for it. It has been an exceptional summer and I'm not ready to let that go.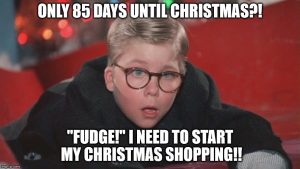 This time of year can get busy for the commerce industry. Commerce marketers, like ourselves, have spent the past couple of weeks talking a lot of about the upcoming holiday season – analyzing performance from previous years, ensuring promo calendars are set, getting concepts around for design, etc., It's been busy!
According to a recent study done by emarketer.com, e-commerce is expected to hit $4 trillion by 2020.
If you haven't started to prepare for this year's shopping season, you're not alone, but you should start thinking about it NOW!
Here are a few tips to help you get moving:
Set Promotional and Product calendars

You should have a good idea of new products that are going to launch this season and when. Make sure your campaigns are built, don't forget to pause or remove ad groups if they've migrated to a holiday specific campaign. Set up automated rules for your promotional copy to activate according to the calendar you've established.

Analyze previous years performance

Review and analyze performance the last year's campaigns. This will help you identify top performing days and time of day so you can make the necessary adjustments this year to get those incremental gains.
Provide your client projections based off of that data. This ensures that everyone is on the same page so there won't be any surprises come January. We've found that bi-weekly or weekly check-ins tend to be very productive during this time of year.

Shopping Campaign Preparation

Make sure you have your full product catalog available online.
Create your promo feed using the sale_price and sale_price_effective_date attributes. This will save you a ton of time once you're busy analyzing campaign performance.
Set-up rules to ensure you have enough budgets to cover high volume days.
If you aren't using local inventory ads or in-store visits, I'd highly recommend it. Talk with your Google rep to see if you're eligible for either of these extensions.

Mobile

By now you should have some solid data around mobile performance for your brand or client; make sure you've spent the time to optimize mobile creative to drive conversions.
If calls are the most important metric for you, make sure your call only ad information is up-to-date. You can also add call extensions to existing campaigns if you aren't already doing so.

Ad Copy testing

Pause lower performing ad copy variations – this is the perfect time to promote your product offerings using the highest performing ads. Why would you serve sub-par ad copy during the most important time of the year to make money? This is something that a lot of advertisers aren't taking advantage of, but should result in incremental conversion volume.
Hopefully you've read something that triggered some good conversation that enables you and your team to a lucrative shopping season. If you have any thoughts or are struggling with your strategy, we are here to help!