Oneupweb : Where Spirituality Meets Technology
Despite working as a freelance writer for several years and now as an SEO Client Specialist at Oneupweb, I have never been especially techie. My Apple laptop is old, dulled to a grayish white and missing a key or two. My phone does not have a keypad, internet access or a functioning camera. I have a long-held view that gadgets are distracting most of us from real life—you know, that tangible stuff outside the window: water, trees, etc—and that texting and e-mailing and tweeting disconnect us from the physical world, which I happen to be rather fond of. That being said, I have—within the last year or so—discovered a wonderful thing: the merging of the deeper elements in life with the tech gadgets of modern day.
For me, this connection came in the form of podcasts—podcasts that are free, downloadable to my outdated iPod and filled with amazing insights about yoga, meditation, silence, peace and awakening. The more I listened to these transformative messages (Sounds True: Insights at the Edge is my favorite), the more I began to see value in iPods, iPhones, Androids and, of course, the internet. I can download free binaural beats from one website while I practice a hatha yoga flow on YouTube.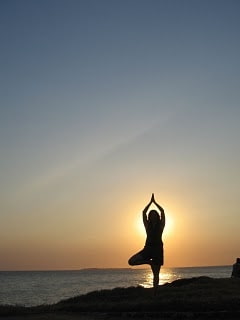 Apps that I once believed were another in a series of modern life nuisances designed to distract and reduce us, are suddenly enhancing our access to spiritual wisdom and practices that we might never engage in otherwise. For instance, Authentic Yoga with Deepak Chopra is an iPhone app that offers individual postures and instructional lessons on all things yoga. Sure you're tuning in—but to yourself for a change—to your breath—to the silence between your thoughts. Yoga comes from the Sanskrit word "yuj"—which means to unite—and at yoga's core the goal is to unite body, mind and spirit. Technology may be like yoga in that way, it can unite us, not only within ourselves, but to each other and to the truly meaningful things in life.