5 Lessons the World Cup Teaches Us About SEO & Digital Marketing
For the World Cup-crazed fans out there, here's a lesson you can really grab hold of. But only if you're a goalie, otherwise it's a handball. So try trapping it with your chest, or header it to one of your strikers. OK, that's enough…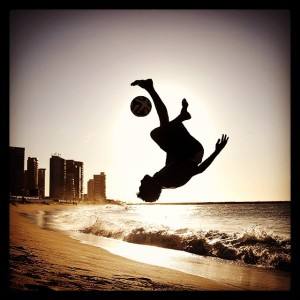 Don't Obsess Over Rankings
Just like sports fans obsess over World Cup power rankings, business execs tend to fixate on search rankings. Take Brazil, for example. The host team is once again the top ranked team heading into the World Cup, as they were in 2010 and 2006. So how did that work out? It didn't. Both years, they were eliminated in the quarter finals. As is true with search engine results, the top spot isn't always the best. Time and again, clients who secure the top spot on the SERP often see much better click-through rates with third- or fourth-ranking search terms.
2010 World Cup Power Rankings:
Brazil
Spain
England
Netherlands
Germany
Results: Number 2 ranked Spain beat 4th-ranked Netherlands in the finals, followed by 5th-ranked Germany and 10th-ranked Uruguay.
2006 World Cup Power Rankings:
1. Brazil
2. Czech Republic
3. Netherlands
4. Mexico
5. United States
5. Spain
Results: Number 13 ranked Italy stole the tournament with a win over 8th-ranked France, followed by 19th-ranked Germany and 7th-ranked Portugal.
Rather than fixating on the top spot, businesses should recognize the value in positioning for their targeted search phrases. Landing somewhere in the Top 10 is ideal, although that didn't stop the Italians in 2006!
It's Not a Stud Contest

Off the field, Germany and Italy have been competing for the Hunkiest Team Award. Spain, too. These teams have been receiving lots of attention for their dreamy looks and shirtless celebrations. While all three teams happen to be contenders, looks alone won't win the cup.
This is true with your website, too. Fancy flash animations, JavaScript, parallax scrolling and a minimalist design may look great to the user, but not to search engines. Search engines can't see your studly lineup. They only see ball movement. Rather than looks, fundamentals are at the heart of every championship team. Ball handling skills, teamwork and endurance translates to optimized title tags, keyword targeting and quality content.
World Cup Fever
People who aren't normally interested in soccer are suddenly enthralled with every match. World Cup fever has swept the planet, and the only cure is more World Cup. This goes to show that fans, or customers, are in more places than you may think. This is why brands should monitor trends to identify new marketing opportunities. Think of the World Cup as a new marketing channel. Anything about the World Cup is super hot right now—which had nothing to do with choosing this topic ;). So if your target audience is obsessed, then you probably want to be there. If your audience is flocking to a platform like Yelp, then it's a good idea to launch a campaign before the fever breaks.
Fans From Everywhere
Reaching more and more potential customers is the whole point of building a web presence in the first place. With a basic website, mom and pop's pizza parlor now ships half-baked pies across the country. The World Cup, featuring 32 teams from 6 continents, is a reminder that it doesn't have to stop there. You just have to put in a little extra work. For example: In the US, it's soccer. To the rest of the world, it's football. Connecting with that global audience requires finesse and some work on your website.
Building a Solid Stadium
In the months leading up to the World Cup, we were bombarded with reports of stadium delays and disasters. And while the fields may look OK on television, fans attending the games have reported leaky roofs, flooded grounds and incomplete construction. Brazil has been heavily scrutinized for its mismanagement of the World Cup and its decision to construct a $300 million arena that won't serve much of a purpose after the World Cup ends.
This goes to prove that effective management and a solid foundation are vital to success. Yes, building and optimizing a website requires a sizable investment. Getting the most of that investment comes down to choosing an agency that knows how to manage time and resources. We can help you build a rock-solid website that directly supports your business goals. Or perhaps you just need help repairing some shoddy construction. We may not build World Cup arenas, but we can help your business score some serious goals. Let's talk more about your business. Or soccer. Or football.