5 Things Sailing Taught Me about Managing Client Accounts
You know those reality TV shows where they drop you off in the middle of nowhere and then make you find your way home? That's a lot like how I first learned to sail (and how I began my agency career…but that's a topic for another day).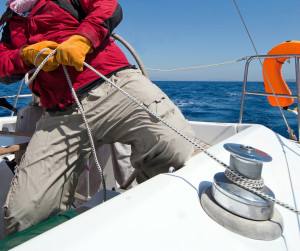 As a kid, on a regular trip to the local marina with my uncle and cousin, I was pleasantly surprised to see my uncle had bought us a new (new to us) 12-foot Butterfly sailboat. But there was a catch—my cousin and I would have to sail it nearly a mile back to the cottage. Luckily, we were both quick studies and made it back safely and fairly dry.
When I think back, I remember the unique vantage point from the boat: even though it was a mile away, I could see the cottage, perched like a target in the distance, making it easier to choose the appropriate tactics to navigate there—in this case, a whole lot of tacking back and forth.
As director of client services, I am afforded the unique position of having a similar point of view with our clients and their accounts. While a good deal of my time is spent defining client strategy, the processes by which we work and  leading the account management team, I often get to engage with clients from a distance that is just far enough away to see the end goal and how we need to get there.     
Throughout my careers both on and off the water, I've noticed a few similarities:
1. The start is nearly everything.
In racing sailboats, a well-calculated start can win you the race, even if it only gets you out in front of the competition by a mere second or two. Each member of your crew does their part to gain this tiny edge that will easily make up for any minor hiccups along the course.
Excellent preparation is one of the earliest indicators of the quality of work an agency is capable of, so take note. Feel free to pass judgment on the way they kick-off your project. Is there a clear agenda? Are they asking great questions and showing they're invested in this project as much as you? Even though it's typically days that matter rather than seconds, make sure you're seeing them count.
2. Adjust. Refine. Repeat.
While it would definitely allow everyone to get a better suntan, there is no such thing as autopilot in managing a project. Sheer momentum and tactics alone can only get you so far before you completely miss your mark. To say trim your sails is far too easy—it's more complex than that. Fine tuning is not only what can get you to the finish line faster and more efficiently, but it's what maximizes every single hard-earned marketing dollar you've entrusted your agency with.
Strategy shouldn't stop once you sign the dotted line. Does your business stop evolving? Do your competitors? Does the landscape? I didn't think so. Client teams need to continually be on the lookout to make adjustments based on analysis of data points, client feedback and the "weather" surrounding your project. This is then when you can "sheet in," "hike out," and explore the bigger ideas to really grow your business.
3. Some rules are essential.
Sailboats on a starboard tack (sails flying on the left or port side of the boat) have right of way when being approached by a sailboat on a port tack (sails flying on the right). Without this rule, in racing specifically, there's no doubt in my mind we'd have more shipwreck tours in the area. The point I'm getting at is that it's essential to have some hard-and-fast rules and guidelines in stone for others to manage by. It's not an effort to constrain or micromanage, but rather to allow your team a wide enough berth to formulate a plan around what is solid.
For example, recently one of our account managers asked me where we draw the line on budgetary freedoms for a particular client. Without this knowledge, his day would have been a continuum of waffling, likely irritating the client. It's always going to be best for the client to have these guideposts so we can quickly help them navigate to the next solution.
4. One hand for the ship and one for yourself.
The simplest interpretation of this sailing idiom is, "Hold on to the boat, stupid, we don't have time to go back and pluck you out of the water." In the Client Services world this saying best relates to the simple truth that everyone is in business to make money (surprise, agencies too), so it's important to see both sides, but  take care of yourself, too. There are many times we tell our clients "no" when they suggest buying a service we offer that isn't a good fit.
It's something I liken to the feeling you get when you walk out of the hardware store after the clerk just said, "No, actually, you don't need that $500 part." You feel an immediate connection and respect, which is often then paid back in dividends. When the time comes that a client is requesting something you know would overextend your own team's resources or the client's budget, having that respect, that credibility, makes those negotiations a whole lot easier.
5. Get your team drinking the Kool-Aid, not bilge water.
Okay, so saying "poisoning the well" didn't fit the theme, but my point is very similar: repeating negative comments about your clients, no matter how subtle, can crush your team's creativity, motivation and enthusiasm for projects. Before you know it, the wind is taken right out of the projects proverbial sails and you'll never get a chance to see what could have been great.
What's worse is, oftentimes, it all began with one person—a person who, chances are, won't be around for long if they're causing you so much grief. People come and go in any business, but you want to retain just that—the business. So stay tight-lipped and professional amongst your team. It can be hard, and even harder if you want to just swear like a…sailor.