8 Sizzling Hot Web Design Trends for 2014
Constantly in flux, the web advances, improves, progresses infinitum—mostly for the better. And so does its look, feel and interface.
After consulting our design team we were able to identify the major web design trends currently influencing the look, feel and functionality of the web.
This is not an exhaustive list, but a starting point for those interested in understanding web design today and the metamorphosis it's undergoing.
1. One-Page Websites
Trend Status: Popular and gaining ground
Less is more.
Many websites have slimmed down. They've reduced navigation, cut copy, and slinked into simpler calls to action. On one-page websites, information is told in story-form instead of being compartmentalized across separate pages. Users scroll down a page to learn about a product or service. One-page websites are great for small businesses, microsites and landing pages but watch out for long load times and confusing user experiences.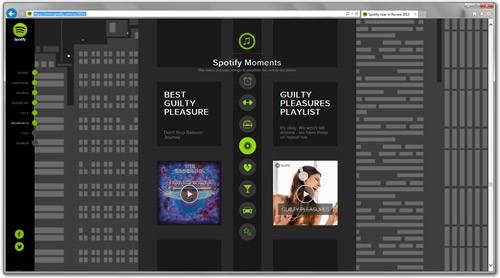 Spotify 2013 Review
The 2013 review microsite for Spotify is a playful one-page website.
More: The Museum of Mario | The New York Times Redesign | Pinterest Place Pins
 2. Big Beautiful Type
Trend Status:  Quickly becoming "best practice"
Larger desktop sizes and high-resolution (retina) screens are igniting a change in the size of type on the web. Many web designers will tell you, 16pt is the new 12pt. These larger type sizes create better legibility and line lengths for readers on larger displays.  Plus, headlines and excerpts are bigger—and more attention-grabbing—than ever.

The wide adoption of a technology called web fonts that allows fonts to be linked or embedded in the website rather than stored on a user's device has led to an explosion of new fonts on the web. So, go ahead, let loose and embrace the bodacious fonts now available through services like Typekit, Google Fonts, and others.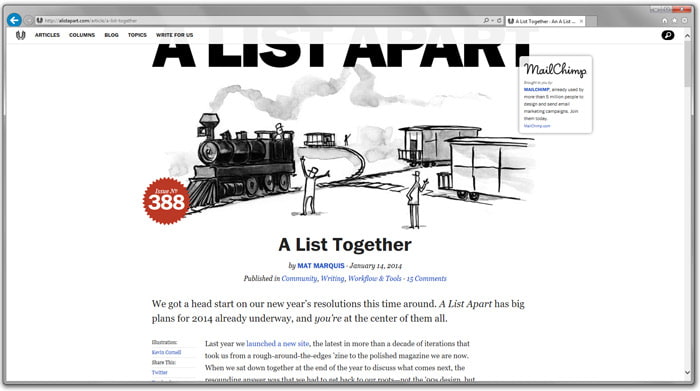 A List Apart
A List Apart, a popular web design and development website, uses large, 18 pixel type in their articles.
More:  Life & Thyme | Vogue
3. Video Killed the Background Pictures
Trend Status: Novel
Is the background of that website moving? Why, yes it is. Faster Internet speeds, more powerful computers and an increased demand for eye candy have brought animated backgrounds to life. But watch out for vertigo-inducing graphics that can send your users running instead of converting to your brand.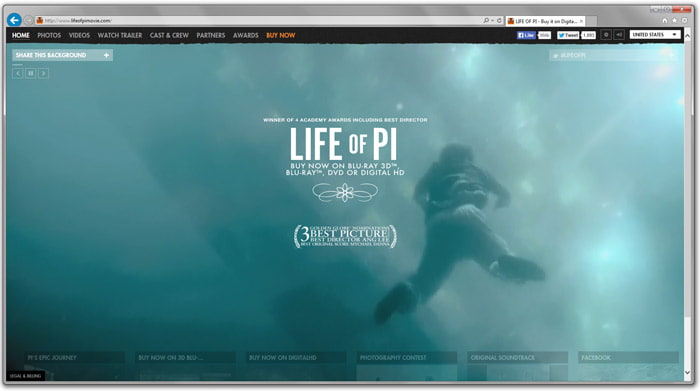 Life of Pi Movie Promotional Site
The promotional website for the Life of Pi movie shows short clips from the film in the background.
 More: I Surf Because… | The Younger | Into the Arctic
4. The Son of the Return of Sidebar Navigation
Trend Status: Re-emerging
This is not your mom's sidebar navigation. Gone are the dull lists of links. These sidebars accent and accentuate content, but be careful, or your website could look like something out of the '90s—which is scarier than you remember.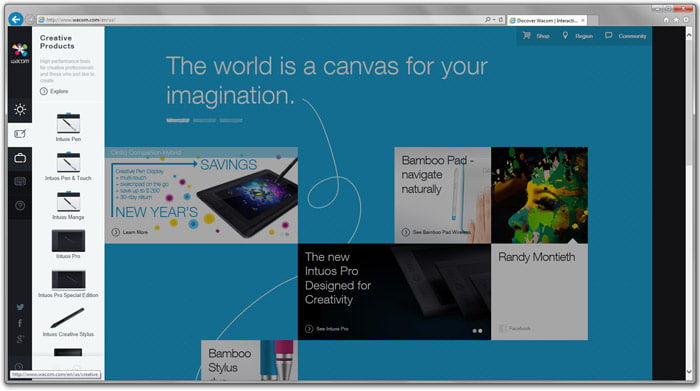 Wacom
With impressive clarity, the Wacom sidebar navigation directs users with icons and pictures of the products, as well as words.
More: Noon Style | Bienville Capital Management | Belief NYC
5. Slide-out Navigation
Trend Status: Emerging and about to explode
Similar to how navigation is typically handled on mobile devices, slide-out navigation is quickly gaining ground for large displays. Slide-out navigation is hidden away, like a sliding desk drawer, under a menu icon—keeping navigation from using valuable screen real estate when it's not needed.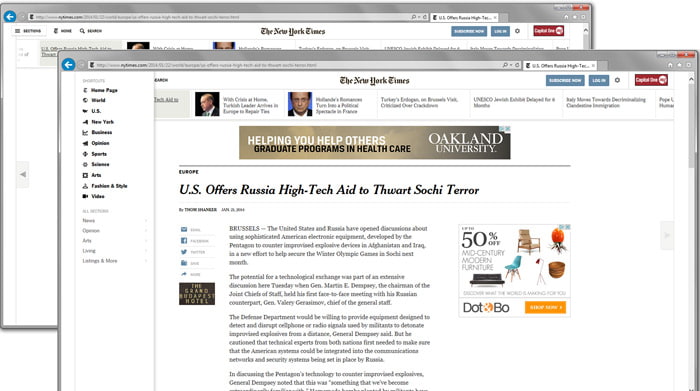 The New York Times
The New York Times is one of the first large mainstream websites to adopt a slide-out, mobile-style navigation structure for desktop sizes. Click on the Sections button in the upper left corner to see slide-out navigation in action.
More:  Juliana Bicycles
 6. Playing with Building Blocks
Trend Status: Mainstream
This design trend began with the Windows 8 "metro" design and has grown exponentially. Major organizations such as Apple and Mashable have since adopted this graphic style of grouping content into rectangular building blocks filled with bite-sized content. Building Blocks are ideal for websites that change content on a regular basis, such as a news website or blog, but may be used for almost any kind of website. Another benefit: Building Blocks translate from desktop to mobile relatively easily.
Characteristic of the style, this website uses encapsulated rectangular forms and fills them with photographs and text.
More:  Oneupweb | The Verge | Esquire UK
Note: This trend may also be referred to as metro, tiling or gridded.
7. On-scroll Animation
Trend Status: Gaining ground
Creating an immersive interactive web experience doesn't have to mean bogging down a website with long load times and third-party plugins (e.g., Flash). Through modern coding techniques, a website can be entertaining while still being surprisingly lightweight. On-scroll animation unfolds as users scroll through a page, as if the cursor/mouse is controlling the rate at which the animation progresses.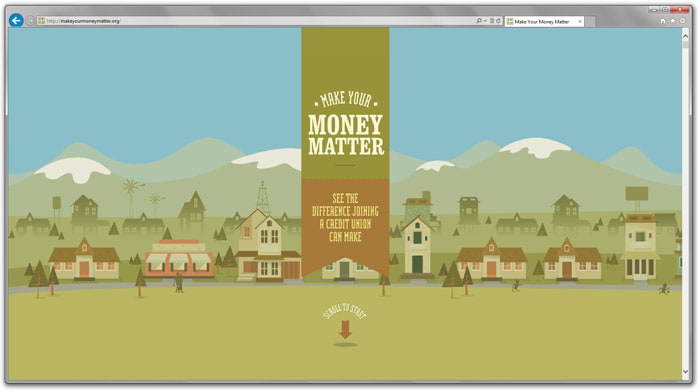 Make Your Money Matter
This website about the benefits of credit unions uses HTML5 and CSS effects to tell visitors a story as they scroll down the page.
More: My Mail | Android Kit Kat
8. Fixed Headers
Trend Status: Mainstream and likely to become "best practice"
Pages with fixed headers can be extra-super-mega long because the website navigation will always be at the top of the browser window. This technique removes the need for users to scroll back to the top of the page—making the navigation easier and faster to locate. But—and this is a big but—fixed headers can take up valuable real estate on your page, so keep them slim.
Psst. Look up. Oneupweb has a fixed header. It's pretty nifty, too.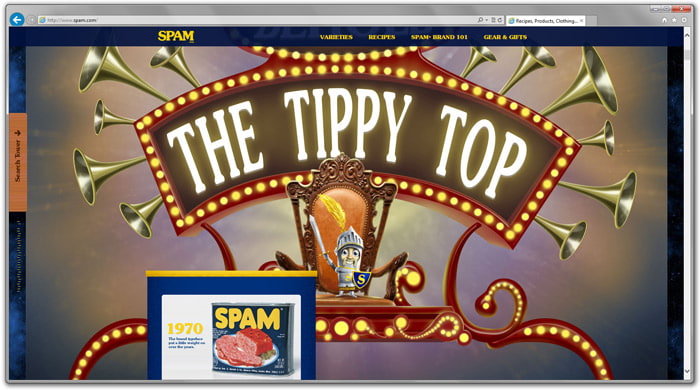 Spam's website uses a thin fixed header that allows users constant access the navigation, even if they scroll a mile up or down the page.
Extra Spam: The Spam homepage flips convention on its head by having users scroll UP to the tippy-top of the Spam tower. Yummy.
More: Karma Wi-Fi | Ditto Glasses | Snowbird Ski Resort
Bonus:  Responsive Design
Trend Status: No longer a trend—this is STANDARD
It's more or less official: responsive design is a website must.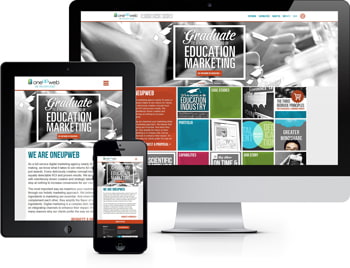 If you want your website to speak to your target audience, chances are they are not on an old-fashioned 1024×768 monitor connecting to the Internet with a 56K modem. No—they are on devices ranging from massive 24-inch monitors with massively huge resolution to smartphones with teeny-tiny screens.
Responsive design is currently the best solution for reaching almost everyone with an Internet connection.
Which is why, when it comes to web design, responsive design is in our Hall of Fame.
Want to learn more about responsive design? Download our responsive design white paper.
Note: We chose not to include a few popular trends here, most notably flat design, for no other reason than we feel you have probably already heard way too much about how cool, neat and hip it is.
 That's All, Folks (at least for today…)
Update September 2014: