A Farting Christmas
When I was young Christmas was an exciting time. While my brother and I had already snooped, found, unwrapped and re-wrapped all of our presents, we were still overjoyed at the excitement of seeing all those gifts spread out in our living room Christmas morning. And more than that, I enjoyed the carols sung in our church on Christmas eve, talking with relatives as we all gathered at my grandmother's house for dinner, and especially the full week off from school for winter break.
However, I was never excited at the aspect of a "farting Christmas". In fact, the combination of this holiday and the act of passing gas never crossed my mind until it struck me full in the face this year (bad analogy, I know).
The holidays are an important time in the marketing world. It provides an excellent opportunity for companies to once again position themselves in front of current clients and partners, thanking them for a great year and hinting at their continued relationship in the next. Originally, this was done through paper greeting cards sent via snail mail. Today, a lot of these greetings are sent via email or posted online. From dancing elves to big foot, every year these greetings get more creative. And this year, there's a theme: cutting the cheese, passing gas, breaking wind, ripping one, tooting.
Oh yes, apparently we have regressed to the age of three when we think farting is the most hilarious thing ever (which honestly, might not be such a bad thing).
The realization of what can now only be referred to as the Farting Christmas Phenomenon came on quite slow. In fact, I only briefly noticed it when I watched the Jack Links Merry Squatch-mas greeting and was encountered with "six fingers pulling".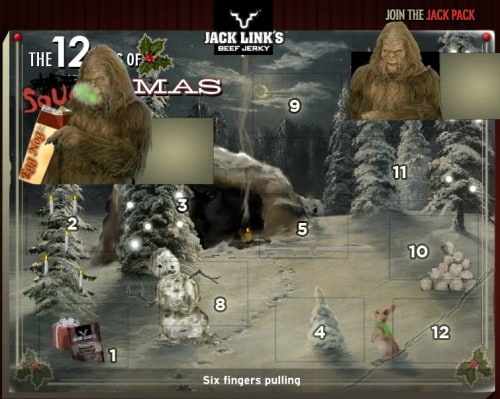 Then I received an email marketing piece from JibJab encouraging me to deck the halls and open the windows with their new Farting Carol. It's just blatant flatulence, and made me question when a carol of farts became the ticket to successful email marketing. But who knows, maybe those wind-breaking door-to-door singers are on to something. If someone came to my house and did that, I'd probably invite them inside for a cup of hot cocoa…but that's just me.
I guess I'm not the only one who is wondering what's up with all the stink bombs. In their Old Versus New holiday video, Jeff Goodby actually raps about the Farting Christmas Phenomenon. And everyone knows that the minute you put something in a rap song, you make it immortal and give people license to say, "Farting Christmas stuff? That's so 2009." ("MC Hammer pants? That's so 1990." "Wearing your clothes backwards? That's so 1992." "See me at tha crossroads? That's so 1996." Now you try. )
I'm scared to think what 2010 will hold. So I think the only safe thing to do is to wish you happy holidays. Hope your Christmas is a gas.