Adobe Provides Flash Platform Services
Enhance, distribute and monetize applications. That's the tagline attached to the new Flash Platform Services provided by Adobe. Services which are designed to help flash developers, like me, promote and share their social apps.
There are three separate services in total: Distribution, Collaboration, and Social (coming soon). I decided to take a closer look at all three, to find out more and see if these services are right for me. Read on to discover how they can help you as a designer.
Distribution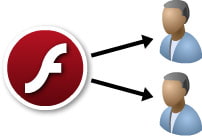 This service enables businesses to share, promote, track, and monetize apps. There are free, paid, and revenue earning features that can be utilized.
"Free," you say? Absolutely! Developers can now easily add sharing capabilities to their apps, making it a breeze for users to tell their friends, giving businesses a better chance at making their apps viral. And to monitor the success of the app, tracking is also included as a free feature. During the beta phase, mobile distribution is being offered for free, however, Adobe reserves the right to change the pricing at any time.
"Paid," you ask? Yes, some services do come at a cost. Promoting your app does have a CPI (Cost per Install) charge. The overall price varies based on target audience. Ad hosting is also an option, with a typical CPM of $5. Again, this price varies.
"Monetize," you wonder? Adobe is offering the chance to generate revenue by hosting paid ads for other apps within your apps. The amount, like everything else, varies.
The developer extensions are only available for Adobe Flash Professional CS4, Dreamweaver CS4, and Flex Builder 3. Mobile distribution is only available for Adobe Flash Professional CS4.
Collaboration

This service enables users to communicate with each other in real-time. This interaction ranges from simple text chats, to audio/video streaming. It also enables the developer to manage user statuses and connections.
Only paid features are available for this service. Real-time bandwidth usage runs at $0.49 per GB. Message pushing goes for $0.10 per 1000 messages sent. User minutes are charged at $0.01 per hour (this is where user status comes into play, allowing developers to disconnect an idle connection).
Social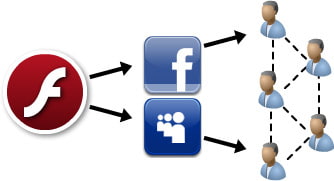 This service isn't available yet, but will be in the near future. The goal is to enable developers to easily integrate flash apps into the leading social networks, without dealing with their respective APIs. This means less of a learning curve, and MUCH less time spent implementing over multiple sites. Seriously, just being able to avoid fbml (facebook markup language) gives this feature an A+++ in by book.
No word yet on which features will be free or paid.