AdWords Quality Scoring Upgrade
Google announced this week that it will release a new ad quality algorithm before the end of the month, along with a few associated features.
With the existing algorithm, Google never really gives AdWords advertisers a grade for taking the test; only the effects of taking it.
The existing ad quality algorithm can be compared to a high school guidance counselor who gives you a test to take and the next day tells you to be a heavy machines operator. Additional explanation not included. Why heavy machines operator? You never know why.
With this update, advertisers still won't know exactly why ads are working or not, but at least they will see a score (or grade, if you will) and be able to act accordingly from that.
Could this algorithm update be in repsonse to Yahoo's jump onto the ad quality bus with Panama clutched in its 3rd-grader hand? Even with Panama implementing ad-quality scoring, Google's update may make the battlefield uneven again. Are we about to see the start of the true search engine battle?
Up Next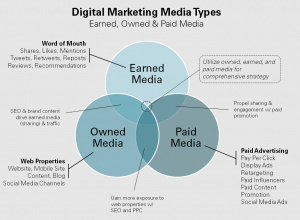 In order to generate quality website traffic and efficient ROI for your business, you already know you need content that's compelling and useful to your target audience. But website content creation is not enough. A great strategy combines different types of media for optimal performance. Let's talk about earned media vs. paid media vs. owned...