Alice's Adventures in iPad Wonderland
Don't get me wrong, I love my Amazon Kindle. It's a fantastic tool that combines the simplicity of reading with the convenience of downloadable content and the easy-on-the-eyes technology of an e-ink display.
After all, how can the average Alice in Wonderland reader resist the experience of "breathtaking animated scenes that revolutionise the Lewis Carroll classic." Essentially, with this iPad version of Alice's story, the reader becomes part of her journey by being able to play with the White Rabbit's pocket watch, make Alice grow or shrink with a simple tilt of the iPad, throw tarts at the Queen of Hearts, and much more.
Is the iPad the Future of Reading?
If I had an iPad (purchase pending?) and read this version of Alice in Wonderland with my 7 year old, would she ever want to pick up a "normal" book again? It's a scary question.
Regardless of the bigger questions that the iPad raises, the device is quickly creating a new marketplace for authors and publishers. Forget the movie deal, with the help of an iPad developer storytellers now have the opportunity to bring the reader into an interactive tale that can be enjoyed over and over again.
Dr. Seuss are you seeing this? I know more than a few kids that will want to follow the Sneetches through Sylvester McMonkey McBean's star-belly machine, or help the Cat in the Hat balance the Fish bowl atop a teacup, a cake, three books, a rake, a toy boat, a toy man, a red fan, and his umbrella.
But are all readers ready to fall down this rabbit hole?
Here's the link to download Alice for the iPad.
Up Next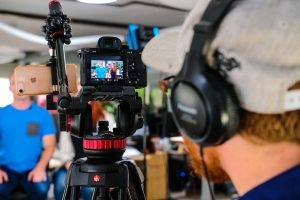 With so many avenues to market your business, determining which will garner the most ROI can be overwhelming. As you're debating where to allocate your marketing spend, do not overlook video marketing. Here are some initial reasons: Video marketing works – plain and simple. Video display ads have been found to earn 480% more clickthroughs...