Amazon vs. Walmart: The Epic Battle Wages On
As we continue to move full speed into the final days of the holiday shopping season, there have been many interesting headlines surrounding the battle between retail giant Walmart, and the little engine that could, Amazon. I didn't realize the history behind this epic battle that has been waging on for more than a decade. A little like the Hatfields and the McCoys, these entities have been duking it out for what is comparable to centuries in internet years.
Recent updates to the feud have the two companies in a price battle over everything from new books to Easy-Bake Ovens. Just before this year's Black Friday, Walmart reduced the price of the Easy-Bake from $28 to $17, with Amazon responding that same day, dropping their price from $28 to $18. The same thing is happening with DVDs, video game consoles, mobile phones, and any other product these two companies have in common.
While online shopping is said to account for only about four percent of all retail sales, that number is destined to grow exponentially. With more and more people gaining access to broadband internet, reduced skepticism over the security of online purchasing and the falling prices of PC equipment, many more of today's shoppers are embracing the internet as their main source for product ideas, reviews, comparison shopping and eventually, purchasing. And this trend is proving itself to be true. During the economic downturn, eCommerce wasn't as heavily impacted as brick and mortar retail sales, and Amazon even saw a 24 percent increase in sales during the third quarter of 2009.
Walmart's revenue has grown 9.1 percent per year (averaged over the past three years) in comparison to Amazon's 31 percent increase per year. And while Amazon's annual $19.2 billion in revenue is still dwarfed by Walmart's $400 billion, the tortoise will eventually catch up and beat the hare in this race of time.
Utilizing these annual revenue figures and the current growth trends extended over time, the graph below visualizes when Amazon's revenue will match that of Walmart, given that all other variables remain the same.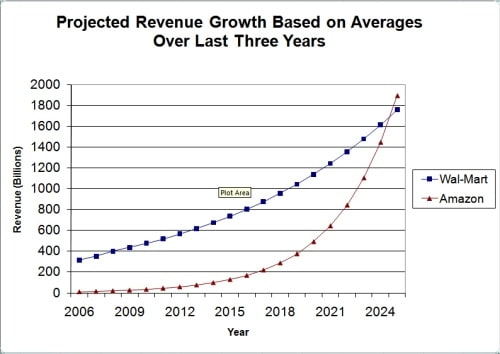 Things to consider that could affect the trends:
This graph is a comparison of the average growth of these two companies, based on today's estimate that online shopping accounts for only about four percent of retail sales. What if that figure grew to 10 percent or  25 percent some day?
Currently, Amazon's customers do not pay sales tax in most states. Meanwhile, lobbyists for Walmart and other retail chains are trying to eliminate this disadvantage these brick and mortar stores are facing.
Your business can learn a lot from these game changing enterprises. You don't have to be Amazon or Walmart to reap the rewards of increased sales and exponential growth. While Walmart is still expanding globally, relying mostly on their brick and mortar stores, Amazon has built their business on an online foundation and continues to experience exponential growth as the future of the internet grows around them.
You don't need to be a Fortune 500 company with a Fortune 500 budget to be a successful online retailer. A smart investment in online marketing  paired with constant monitoring and optimization can now afford you a chance to compete with larger companies. SEO, PPC, Social Media, Display Advertising, Digital PR, Creative Services, Mobile Websites & Campaigns, Search Analytics, Podcasts, Consultation Services or a whole new website based on a solid SEO foundation can all lend a hand to help land you where and when your future customers are looking. Look to Oneupweb if you want the best, and let us grow your business. After all, it's what we do.