The Art of Targeting Men Using Pinterest
Considering recent site improvements and the launch of Promoted Pins, advertisers have excellent new opportunities to target men using Pinterest.
When Pinterest launched in March 2010, it nailed the landing in becoming the premier online digital scrapbook for collecting recipes, DIY schematics, wedding ideas, inspirational quotes, and much more (including my favorite: the Willy Wonka meme).
But Pinterest is much more than that. The company's mission is, in part, to be the online place to discover and curate ideas for projects that a user will actually do, not just become their aspirational junk drawer.
Co-founder Evan Sharp describes his channel as a "great tool for discovering creative ideas and saving them for later…a service that should become more valuable the more you use it, and more specific to your taste or your interests…we're more about helping you with your life and getting you offline and doing things."
Gender Issues
Yet with a compelling mission, and undisputed success, it's no secret Pinterest has struggled getting men to commit to using the channel. According to a recent Pew Research survey of online users in 2014, 42% of women online use Pinterest. Meanwhile, only 13% of men use Pinterest.
As a result, Pinterest has made changes to make it easier for men to find their own space within the social channel. For example, the selection of gender during the sign-up process has drastically impacted the types of pins a male user will see within such categories as "Popular" and "Everything." Instead of seeing crafting and baking pins (not that these are bad!), men are more likely to see woodworking and classic car pins. Topic feeds are also now filled with gender-specific pins, with gender also being a factor in Pinterest search results.
The results have been promising. Although only 13% of men online use Pinterest, in 2014 there was a 73% year-over-year growth for men as a demographic, up 8% from 2013. This was the highest year-over-year demographic increase within Pinterest.
 Here Comes the Promoted Pin
After nearly a year in beta testing, Pinterest opened Promoted Pins to advertisers on January 1st, 2015. This included access to formatted ads, advanced targeting, and tracking via an analytics dashboard.
The result is greater opportunities for advertisers to connect with customers, including me, in an authentic way. In the words of Joanne Bradford, Head of Partnerships at Pinterest, "Partnerships aren't just, 'Go get ad dollars.' That's now how we think about it here…We're really about teaching partners how to be their best on Pinterest and connect consumers in a very authentic way."
Brand Awareness
Refinements to what men encounter within Pinterest, and the launch of Promoted Pins, provides brands with an excellent opportunity to raise awareness about their men's products. Brands can not only reach new potential customers, but provide those users with a gender-specific brand experience. For example, I recently scrolled through the "Men's Fashion" channel, where I discovered the following pin from Mvmt Watches. This is not a brand I was previously aware of, but the pin caught my attention because it was targeted to men, and its messaging appealed to my desire to elevate my level of gentility.

Pushed further, one of the things I have noticed about Promoted Pins is how they stand out in the Pinterest stream. Nearly every Promoted Pin I have seen includes several comments underneath the description box. The result, as seen below, is the pin stands out from other pins surrounding it, which naturally draws the user in to viewing it. There's nothing better than raising brand awareness by making it clear people are talking in a real way about your brand.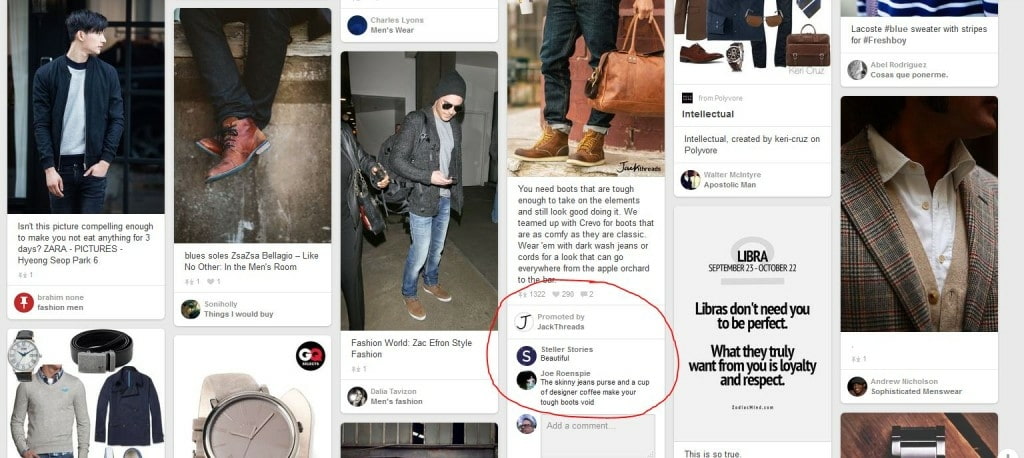 Revenue Generation
As revenue generating campaigns, Pinterest Promoted Pins offer a great opportunity. The process is simple: a potential customers clicks on a promoted pin and they are taken to a landing page where they are put in a perfect position to make a purchase. This is a perfect picture of opportunity for businesses looking to sell to men.
Below is the landing page I was taken to when I clicked on the above pin. While I don't feel this is an overall great landing page (I'd love to see a small text box under "Men"), the path to purchase is clear. The landing page boldly tells me there is free shipping on all orders, and it gives me a standout opportunity to subscribe for giveaways, discounts and new product information. The calls to action are evident, and the landing page is effective for revenue generation.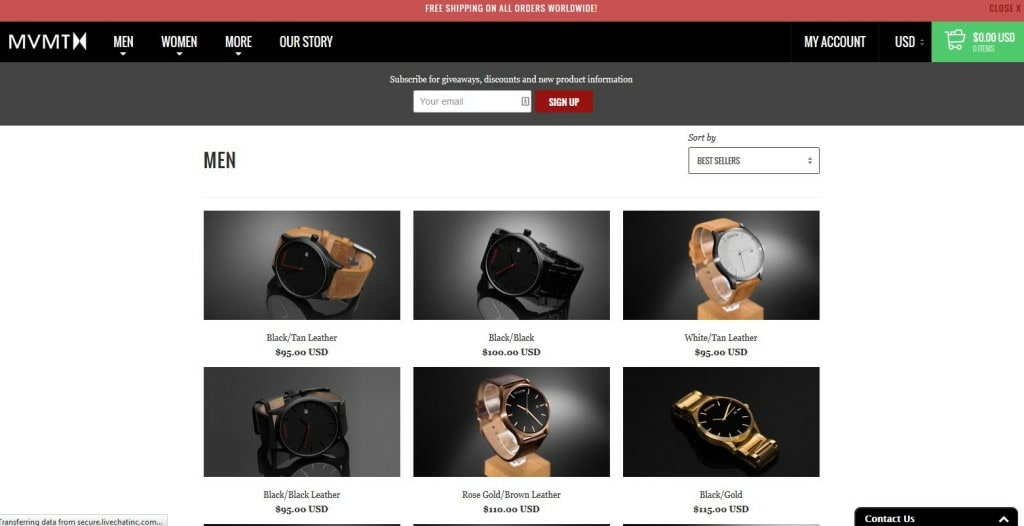 Ongoing Engagement
Pinterest is not only great for time-based campaigns, beta testing also revealed the lifespan of Promoted Pins extends beyond the initial campaign, with an average 5% post-campaign increase in effectiveness. Meaning, once a time-based campaign is completed, the pin still exists and users will interact with it. This provides clear opportunities for ongoing engagement as businesses who not only look to create temporary campaigns to support marketing initiatives, but want to increase their brand presence within Pinterest, will find success.
For example, the following were the top three pins from male users, in February 2015.
1) A sharp idea for taking your look to the next level in men's fashion
2) A home improvement how-to for building an easy platform bed
3) A survival backpack to take on your next camping trip in the great outdoors

What is important to note about these pins is not just that they were successful in February of 2015, but the longevity of the pins. The first pin was posted in October 2014, the second pin was posted in August of 2014, and the third pin was posted in late July 2014! These pins are the poster child for ongoing engagement, and businesses should keep in mind that all types of pins posted may have a life that exceeds their quarterly marketing strategies.
At the End of the Day
Through both advertising options and site changes, Pinterest has made it easier for businesses to target men, and it is clear the company will continue to do so to accomplish its mission. Is it time for male-focused brands to stop ignoring Pinterest? Yes.
If you have any questions, or would like to talk digital marketing, please don't hesitate sending me a note! Feel free to email me at jyaple@oneupweb.com.