Meet Ashley "Boots With No Fur" Mugnolo
Note: Ashley worked for Oneupweb until October 2020.
NAME:
Ashley Mugnolo
POSITION:
Inbound Marketing Manager
TELL US ABOUT A FAVORITE CLIENT MOMENT.
I had a client who was a sponsor for "Sesame Street Live" when the show visited Michigan. The client was so appreciative of the work that our agency had done for them that I got to take my family to one of the shows. It was a great experience for a couple of Elmo obsessed girls (I may or may not have been one of the girls with the obsession).
WHAT'S YOUR FAVORITE BLOG AND WHY?
On a personal level, I am a huge fan of the community generated content site The Mighty.com. Their goal is to build a community where people going thru similar experiences in life (with disability, disease, and/or mental illness) and become a resource for people who are facing life changing diagnoses.
On a professional level I try to reach Social Media Today and Inbound.org daily, or at least during the work week. Both blogs help me stay up-to-date on industry trends and remain at the top of my game.
WHAT MAKES TRAVERSE CITY APPEALING?
360-degrees of beauty set Traverse City apart from any other city I have lived in. I moved from a small town north of Flint, to what felt like the concrete jungle of Lansing. There was still beauty in both of these places, you just had to look a little harder to find it.
My husband and I fell in love with the wonder and beauty of Traverse City and joked about retiring here. I couldn't get it out of my mind so about a year after our "retire in Traverse City" conversation we ended up relocating north, and I don't regret it for one second.
WHAT DO YOU DO WHEN YOU'RE NOT AT WORK?
Outside of work I enjoy spending most of my time with my family. Our kids dictate a lot of the types of activities that we take part in due to their ages. We spend a lot of time at the park, at the beach, or just being outside. We enjoy an evening unwinding with a family movie (and a glass of wine for mom). I also teach other parents about babywearing in my spare time and help them learn to bond with their children in a unique way. Outside of my children, I enjoy some casual fishing when I can (it will certainly be more often now that I am in Traverse City), contact sports (college football is near the top of my list), and a good book curled up on the couch.
I'm hopeful that being in such an outdoor and active community will bring out the adventurer in me and I'll have a few more hobbies by this time next year. I especially want to try out building and using a paddle board next summer with Old Mission Boat Company.
YEARS FROM NOW, WHAT WILL STICK OUT MOST ABOUT 2017?
2017 will always stick out as the year I decided to take a chance on myself, uproot my little family, and move north to Traverse City. I tend to put other people first, so this was a big deal for me personally.
IT'S 5:30 PM – WHAT'S YOUR COCKTAIL OF CHOICE?
A good Michigan made hard cider. My favorite to date is from Uncle John's Cider Mill in Saint Johns, Michigan. I'm stoked to be working right next door to Left Foot Charley so I can try all of their hard ciders, in particular Cinnamon Girl and Henry's Pippin Hard Cider.
WHAT'S THE LAST SONG YOU INTENTIONALLY LISTENED TO?
Dreamers by K. Flay. It's my go to when I want to remind myself why I've made the choices I've made up until now in my life, because "I want more!"
FAVORITE SPOTIFY STATION?
Bring Back the 90s
WHAT DO YOU CARRY IN YOUR PURSE?
A little bit of everything. My purse is a mix of Mary Poppins and Hermione Granger, you never know what I will pull out. Today I've got snacks, notebooks, my wallet of course (packed full of coupons), a massive stack of quarters (for the video game table at That'sa Pizza), make-up, allergy medication ('tis the season), my favorite ink pen, to-do lists, and even a Shopkins Shoppies doll courtesy of my 8 year-old.
WHAT'S YOUR SECRET GUILTY PLEASURE?
I like to buy the Ben & Jerry's Karamel Sutra ice cream and eat straight down thru the entire core of caramel and then leave the rest for someone else.
FAVORITE BOOK/MOVIE/ALBUM/TV SHOW/ETC…?
Book: "Harry Potter and the Sorcerer's Stone." It's the book that started years of obsessively waiting for the next book to come out. Now my daughter gets to enjoy reading them all back-to-back with no delay. I almost feel bad she misses out on the excitement of the waiting game.
Movie: "El Dorado" circa 1967 starring John Wayne. You can check out one of my favorite scenes here.
Album: "In Dreams: The Greatest Hits" released in 1987 by Roy Orbison.
With both my favorite movie and album being released before I was born, can you tell I'm an old soul?
TV Show: "Doctor Who". My 8-year old daughter and I have a tradition of watching new episodes together. It's our special time where her younger sisters can't steal my attention and where I can hone her future nerd skills.
TELL US SOMETHING WEIRD/UNIQUE/QUIRKY ABOUT YOURSELF.
I was born without vertebrae in one side of my neck. The first "specialist" to review my x-rays said nothing was wrong with me. My mother trusted her gut and refused to believe him. It was actually her chiropractor that caught the issue and sent me to UofM. I ended up having major surgery at 5-years old (only the second of my kind to be done at the time) where they took part of my hipbone and made a "bone paste" to fuse my neck. My anesthesiologist sang and had a pillow fight with me on the way into surgery. In typical Ashley fashion, my surgeon said I would never be tall… I'm 5' 10".
DESCRIBE YOURSELF IN 3 TO 5 WORDS.
Adaptive, forward-thinking, versatile, and passionate
WHAT WOULD YOU NOT BE CAUGHT DEAD WEARING?
Apple bottom jeans and Boots with the fur…. Mostly the boots with the fur, not only are they not my style, they just aren't practical in Michigan. I never understood how 3 out of 4 girls I went to high school with wore furry boots in the winter.
WHAT'S ONE OF LIFE'S SIMPLE PLEASURES?
Warm footed pajamas out of the dryer on a winter's evening.
THE INTERNET IS LISTENING: GIVE US YOUR WORDS TO LIVE BY.
It is better to be hated for what you are than loved for what you are not. ~André Gide
Up Next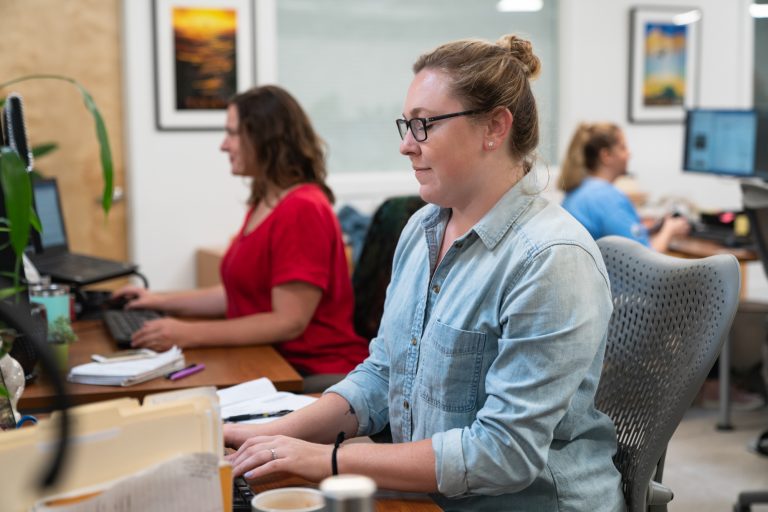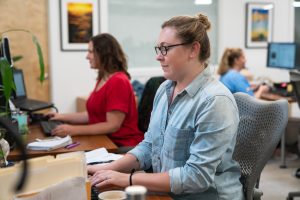 Oneupweb seeks a bright, highly motivated, strategic and experienced Sr. SEO Project Manager to join our growing SEO team. This is a highly visible role that requires you to be resourceful, creative and persistent for the betterment of the clients we serve. The ideal candidate is an expert in Google Analytics and Semrush, as well...