Back in Black – The Return of the Hat
Okay, first of all let me apologize to reputable online marketers everywhere for exhuming the tired, old "black hat" reference.
I couldn't resist, though, as that clichéd moniker was the first thing that came to my mind while doing some reading lately about the latest trends in social network marketing.
It's no secret that the online marketing universe is all a buzz with talk, ideas and strategy about how best to sell one's widget in the ever growing realm of social networks. What's troubling is the spammy tactics being used by many to either falsely promote their product, idea, press release, or worse, sabotage someone else's legitimate marketing efforts.
In the world of user generated content, dubious marketers, disgruntled former employees, and dejected ex-lovers alike have, at their fingertips, some pretty powerful tools able to manipulate content and rankings on social networking sites like Digg, Delicious, and Reddit.
Influential users of these sites wield a fair amount of power within these communities, power that a new generation of spammers is willing to buy.
Just how long will it take for these pseudo-egalitarian sources of news & information to be stripped of their trusted, democratically born objectivity, and become just another place for slanted and less-than-credible content?
Up Next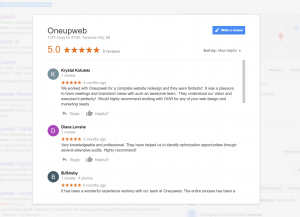 You've seen plenty of websites with a page of cherry-picked five-star reviews. But is that really convincing anyone? Probably not. However, there is a good way to embed Google reviews on your website to beef up your brand's perceived value. Let's get to it … How to Embed Google Reviews on a Website Reviews add...