American Bankers Association Bank Marketing Training
Ashley Mugnolo is an Account Manager and Inbound Marketing expert at Oneupweb. She specializes in banking marketing.
"I can't believe an agency sent someone to this."
Those are words I heard numerous times while introducing myself to fellow attendees at the American Bankers Association Bank Marketing School in Atlanta this past April. It wasn't that they thought I wouldn't get anything out of the experience, but more that they were shocked a marketing agency – especially one that works in more than the bank marketing realm – would be dedicated enough to their banking clients to send an employee to a week-long training.
The ABA's Bank Marketing School is a rigorous week-long school that included, by my count, a 240-page workbook, a 444-page textbook and an entire tree's worth of handouts specifically designed for bankers and the unique challenges they face in marketing.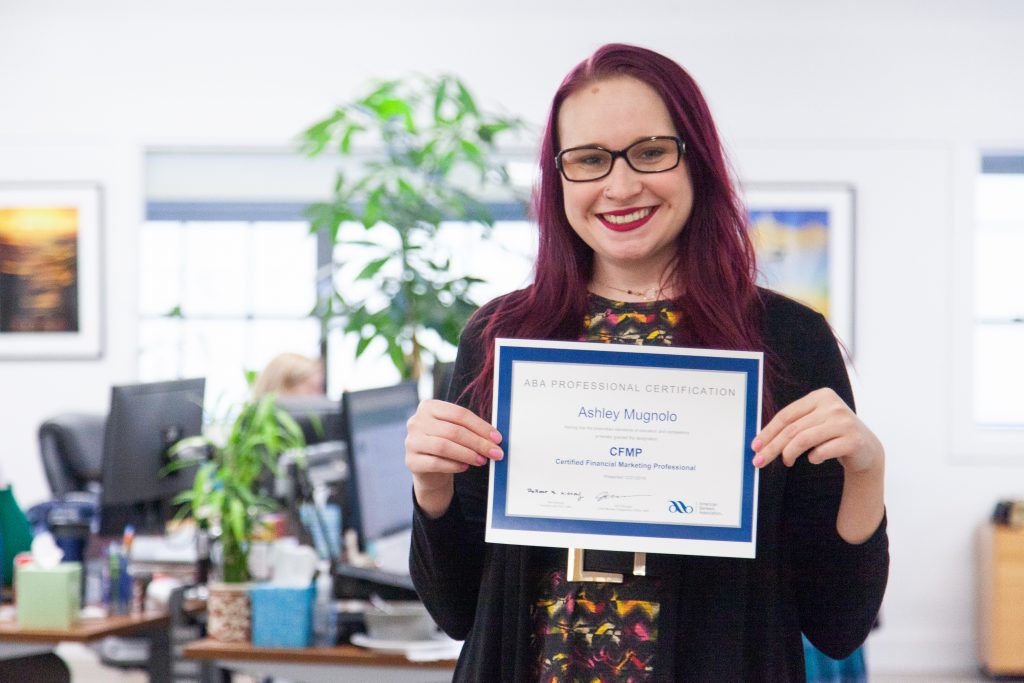 So, why was I there?
Well, outside of escaping the snow in Traverse City to soak up the sun in Georgia for a week, I was there because Oneupweb really dedicates itself to clients and to the continued education of its employees. With a little help from some grant money, our agency has sent multiple employees, like web developer JD Antosiak and UX researcher Rebecca West, to training sessions that have benefitted the entire organization and client base.
The Coursework at the ABA Bank Marketing School
When I said that the coursework is rigorous, I meant rigorous. Classes ran from 8 a.m. to 5 or 6 p.m. with a 45-minute break for lunch. The evenings were filled with networking and mixer events – and bankers know how to network; you end up needing a vacation from your training "vacation" to give your brain a rest from all the knowledge packed into the week. Over that week in Atlanta, I took in 28 classes and roundtable discussions.
The courses covered bank marketing compliance, marketing's impact on bank profit and strategy, and bank marketing ROI, which, despite all the math involved, was my favorite. Why? Because it showed us how to prove the worth of working with good marketing partners.
Back home, I was able to crunch the numbers for our bank clients so they could, in turn, show their board members exactly how Oneupweb was valuable to their bottom line.
The Faculty at the ABA Bank Marketing School and the Real "Fictitious" Bank
The faculty that teaches the coursework is top-notch; many attended bank marketing school in the past and are Certified Financial Marketing Professionals (CFMPs) themselves.
In my opinion, one of the more unique things that the faculty offered was that all their coursework tied together and back to one "bank" by the name of "Edge Bank & Trust": a fictitious bank based of the data of a real bank – only the name has been changed to protect the innocent.
I thought the real-world example really provided the next level of understanding of the material, especially for me, a marketer first and a banker second.
Becoming a Certified Financial Marketing Professional
At the end of the week, everyone who successfully completed the coursework was awarded an Advanced Certificate in Bank Marketing, which is designed to prepare you to take the test for the motherload of bank marketing certifications, the Certified Financial Marketing Professional.
CFMPs are the envy of every marketer out there. Well, maybe not every marketer, but at least the ones in the financial industry. The CFMP exam is 150-multiple choice questions that cover the areas of:
Risk Management
Customer Experience and Sales
Revenue Generation Planning
Branding and Communications
Product Development and Delivery Channels
As you can see, it takes much more than just a little marketing knowledge to complete and pass this exam. It isn't easy, but 100 percent worth it. On December 19, 2019, I took the test and became certified.
Another Valuable Thing About ABA Bank Marketing School
When I got back to work, I was asked what the best part of my training was, and it all boiled down to two things: connections and curriculum. At many other conferences and training sessions I've attended, the people attending are mostly your competition. Most companies aren't going to offer free advice and mentorship to someone from the competition, right? Bank Marketing School was different. Most of the banks in attendance – many being community banks – don't compete directly with one another. They were either a different asset size or region of service.
This meant advice was freely shared among peers. Ideas, experiences and vendor recommendations were happily given to the person sitting next to you at lunch, and business cards were swapped over late-night beers.
Invest in Your Future
Over the years, I've found if a company isn't dedicated to investing in the future of its employees, then the employees are less dedicated to that company. Talk to your company about training opportunities available to you, and if they don't have any, maybe it is time to apply for a job that does.