The Best Tacos in Traverse City as told by Oneupweb
National Taco Day is October 4, so the staff here at Oneupweb thought we would give our favorite local taco joints some love. We asked everyone where someone could get the best tacos in Traverse City based on two categories: authentic tacos and "gringo" tacos.  Let your taste buds decide where to start in the list, but we promise you won't want to miss any of these Traverse City taco joints.
Best Authentic Tacos
These restaurants are the real deal holyfield of authentic Mexican food. There is no denying that they have some of the best tacos in Traverse City.
I have been known to live on tacos alone during my trips to T.C.

–Erin Bernhard, Digital Strategist
Norma's Tamales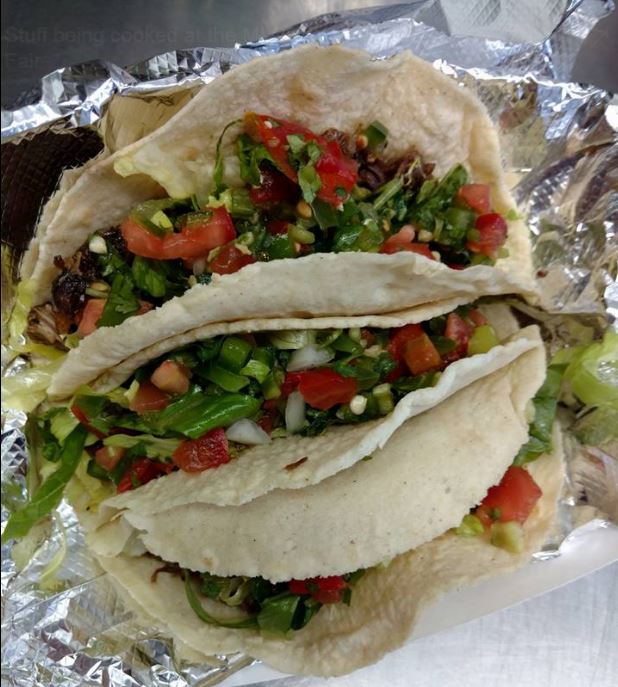 "[My favorite] used to be T.C. Latino but that taco truck [Norma's Tamales] we had at the picnic is my new favorite." –Paul Houser, Web Developer
Norma's catered our company picnic and let's just say it was awesome! An Interlochen-based food truck Norma's is typically stationed at the Interlochen Plaza. They serve up authentic Mexican cuisine that is sure to make your stomach happy. The word around the office is that they have the best Pastor Tacos in town.
Spanglish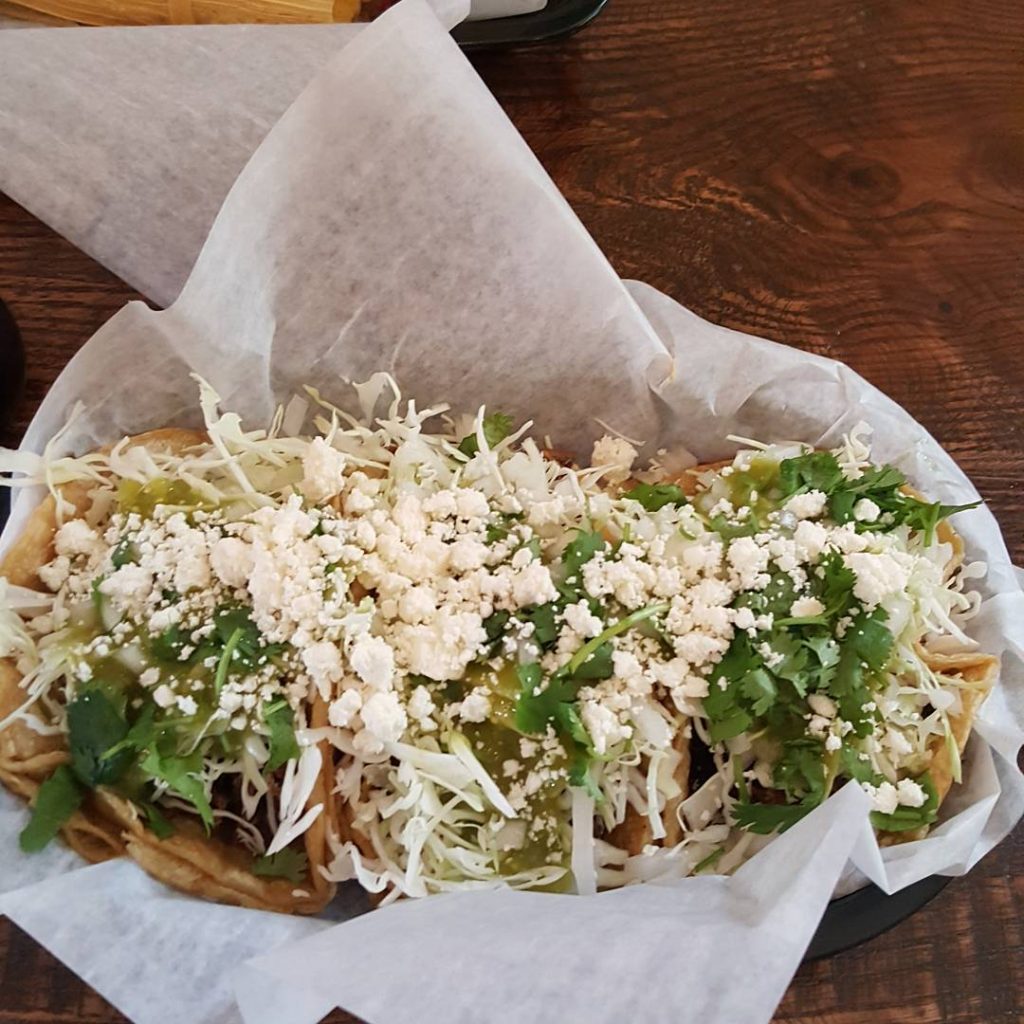 "Shout out to Spanglish…as they probably feed 50% of us [at the office] on any given week."-Sarah Lantz, Account Manager
It's not just the convenience of being right next door that makes Spanglish so appetizing.  Their commitment to source local foods whenever possible puts them in a special place in our hearts. All of their tacos food is delicious, even their veggie taco for you vegetarians out there. In particular though, their name came up over and over for serving up the best Barbacoa in all of Traverse City.
Agave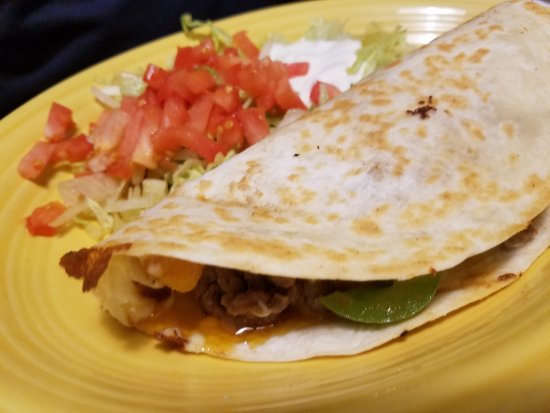 "It took me too long to discover this place. I highly recommend it." –Jess Gordon, Senior Graphic Designer
Agave has two locations in Traverse City and claims that they are serving up the "most authentic Mexican cuisine in Northern Michigan." Who are we to argue with that? A few members of our staff are particularly fond of their Carnitas Taco. Their tip: get the plate, ask for them crispy… you're welcome.
Osario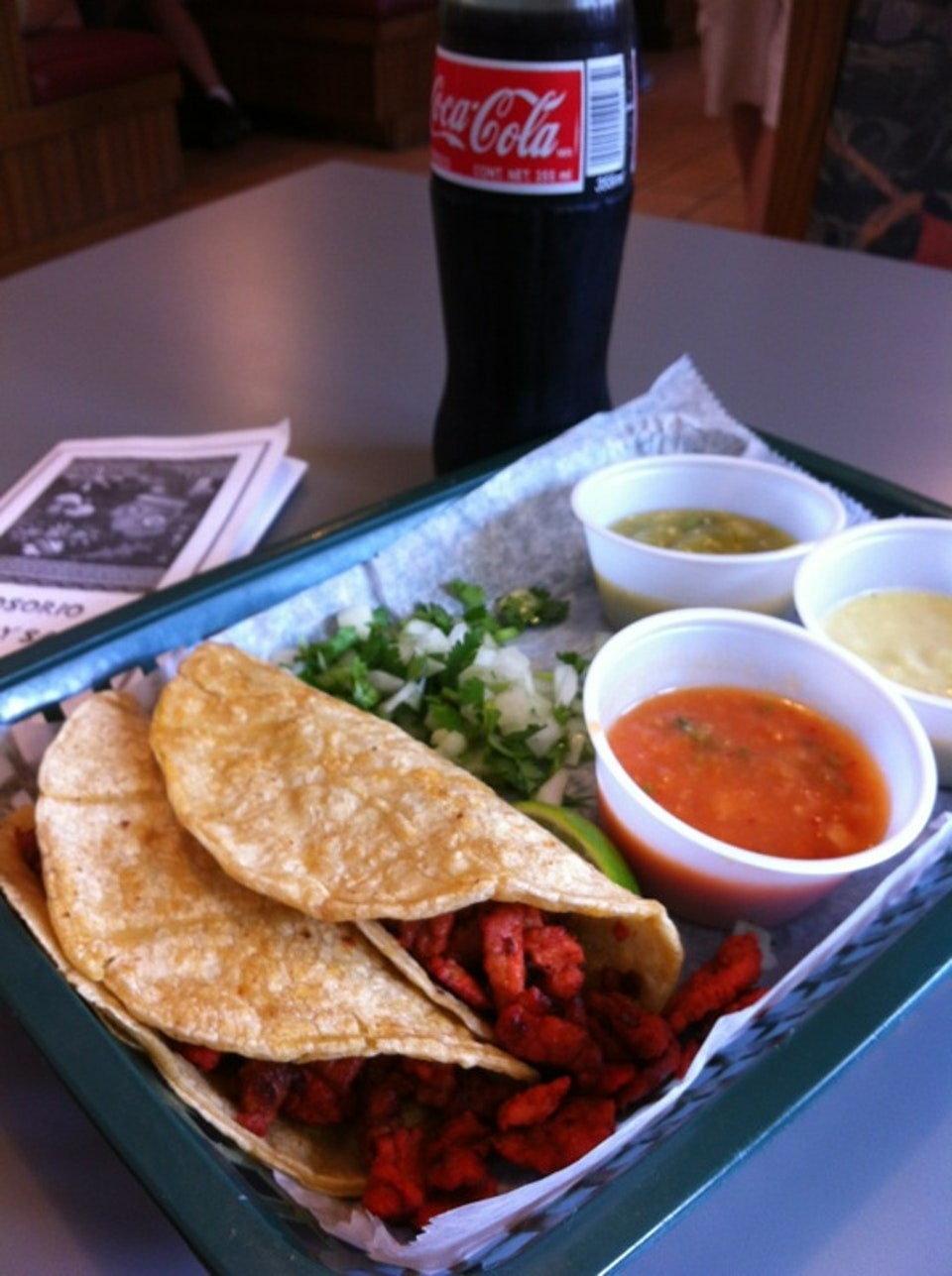 "Osario's in Acme is a personal favorite. I've probably had everything on the menu at least once and the convenience factor is high as it's right on 31." –Gillian Cobb, Content Marketing Project Manager
If you don't know what to try at Osario's ask our content marketing project manager Gillian, after all, she's tried it all. With seven different types of homemade salsa ranging from mild to hot, Osario's taco game is on point. Be sure to check them out on a Friday when they serve their fish taco's—our resident personal chef and administrative assistant Michelle Rodriguez swears by them.
Taqueria T.C. Latino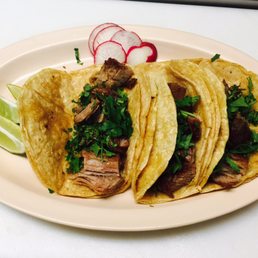 "I always get at least one beef tongue taco, which I promise is delicious. I tried it one day because they are super cheap and I figured if I didn't like it, I wouldn't be out much. But they are really good." –Jess Gordon, Senior Graphic Designer
Although our senior graphic designer Jess swears by the beef tongue taco (just get over the idea that it's tongue and try it, trust us) we also think that T.C. Latino has the best chicken and chorizo taco in the area. With two locations and a grocery store, you're sure to find some great authentic options at T.C. Latino.
Best "Gringo" Tacos
Authentic Mexican is great, but sometimes you just want some hipster tacos in your tummy. That's where the best "gringo" tacos in Traverse City come into play.
I like tacos!

–Freddy Hunt, SEO/Content Marketing Manager
Mama Lu's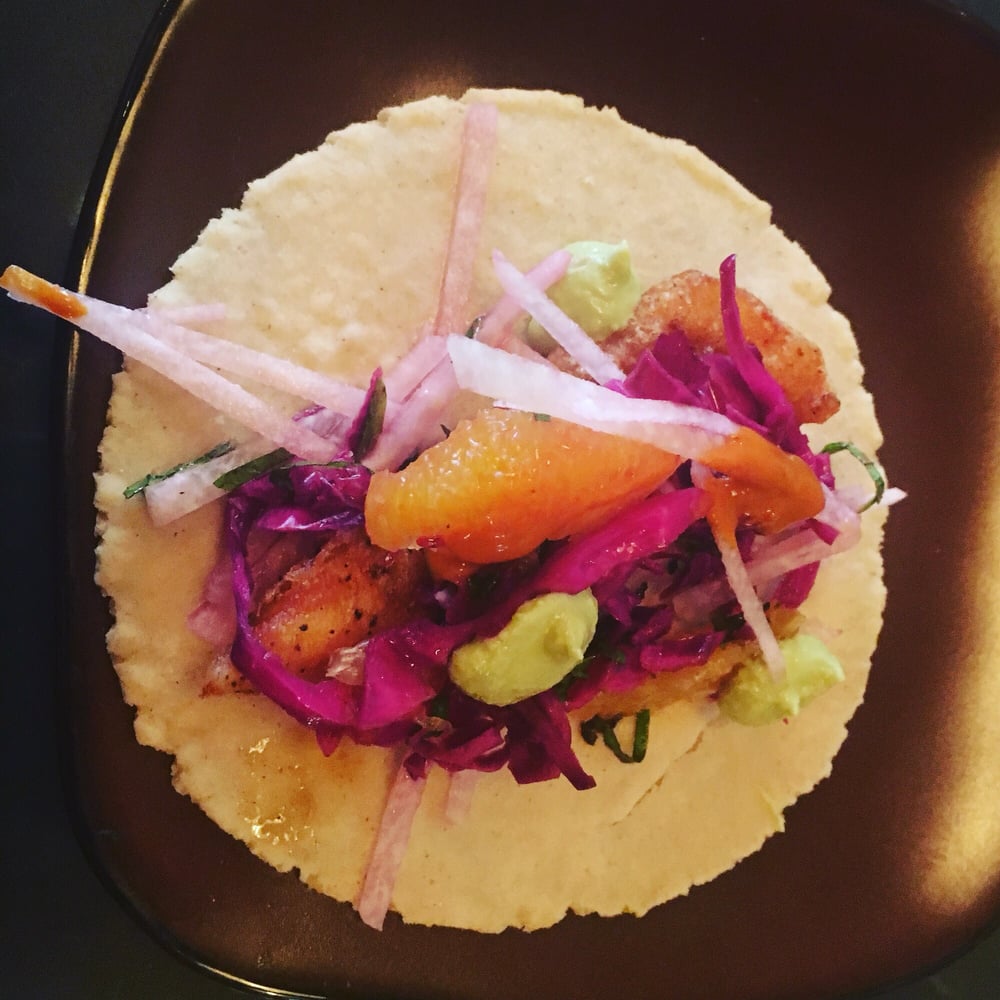 "Mama Lu's Fish and Chicharron, [you] can't deny that shit's good" –Fernando Meza, CEO
Beyond the amazing fish tacos members of our staff gushed over the street corn and champagne margaritas. One of the coolest things about Mama Lu's, which labels itself as a "modern day taco shop" is their Taco Kits. A build your own taco experience, the kits feed 5-7 people and include two choices of meats. A perfect solution for your office Taco Day party!
Roaming Harvest
"There's a special place in my heart for the Korean Beef Tacos at Harvest/Roaming Harvest. When I lived near the Little Fleet, I'd walk down and order tacos, go jump in the bay, and then go back to pick up my tacos. Ate a loooot of KBT that summer" –Erin Bernhard, Digital Strategist
With a restaurant location and a food truck Harvest/Roaming Harvest is twice the taco fun. Unlike the other establishments on our list, tacos aren't their man focus, but they certainly don't let that show when it comes to flavor. Try their Korean Beef or Pulled Pork Tacos, they'll keep you coming back for more.
Cedar Sol Hydro Farms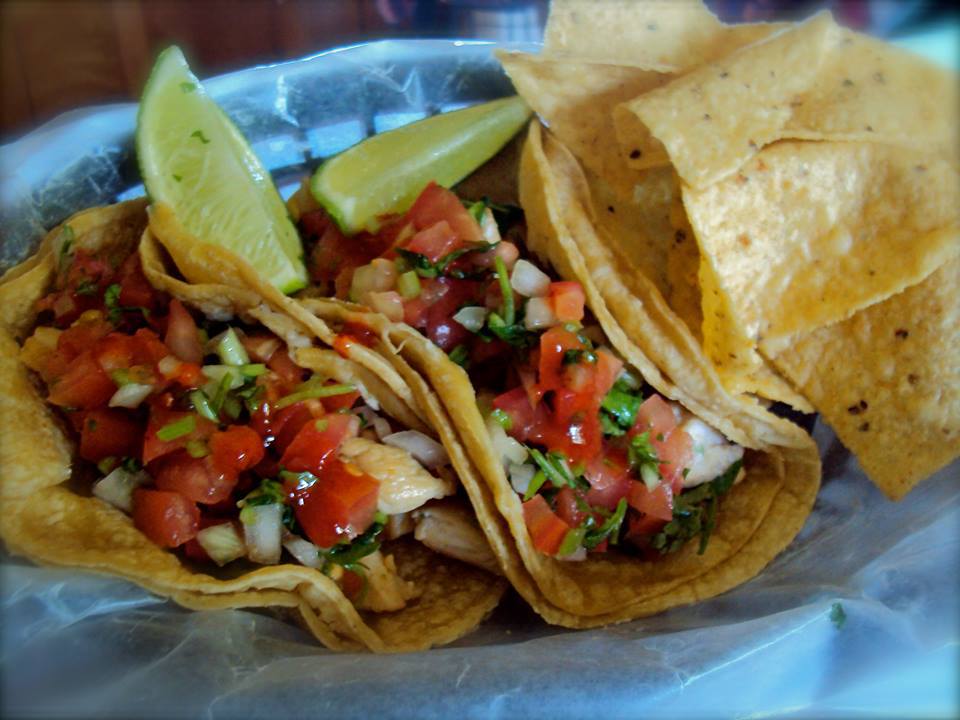 "They use local beef, grow a lot of the veggies themselves, and make their own Pico de Gallo and guacamole. They're also only open from Memorial Day to Labor Day, so it's like a summer tradition." –Dave Doran, Senior Business Strategy Manager
Sadly, you won't get to enjoy the delicious tacos from the Hydro Farms taco stand for National Taco Day because they're closed for the season. That's okay though; you can't eat all the tacos at once, can you? What you should do though, is open your calendar app on your phone right now and schedule a lunch date for next Memorial Day, or the week after if you don't like opening day crowds. The homemade hot sauce, Pico de Gallo, and "semi-famous" guacamole will be well worth the wait.
Happy's Taco Shop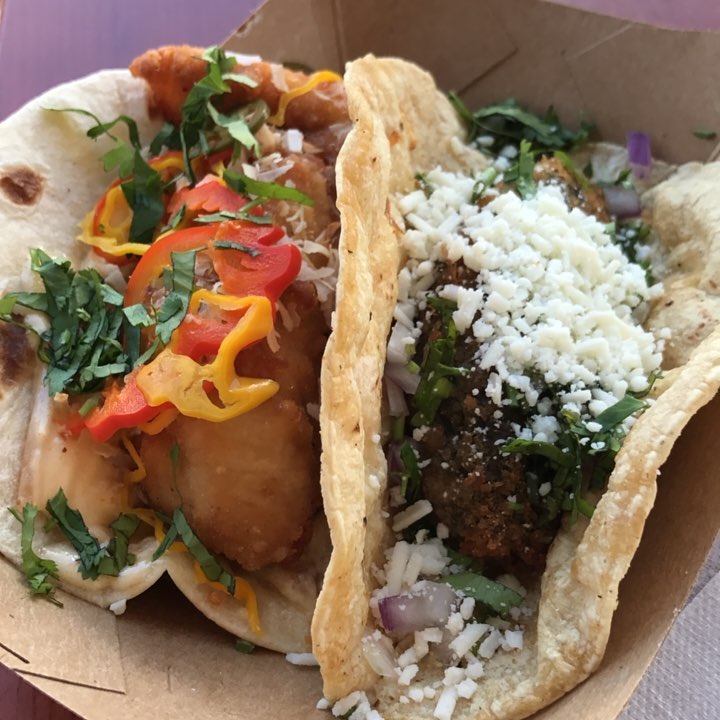 "Nothing screams gringo taco more than putting fried chicken inside a taco, but holy shit is it good" -Ashley Mugnolo, Inbound Marketing Manager
With a rotating menu of adventurous and modern tacos, Happy's Taco Shop at the Little Fleet and Boyne City Farmers Market is a local favorite. Ingredients like cactus relish, apple salsa, and candied jalapenos tickle the taste buds and make your stomach smile. There isn't anything authentic Mexican about these tacos, but we just don't care. They're that good.
Do you have a favorite taco place that didn't make our list? Leave a comment below and let us know who you think has the best tacos in Traverse City. Happy taco eating everyone!