Birthday Buzz: SEO Eats Cake AND Twitter Feeds
Happy birthday Harry Potter!
Wait. Listen for it.
Tweet.
Did you hear that? There were already thousands of tweets wishing Daniel Radcliffe, aka Harry Potter, happy birthday by 9 am EST today. And riding on the blockbuster wave of Harry Potter and the Half Blood Prince, Daniel Radcliffe has a lot to celebrate. The 20 year-old, "I'm not really a wizard, but I play one in the movies," scored at the box office and across all the social media channels. In the days after the film's release, Harry and Daniel were in the top 50 trending topics on Google. Because, the truth is, going to the movies is not merely an escape from reality; it is a complete integrated experience.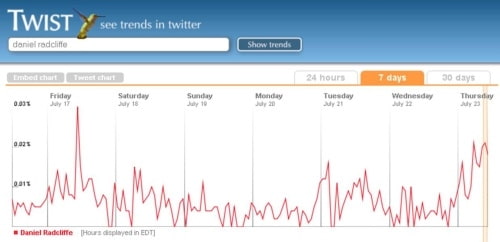 Remember the Blair Witch Project? For the lack of cinematography, the BWP offered up a prime example of media integration across channels. But we've jettisoned the clunky tactics—paid television spots and static websites—that made the Blair Witch Project successful. Now, it's all about assimilation into the social fabric online. Let's jump back to Harry. What worked?
In addition to a few waves of the wand, Harry Potter and the Half Blood Prince infiltrated social media channels. Ta da!
Take a look at the numbers. Harry Potter and the Half Blood Prince has seen:
•    Nearly 500,000 visits to the film's channel on YouTube
•    Over 900,000 fans on Facebook
•    17,500+ followers on Twitter
In the magical world of Harry Potter, what happens offline—a blockbuster film release—drives traffic online. Because it is a social world we live in, SEO benefits from the integration of a social media campaign. It is the way we share, the way we communicate. Social is the way we live—and it is on Facebook, Twitter, YouTube, Flickr, Blogs—it is right on your lap(top).
SEO without social media is like trying to tie your shoes with one hand tied behind your back. You could probably do it, but it would take a while. Like your hands, SEO and social work together.
Dell was looking for a way to increase online sales of computers. The solution? Twitter. After careful implementation of a tweeting strategy, Dell has built up over 500,000 followers and directed more than $1 million dollars in sales from twitter feeds. Meanwhile, as Dell tweeted about the success of the Twitter buzz in November 2008, the percentage of Dell.com traffic coming from search engines spiked. All the tweeting increased the popularity and importance of Dell in the natural search results. That's the picture of total optimization.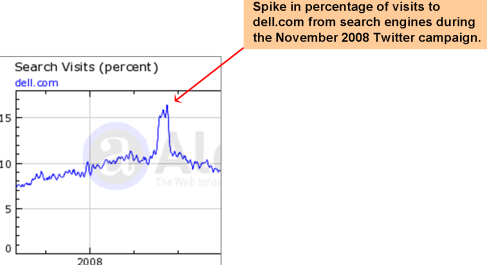 Tweeting Tiny URLs and posting links on Facebook does drive traffic to websites, according to a recent Hitwise data. It isn't sorcery; it's all about integration. Check out what the wizards at Oneupweb can do to layout a social media roadmap that compliments your SEO strategy. And browse our white paper library to learn more about the fusion of search and social.
Thanks #Dumbledore!