Bit.ly, Goo.gl and Fb.me, Oh My!
Last month was the 70th anniversary of The Wizard of Oz. I hadn't seen that movie since I was a child, so I went to our local Traverse City State Theater where I was greeted by Dorothy, The Cowardly Lion, The Tin Man, and The Scare Crow. These were not the real characters of course, but volunteers that had dressed up and welcomed everyone into the theater. Documentary filmmaker Michael Moore was there too, so I said hello. We chatted a bit about the improvements that could be made in our town. Then I got my popcorn, sat down with my wife, and watched a movie that I hadn't seen in years.
I always loved the three characters from The Wizard of Oz and this week three other characters have popped up in the social arena to make some social media news. Google (The Tin Man in search for a heart), Facebook (The Scarecrow in search for a brain), and bit.ly (The Cowardly Lion in search of courage).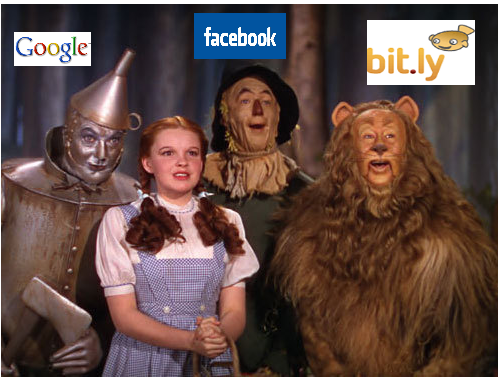 First Facebook came out with its own URL shortener called fb.me. Still in search for a brain, fb.me (currently) only works with sharing links from Facebook pages, mobile interfaces and Facebook usernames. While no one seems to be sure when this was implemented, this new shortener began to show up in mobile links over that past few days.
Google, not to be outdone (remember still in search for a heart) then came out with Goo.gl. One more step towards global domination.
And at that point, bit.ly, the current leader in URL shorteners, said enough is enough! bit.ly introduced a new feature of its own called (dramatic pause) bit.ly Pro! It appears that The Cowardly Lion has found his courage! And bit.ly Pro seems pretty cool too. Here's what's new:
** First, the Pro service provides custom shortened URLs powered by bit.ly. Though the example on bit.ly's blog is New York Times' nyti.ms, I have yet to see this in use.
** Second, bit.ly's Pro account has also introduced a unique real-time dashboard that will provide publishers with even more information about their bit.ly traffic.
** And finally a real -time view of what is trending on this particular domain — updated every 15 seconds. Now that could return some interesting data.
While this service is currently in beta, bit.ly has rolled out these features to a select few. Including AOL, Bing, foursquare, The Huffington Post, MSN, MTV Networks, The New York Times, The Onion, TechCrunch, and The Wall Street Journal Digital Network.
Interested in becoming a beta tester? Here's what bit.ly has to say: "If you're a publisher or a blogger interested in these services, we'd love to hear from you — please fill out this form, or contact bitlypro@bit.ly and provide us with your bit.ly user name."
So as for the journey of shortened URLs, I hope that the three characters in this race will all get what they so desire: a heart, some courage, and maybe even a brain. Either way the competition will undoubtedly help those that use the services. But if you ever get overwhelmed by the immense amount of work it takes to manage your social media and keep up with all changes, you can always give us a call. Or if you're feeling really imaginative you might tap your red slippers together three times and repeat after me… there's no place like home.