Branding and Identity: Id, Ego, Superego
"Brand is the story your audience shares whenever you're not in the room." –Amazon founder Jeff Bezos
More than simply flashy design or wit, your brand is the projection of your business's identity—a reflection of your business's mission and its core values. From your logo to your tagline, the color palate and your typography—distinction and consistency are the key concerns.
Whether you need help defining your brand or are simply looking for refinement, our creative, research and strategy teams address your identity and branding needs.
We provide:
–       Comprehensive style guide development
–       Logo design
–       Tagline & rditorial voice development
–       And more
Request a proposal and let us help you stand out above the noise.
Up Next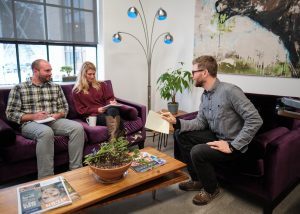 A Gartner CMO survey found that publicly traded companies spend about 11% of total revenue on marketing, and as much as 75% of that marketing budget goes to digital. However, average marketing budget is influenced by industry, audience, cash flow and more. Alas, there's no magic marketing budget based on percentage of revenue or sales. But you...