Creating a Timeless Brand in a Trend-Obsessed World
Every great brand has a style, a look and feel that, like a moth to the flame, draws customers in. You can often identify these brands by a single iconic element that differentiates them from all other competitors. Coca-Cola has its iconic red, McDonald's its golden arches, and Starbucks a siren of the sea.

But how do you get that iconic look? What makes a brand style successful—How do you create a brand look so timeless that its power and appeal never waivers in our our trend obsessed world?
Start by Investing in a quality wardrobe
Look at your brand assets. What's there? Are they high quality? Do your logo files exist in CMYK, RGB, black & white, raster and vector formats? Do you know what the copy tone of your business is? The colors, fonts and photographic styles to use? Do you have a brand guide?
As any true fashionista would say, in order to stand in the spotlight you must invest with purpose and a hint of flair in at least some quality "wardrobe" items.
In branding, this could not be truer. The three basic elements of a brand wardrobe: the logo, colors, and fonts, are the calling card of a brand. Having a well-crafted logo and brand scheme allow your business to stand out from all the others in your industry.
Wait! Doesn't what is on the inside matter? What about my brand personality? What about my cheerful disposition, winning smile and penchant for helping little old ladies cross the street? Aren't those important?
Those are very important. In fact, your ability to produce a good quality product and market it far exceeds the importance of your logo. But here's the thing: there are lots of businesses producing quality products and lots of people selling products and services at fair prices. To differentiate from them, how you dress, or rather how you brand your business, is one way to stand out and be noticed. I am going to take it as a given that your business is producing a product or service with a certain level of value, if not—well, no amount of branding or marketing is going to make a difference.
Now back to our regularly scheduled program.
So, where do you get a big –league logo and brand wardrobe (fonts, colors, assets, etc.)? From a respected designer, or agency—and yes, Oneupweb is one of the more reputable providers, and good at what we do too, not to toot our own horn or anything.
A quality brand identity should always be a custom solution. It doesn't need to be revolutionary or reinvent the wheel, but it should never be copy-and-paste clip art from some library of icons that someone found online, or worse clearly plagiarized by some unscrupulous online entity.
Besides, no one wants to be caught wearing the same clothes as someone else to the party.
Hers are a few basic things you should ask your design team for when creating a new look for your business. We, in the industry often call this the "brand assets package."
What you may want to ask for:
Logo
Vector files (.ai or .eps): Vector files are 100% scalable which makes them ideal for logos. Most logos are created in a vector friendly format. However photographs and some effects cannot be made in vector.
CMYK and RGB versions: CMYK is the standard color format for print and RGB is used for screen your logo will need to be created in both formats in order to preserve color fidelity.
Color, grayscale, and black and white versions
Jpgs in multiple sizes
Png files with transparent backgrounds in multiple sizes
Reversed versions for dark backgrounds
Logo specifications document: It is often helpful it have a short guide that shows how to use the logo and what rules apply to it. If your business has a larger brand guide you may not have a logo specifications document.
Fonts / Typefaces
Font selection
Hierarchy guide for how to use the fonts
If it is a licensed font, you should be given direction on were to purchase the font and how much it will cost. Your business will need to own the rights to use the fonts.
Colors
Color palette selection including primary and secondary colors
CMYK numbers for print
RGB numbers for screen
Hexadecimal number for web
Pantone matching (PMS) number: The Pantone Matching System is a standard of color used in print for single color ink production. It is often used for large runs of print such as a postcard or poster and most predominantly for a logo or large background color. Almost all instances of metallic and neon in print are Pantone inks.
Brand Guidelines
When it comes to knowing how the logo, color scheme, copy, fonts, voice, tone— all the branding elements work together the brand guidelines are crucial. This document outlines all the basic rules for each of your core brand elements. When it comes to keeping everyone in your company speaking in the same voice this handy little document is there for you.
Be consistent but not boring
As fundamental and basic as this sounds, it bears repeating: When it comes to your brand, consistency is key. And in today's multichannel multiplatform world where there are more places for your brand to communicate than ever it's really, truly, incredibly, most indubitably, difficult to maintain any level of consistency in your brand. But with a little extra ingenuity consistency is still possible.
To that, let's have a drink. I'm a vodka drinker, myself. More specifically, I'm an Absolut drinker.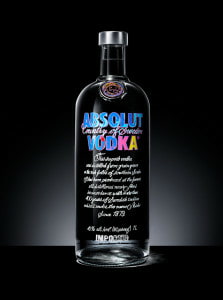 As I am a creative individual, this is perhaps no surprise to you, their branding calls to me like a siren song. The Absolut brand is incredibly successful in maintaining a consistent brand while also being unique and exciting. Plus, I have to say, bringing back the 1986 Andy Warhol Absolut print as a bottle design a quick way to re-endear a brand to pop art obsessed graphic designers, such as myself.
Absolut has a long history of collaborating with artists to create limited-edition bottle designs, cutting-edge installations, event spaces and more. But, what doesn't change is the core of the Absolut brand.
Let's do an experiment. Imagine bottles on a shelf, each painted the exact same shade of matte black. I bet you could spot the Absolut bottle.
This is because, like Coca-Cola's bottle, the Absolut bottle's shape is iconic. And yet it is incredibly simple in its execution, just a couple of cylinders glued together. When you look at the shape of the bottle long enough it becomes almost awkward.
Oddly enough it is somewhere in the multitude of brand elements outside the bottle that make the bottle's shape, and the burning fire (that alcohol) within it iconic. But, without the constant drumbeat of the bottle, the logo and that particular shade of cobalt blue that the Absolut brand is synonymous with all there would be is a disjointed pile of glass shards and distilled spirits.
Why? Absolut has endeared itself to us. The brand lives far beyond a bottle shape, or a logo, the brand is a living thing to quote one of my favorite books, The Brand Gap.
"A brand is a person's gut feeling about a product, service, or organization."
And at the moment, Absolut is settling in my tummy just fine.
Accessorize with care, but don't cut a mullet
Big hair. Shutter shades. Perms. Flock of Seagulls haircuts. Sun in. Parachute pants. Shoulder pads. Leg warmers. Beanie Babies. Jellies. Silly Bandz.
These are perhaps some of the most lamented trends of the last 30 years. Some of us, (but not me, I'm far too cool for any of that—OK, there was one, maybe two) may have hopped on a bandwagon du jour that we are now not so proud of.
However, don't let the fear of looking a little silly tomorrow stop your business from the hot trends of today. Yes, you want your core elements to be timeless. But each ad, sign, tweet, and pin lives in this moment.
Before diving headfirst into every trending topic on Twitter, let's take a moment to consider a recent cautionary tale:
At 11:11 PM on September 8, DiGiorno Pizza incorrectly used the #WhyIStayed hashtag in a tweet resulting in a massive backlash across the tweet-verse.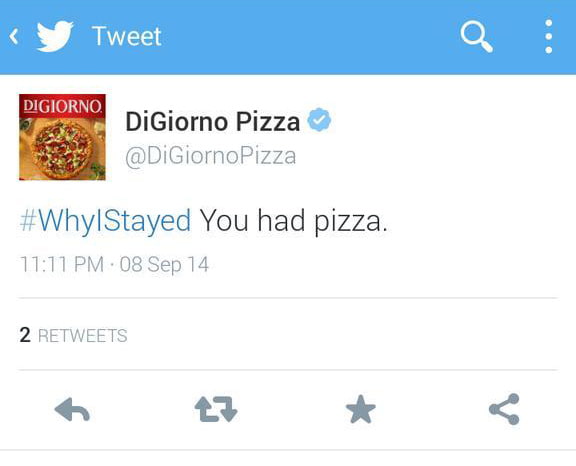 For a little background, the #WhyIStayed hashtag had been created just days before by author Beverly Gooden in the wake of the video of Baltimore Ravens' Ray Rice punching his then-fiancé out cold in an elevator in an effort to expose the difficulties of leaving an abusive relationship. For more on the thought-provoking Twitter campaign that defended his fiancé for later marring Rice take a look at the Huffington post article "#WhyIStayed Stories Reveal Why Domestic Violence Survivors Can't 'Just Leave'"
As you can imagine, the DiGiorno pizza tweet "#WhyIStayed You had pizza." came off as callous, and before you could say "It's not delivery…" hundreds of people began to lash back to the reckless tweet, some proclaiming they would never buy DiGiorno pizza again. And all the poor guy hired to tweet for DiGiorno could do is start apologizing for his mistake, which he dis en masse. For every person who sent DiGiorno an angry tweet he responded back. It was not a single blanket apology but instead a multitude of individual apologies, sent to each angry tweeter.
Overall, as far as Twitter blunders go, the brand handed the backlash well, but it doesn't change the fact that this was an easily preventable mistake and that the account has been silent since the event.
Hopping on a bandwagon does not always spell trouble. It can often lead to great things. One of the most notable in recent years (particularly in the world of Twitter) is the 2013 Oreo Super Bowl Tweet.
Simple, elegant, timely, wildly successful.
That night in front of a TV audience of 164 million, the San Francisco 49ers and the Baltimore Ravens battled in the 3ed quarter at the Superdome in New Orleans when the power went out in the stadium, resulting in a 34-minute blackout. Oreo took advantage of this opportunity: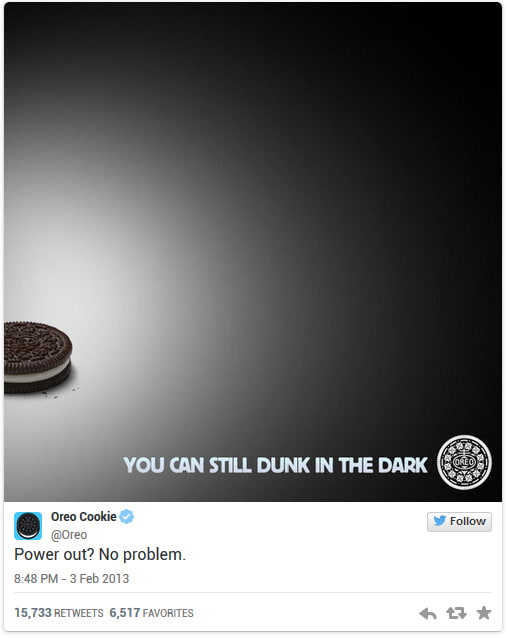 Within an hour it was retweeted 10,000 times. Thousands saw it. Thousands loved it. It was simple, and created in just minutes.
There comes a day when you outgrow your wardrobe (and that is ok)
I recently went through the bittersweet experience of cleaning out my closet for the changing season. This, of course, meant switching out all my summertime fashions for sweaters, coats and leggings as well as culling all the items in my wardrobe that no longer fit me, I didn't wear, and that had so many holes from my dog jumping up on me that there was no hope left—especially for my favorite pink sequin shirt.
It was hard letting go of that longtime favorite shirt. I had kept it past the point of public decency, but I just couldn't let it go. It hung on a hanger in the back of my closet unworn for two years, before I could work up the gumption to let it go.
In business it is often easy to hold on to an old and outgrown brand identity rather than change. It can be hard to let go of something that is comfortable and familiar, even if it does not serve your business fully.
But as your business grows, two questions may come to mind: One, how often should I change up my brand materials? Two, how much should I change them?
Unfortunately, there are no quick answers to these questions. There is no "one size fits all," no shoehorn, sizing chart or elastic waistband. Every brand requires a tailor made approach that fits their business flawlessly.
Your Timeless Brand
Unfortunately this post alone cannot make your business the next iconic brand. Coca-Cola, McDonald's, Starbucks, and Rome were not built in a day. It all takes time, energy and, yes even a little luck.
Here are a few bite-sized takeaways to help you along:
Take the longcut not shortcuts when building your brand. Just because it feels good to your bottom line now does, not mean that it will tomorrow.
Be consistent in your brand messaging, but don't let yourself be boring. Seek intriguing new methods to express your message.
Pay attention and embrace what's trending, but don't get too enmeshed or dedicate too many resources to the latest trends.
Embrace change when the time is right, but changing "just because" can lead to trouble.
Nobody, and for that matter, no business is perfect. That's right even, Apple and Google have flops.
Oh and one more…
Coco Chanel once said "I don't do fashion. I am fashion." Likewise, when it comes to your business, this could almost be resaid. "I don't do branding. I am the brand."
You are your biggest brand advocate.
Live your brand.