Candy Is Getting Social This Halloween
October signals the time to pick out your Halloween costumes and dream of candy! I  mean, who doesn't love candy and trick or treating? Yes, I may be 28-years-old, but I still go trick or treating with my nieces and nephew. One of my all time favorite candies are Skittles, and they have really surprised me this month.
Check out Skittles.com. After you enter your birth date you are taken to the Skittles "Homepage". You will never guess what it is—Twitter is the new Skittles homepage!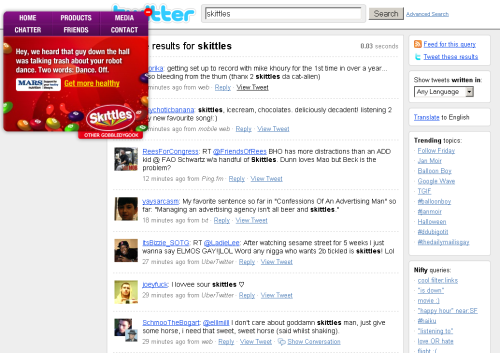 However, on each page of the website there is the widget you see below. It is located on the upper left of the Skittles website, and provides the navigation for the site.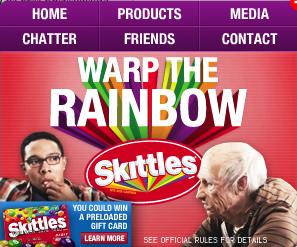 Click "Friends" and you're taken to the Skittles Facebook page. Click "Chatter" and you guessed it—back to Twitter. Under "Media" the video tab goes to YouTube and the pics tab will take you to Flickr.
What a concept! What a risk! Is this the first time anyone has ever done this? And if it's successful, what does this mean for other home pages? Why not just use all the popular social networking sites? One argument for this could be that most of the work is already done for you, and chances are these sites are more successful/interactive than yours.
So could this be something that we will see more of in the future? Let me know your thoughts.
*Editor's Note: Skittles actually started using their social media profiles, such as Twitter and Wikipedia, as their homepage several months ago. While they did run into a few snafus in the beginning, they've continued to introduce themselves to new customers and re-introduce themselves to recurring customers by rotating their various social media channels on their homepage.

If you like the information in this post, check out Oneupweb's blog that is dedicated to social media at StraightUpSocial.com.