Cheers To You Internet, We Couldn't Have Done This Without You
It's true. If it weren't for the fact that the majority of my family and a good handful of my friends have no idea what it is that I do as the director of marketing for a digital agency—I would have stood proudly and proposed a toast to the Internet at my wedding a few short days ago. Just to thank it for all of its availability and assistance in making the planning of a wedding for hundreds of guests simple and painless. Or at least, more simple than it would have been without the Web. (While we're at it, here's a quick toast to planning being over.)
Having a day job can make planning a wedding difficult. When the work day is done, so is the day for all of your potential vendors. And when Saturday rolls around and you're ready to talk business—well, they're working someone else's wedding. Not to mention the overwhelming number of phone calls that start to trickle in as the big day approaches and your days get more hectic. Where should we stay? I lost the invitation, where is the wedding? When is the wedding? How do you spell your new last name?
What's a couple trying to get hitched to do? Turn to the Web.
For what it's worth, here's a bevy of sites and tools my husband and I used to make the big day as close to perfect as it possibly could be—without loosing our sanity or control of our budget along the way.
#1: Mywedding.com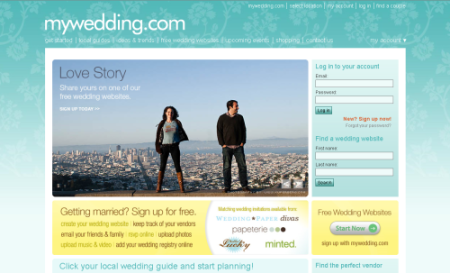 While some were blown away by the fact that I had a wedding website—I personally expected nothing less of myself. But then again, note the fact that no one can actually comprehend what it is that I do for a living.
Mywedding.com became a one-stop shop with the answers to all of the questions we were barraged with and a way to manage all of our vendor correspondence and contact information—no matter where we were. Setting the site up is incredibly easy—and it's free. We used every feature we could get our hands on, listing everything from photos and registries to suggested accommodations, details about various events, a guestbook—we even collected all of our RSVP's online. And trust me, you need to do this. Don't ask questions, just do it. And when you export your entire guest list, the names of their dates and their meal choices into one spreadsheet with the touch of just one button—you'll thank me for it. Not to mention the stamp savings. And fret not—grandma will be counted for.
#2: Mineeds.com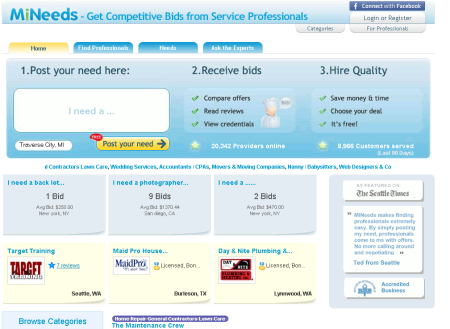 Talk about a life saver! Ever wished caterers could bid on your wedding? How about your photographer? Florist?
They can. You have got to check out this site. Post your needs, review responses, check out their professional profile (complete with user reviews) request proposals, negotiate your price. Done. Awesome.
Be sure to use a good side of due diligence when using mineeds.com, of course.
#3: VistaPrint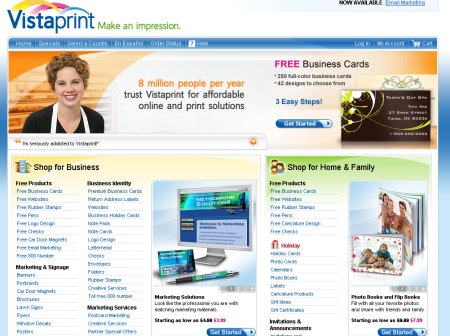 While you won't find fancy embossed, foiled, seeded paper invitations here—digital printing is an excellent option if you're looking to create invitations on a budget. And fret not—you can upload your own design. Clip art hearts weren't for us, either.
We used VistaPrint for everything from save-the-date magnets (which were custom designed and cost less than $2.00 a pop for a 3×5 magnet—find that deal elsewhere), to invitations, car magnets and our thank-you's.
While I'm sure there are many other excellent digital printers out there, I've had nothing but good luck with VistaPrint. Just don't fall for the shipping hoax. Order early and pay for standard shipping, it typically arrives faster than the site projects.
#4: Wishpot.com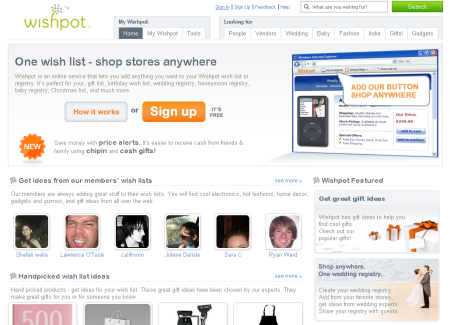 Who really wants to register for all of their gifts from just two stores? We didn't want to, and thanks to Wishpot.com—we didn't. And we didn't spend weeks scanning items at tens of stores either. With Wishpot, you can quickly and easily set up a registry accessible to all of your guests, or to the public, your choice. The coolest features:
It integrates seamlessly into the mywedding.com website.
Your guests can price compare retailers for each gift directly from the Wishpot site.
You can rate your level of desire for each gift. (My husband really liked the "I realllly realllly want it" setting.)
Your guests can mark gifts as reserved when they are purchased, and they can opt to keep the purchased item a secret. Lucky for me, no one kept their purchases a secret and I conveniently set up a mobile email alert to arrive every time a gift was reserved. Oh yes, I was the kid who always snooped for Christmas gifts.
A toolbar widget makes adding items to your registry so simple. Browse a site, click an item you want, click the widget in the tool bar. Done.
#5: The Wedding Lens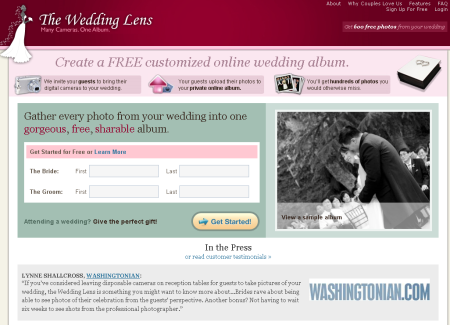 Sure, Facebook is a great place to see all of the photos friends and family have uploaded and tagged of the big day. But grandma isn't necessarily on Facebook—nor do you necessarily want her to be. Set up a photo sharing site with The Wedding Lens. Here, your family and friends can upload the pictures they have from your wedding day. You'll be surprised how great (and how awful) some of them really are.
These were just our top five favorites—we used tons of other digital tools to manage everything from our budget to our cake design. But after all, a wedding planner I am not and I'm sure those making a living out of this would prefer I keep some of those tools a secret. But never forget the power of Google. Everything you need to make the process manageable is available to you online. You can keep your sanity, your day job and have a perfect wedding. Oh and vendors—make sure your clients-to-be can find you on these new-fangled sites. If you need help mastering this new digital art, give Oneupweb a call.