Up Close & Personal : 3 Insights for Marketing to Millennial Moms
Before we dive into the insights that marketers need to effectively reach, motivate and gain loyalty from Millennial Moms—let's define—just who falls into the Millennial Generation.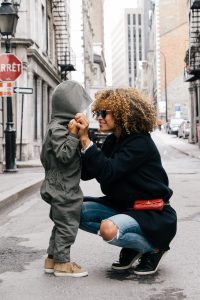 It seems there are no precise start or end dates for this generation, but the consensus is that those born between 1981 and 2000 fall into the Millennial category. Meaning a Millennial could now be between 14 and 33 years old.
Which also means that after years of thinking that I wasn't part of this generation (possibly even contriving some sort of pride in that fact), I am a Millennial.
And I am in fact, by category definition, a Millennial Mom.
Great. I'm a self-entitled, narcissistic, demanding, coddled, delusional, lazy "mom" constantly in search of feedback and affirmation, more flexibility, and I want fame and fortune. Depending on who you ask, of course.
But what does this mean for marketers? The Millennial generation is said to wield $170 billion dollars in annual spending power and now, more than 70% of babies born each year can call mommy a Millennial. Even more staggering, 83% of new moms (having been one fairly recently, I know damn well that new moms are their very own category, not to be lumped in with experienced moms) are Millennials.
Your Stock Photography & Messaging Is All Wrong
That stock photo you've been using of a mom in a business suit with her hair all disheveled, papers flying, grocery bag in one hand, baby in the other—you know—that one who is trying to have it all? That chick is actually the minority when you look at Millennial Moms. Not because they have it all together, but because 60 percent of Millennials believe that one parent should stay home with their child and today, it's typically mom that ends up at home rather than dad.
But consider this, Millennials also believe that both parents should add to the household income, that mom and dad should divvy up the household chores equally and that a mother who pursues a career outside of the home is actually a positive example for her kids.
Hmm. What does this mean for marketers?
It means the liberation movements of our mothers and grandmothers shaped us and we Millennial Moms believe we can, will and should do whatever we deem to be "right" for ourselves and our family. Millennials also believe that doing "what's right for their family" changes with situation and time. So there is no such thing as one career path, Millennial Moms will move in and out of several in their lifetime and for marketers to gain the trust and market share they desire among Millennial Moms they must nurture and enable that personal choice, even encourage it.
And the key word, is personal. Which means your attempt to market to "Millennial Moms" with just one message, hoping to ring true to all of them is likely futile. They seek messaging and brands that seem personal to them, aligned with their current situation, values and beliefs.
They Are Seriously Proud of Their Kids and Themselves and Hungry for Validation, Get on That Band Wagon
Prop those moms up. Sure, that's just a given when it comes to marketing to moms of any generation but Millennial Moms are especially proud of the family and lifestyle they've created. True or not, they believe there's something decidedly, deliberately unique about their child and the life they have dutifully and intentionally created for themselves and their family. And while proud of it, they aren't as outward with their claims of pride as the moms of previous generations. Conversations about being "so proud of Timmy" have been swapped for Facebook posts and Tweets that may be a little more cryptic on the surface. Give those mommas reasons to be publicly proud of their creations (human and craft) and they'll jump on board. What does this look like for marketers? Contests and awards—lots and lots of contests and awards that give mom validation that she should in fact, be boastfully proud of all she does.
Case in point, my Facebook post from this morning.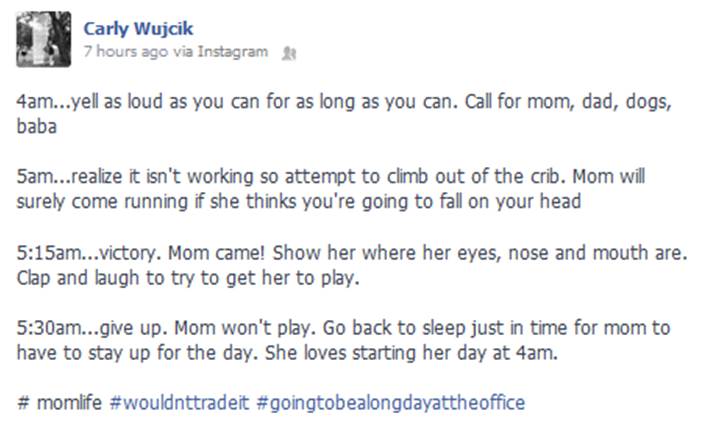 While writing this blog post I realized—I likely did this because I'm proud of myself for being a hard working mom that started her day (yet again) at 4am and proud of my daughter who at just 13 months is so (uniquely) smart (all thanks to my planning, strong parenting skills and intense discretion in choosing a daycare sure to make her a little genius). This seemed, maybe even subliminally, like a better, more socially acceptable way of letting my network in on that.
They Aren't Proud of Purchases They Make on Price Alone
When proud, Millennial Moms share. They share far and wide on their hyper connected social networks and in their hyper connected social circles. They will.
And it's true, they are coupon and loyalty discount aficionados—but something else about your company or brand has to accompany price savings in order for Millennial Moms to be proud, loyal customers and enthusiasts.
And what that other "it" factor is largely depends on the particular segment of Millennial Moms you ask. Some seek convenience. Many seek health and environmental benefit. Others style and acceptance (think Target…you can be "on trend" and so can your kids without having to spend scads of money. Millennial Mom A. "Cute pants!" Millennial Mom B. "Thanks! $10 at Target." Millennial Mom A suddenly has to "run to the store" leaving her partner with child while she sips a well-deserved latte perusing the isles of Target, combing through every article on the clearance rack until she too can find the $10 gem that will make her look great without feeling guilty).
For the record, I have never accidentally found myself at Target sipping a latte for two blissful hours. Ever. And I do believe that all moms, however they identify themselves, are amazing.