Content Marketing: The Quest, A Oneupweb Original Video
Why you should care:
You'll learn about video best practices and go behind the scenes to learn what it takes to create a video
We premiere the video below, where we go full-on 8-bit to create a video experience that should leave you longing for the time when video game controllers still had cords and you had to blow on the game cartridge to get them to work.
OUW Presents- Content Marketing The Quest from Oneupweb on Vimeo.
Videos are fun—and effective–content marketing

Video is one of the most effective forms of content marketing. Just consider the following:
90% of information transmitted to the brain is visual
Posts with videos attract 3x more inbound links than plain text posts
85% of the U.S. internet audience watches videos on line
(For more video statistics, check out this post courtesy of HubSpot.)
Whenever we undertake a video, we keep the following best practices in mind:
Make the video engaging and shareable
Use the video to drive business goals
Our creative process always starts with a concept, script and storyboard. To give you an inside look, keep reading.
(8)-Bits and Pieces—The Making of Content Marketing: The Quest
Every video is different, but they always start more or less like this:
Hey, Rob—let's make a video.
For this video, we wanted to accomplish a few things:
Show off our video capability by making the video visually interesting and story-driven
Show off our design skills (nearly everything in the video is a custom illustration)
Drive more awareness around our new eBook, Content Marketing Quest
As a starting point, we used the basic concept behind Content Marketing Quest.
The video had to do more or less the same thing. Initially, we kicked around producing it in the same vein as the eBook—using YouTube annotations to provide choices during the video, which would let viewers pick their own adventures by clicking the options in-screen while the video plays.
It wasn't a bad idea, but it wasn't quite where we wanted the video to go. Somewhere during our brainstorm session, we started talking old school 8-bit video games and we asked ourselves what it would look like if the video "played" like one of those old school games. This idea sparked and we started running with it.
With a concept finalized, we put together a (rudimentary) storyboard. (If you're looking for storyboarding tips, check out this post: Storyboarding Tips for Marketing Videos.)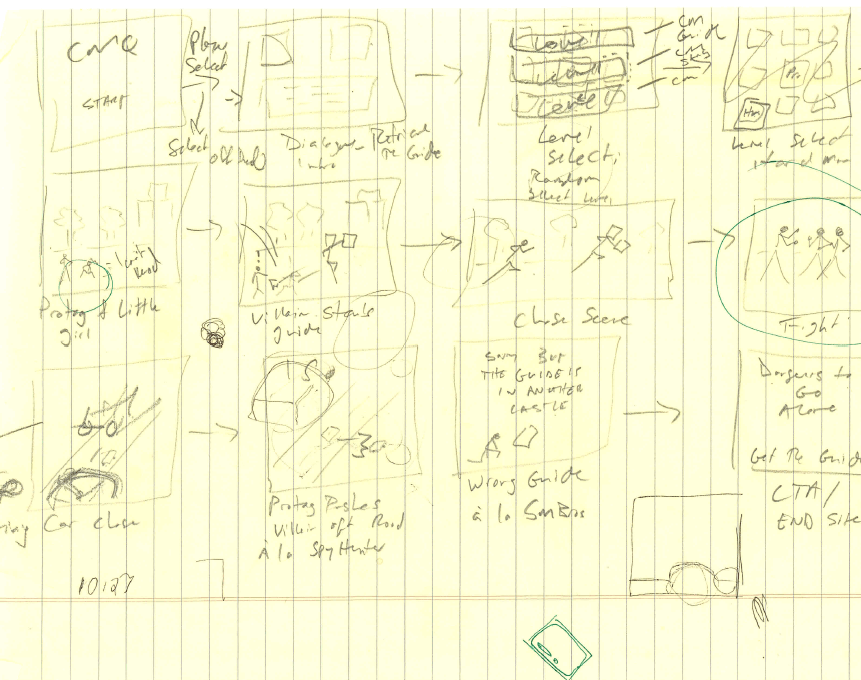 Next,  we called on one of our amazing designers, Nicole E., to draw up backgrounds, character sheets and more to help bring the video to life.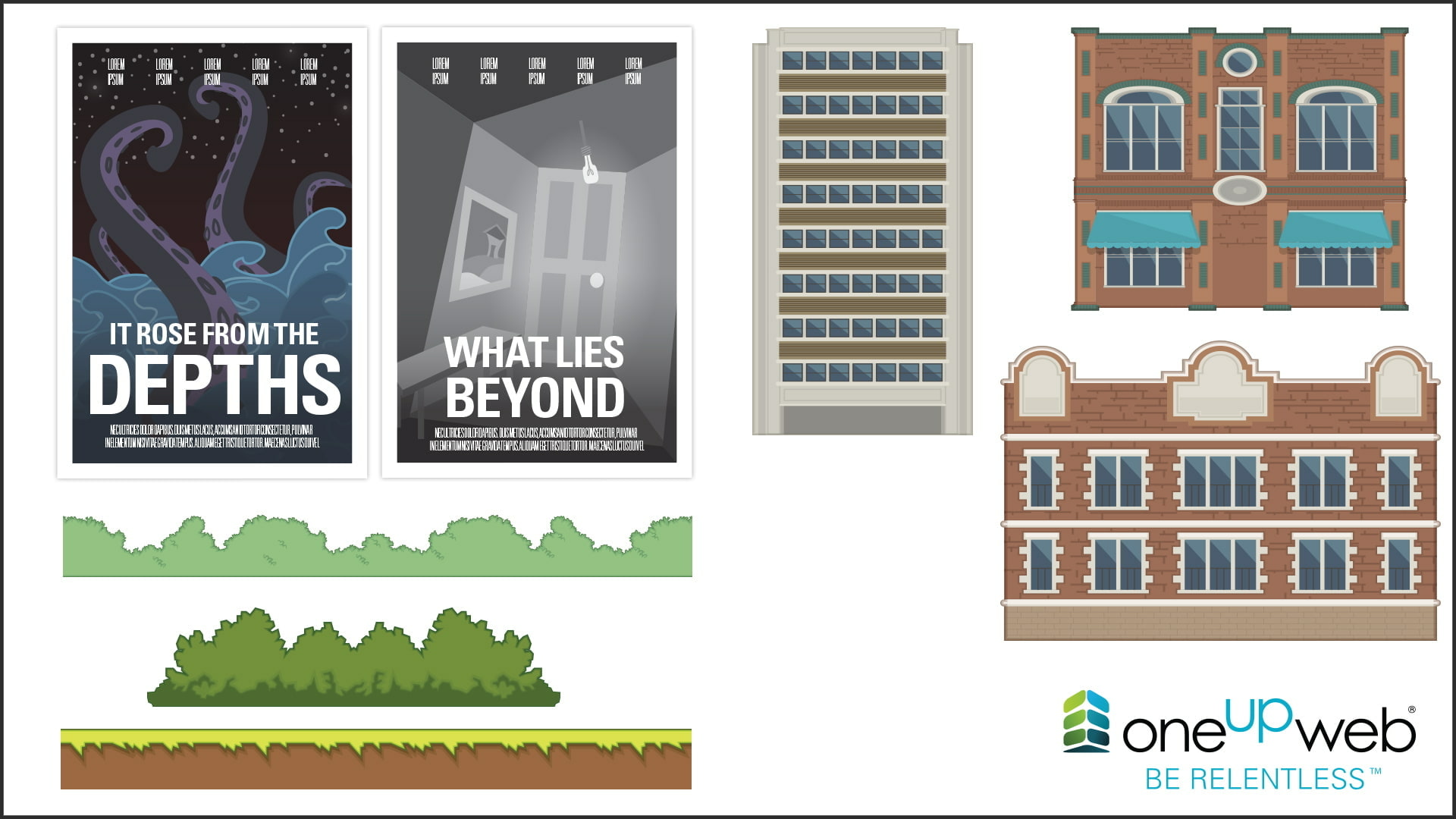 The lion's share of the work fell on Rob. Using Adobe After Effects, Rob put all the pieces together. The final cut ended up with 879 layers in After Effects. When I asked Rob about some of the hurdles he encountered, he said the following:
One thing I had to work through is making everything look pixelated. The one solution I had wasn't working well, so I had to find a workaround. The other problem was figuring out how much to pixelate. I wanted to keep some detail but make it look and sound authentic. That also meant working at a lower frame rate (15fps) than the standard (24fps) to give it that 8-bit feeling.

The end result is what you saw above. I'm biased, but I think the final cut looks amazing and it was a great project overall—huge props, kudos and tips-of-the-proverbial-hats to Rob and Nicole E.
Here, watch it again–this one lives on YouTube and has an annotation at the end allowing you to download the Content Marketing Quest at the end:
Of course it doesn't matter what I think—what do you think? Let us know in the comments below, and be on the lookout for an upcoming video series that we promise will be packed with helpful and easy marketing tips you can do on your own to improve your efforts–it's coming your way soon!