Creativity + Data: Building Your Content Strategy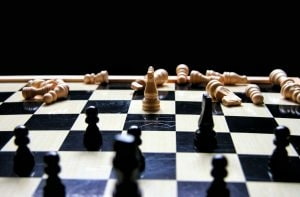 This post is the first of four in the series "Creativity + Data: Building Your Content Strategy." Over the next three posts, we'll focus on best practices, tips, tricks, and tools for using data to inform the creative nature of your content.
To see your blog posts perform well, the reasoning behind your editorial calendar topic ideas shouldn't simply be "I think this would be good for us to cover" or, worse yet, "I saw this post from a competitor and think we could write something similar." Digital marketing is so much more than intuition and plagiarism. Google's push for higher-quality content in search began in 2011 with the Panda update and the algorithm changes since have only perpetuated the expectation that content marketers provide the most relevant content for searchers.
A leading SEO resource, Moz, calls the type of content we should always be striving to create "10X Content." One of the main tenets of 10X Content is that it is "a combination of high quality, trustworthy, useful, interesting, and remarkable" as well as "considerably different in scope and in detail from other works that are serving the same visitor or user intent."
If we are creating content now that already exists in a similar fashion elsewhere, we're attempting to compete with the existing content's domain authority – quite literally, the search engine algorithm operates with a "first come, first served" mentality to create the SERP. That means that unique, focused content is of utmost importance when trying to gain traction in search.
So, where do we start in creating this unique, focused content? The same place you start when you're building a house.
Building the foundation for your content strategy
Whether you're attempting to write a single post or create an editorial content calendar for the year, the most important step is in research. This will help to determine what people are actually looking for, how they're looking for it and what they end up reading and sharing.
In the research phase, we should be thinking about:
Relevance – do these topic areas truly reflect the services or products we provide?
Seasonality – are there certain topic areas that people are looking for at certain times?
Intrigue – can we cover this topic in a way that it's never been covered before?
Some tools for topic research include:
The research phase of your content strategy should also include taking a deep dive into your existing analytics and reviewing Search Console for the queries that are getting traffic to your site already. That will also help advise you – not only in deciding on what types of content to produce for the blog, but also in determining what people are looking for when they arrive on your site.
This is why your content marketing strategy should be largely comprised of the organic search engine optimization strategy that already exists on your site. Connecting the dots between SEO and CM has never been simpler, right? More fodder for thought here.
If you've already started building the house
Say you've already been running your editorial calendar, publishing posts based on topics that largely fell out of thin air and into your creative brain. Not to worry – you may be building on quicksand, but there are options to move that house to a new foundation! You can still back track to optimize so that organic performance improves.
When we're adding copy to existing blog posts, we don't just want to tack 200 words on to the end of the post. Instead, what we'll do is rewind to the research phase, focusing solely on that topic you've already written about. Pull your query data, long-tail keywords, and rework the topic so that you know that it's relevant, timely, and intriguing. From there, optimize the existing content, titles, and metas before expanding on the posts themselves. This way, all of the pieces of each post are working cohesively together to ensure better overall performance in organic search.
Don't forget the roof!
In order for your blog posts to perform well, you need to know what the end goal for each post is. For us, that end goal is defined in keyword research and full optimization – that is, inclusion of keyword-rich content throughout the copy of the post.
As stated before, content strategy isn't just driven by intuition. We also need to ensure that we're using industry knowledge in conjunction with our knowledge of what information the reader is looking for. Organic SEO's best kept secret is simply "writing for the reader." As long as we're efficiently giving the reader the information that they want, the post will begin to see better performance in search.
If you're not quite feeling like a lead architect, we're ready to help you build your house – erm, editorial content calendar – to your exact specs. Check out what we can do for you!