The Curse of 90% : The Challenge of Time Management
One truth that all of us face is the challenge of having to accomplish more with less. It's either fewer resources on the team, or more and more marketing channels to manage. With every new challenge, the premium on our time grows by leaps and bounds.
Time and again, we all have to face down what I call the "curse of 90%". Almost all projects can get off to a great start. The natural tendency – especially when you are swamped – is to knock out the easiest pieces of the project. This can actually be pretty effective at the beginning.
The danger zone is the last 10% of the project. There's always something keeping you from getting to the finish line. Once the climb gets steep here at the end, you'll often start to lean towards easier paths. That usually feels like the next project.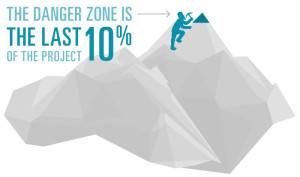 Before you know it, you've got 4 projects that are almost done, but not quite there. Results are starting to suffer and you're just this much shy of having anything new to roll-out.
Now, while there are probably dozens of ways to tackle time management issues (and a modified GTD is my personal favorite), is boils down to some very key pillars;
Everything you've got to deal with can fit in one of 3 buckets. The work that only you can finish (Mine), the work that you can delegate (Yours), and all those noisy distractions that aren't actually "doable", but they take up space in your head (Forget it).
If you can be honest with yourself, the Forget It bucket should probably be a lot bigger for you than it is right now. Take a good look at everything you deal with. There probably isn't a lot to "do" with most of it – that's to say, you can't ever cross it off as done.
Next should be "Yours". If you try to hold onto everything yourself, you'll end up drowning. Rely on those around you. Delegate and involve. Just be clear about outcomes and deadlines.
From here, your to-do list is actually probably pretty manageable you've got a new peace of mind in being able to get through it.
For Marketing teams that have to run lean, but still have big targets, having an Agency to delegate work to can be as much about time as performance. Being able to rely on a partner for specific channel and strategy help can win back hours for you. And it can make your list get smaller in a hurry. That's why it is so important to approach your Agency relationship as one of partnership. The confidence to delegate comes from trust. If you just have a marketing vendor working for you, chances are good you won't leverage them nearly as well as will a partner.
It can be as easy as turning to a partner to build a solid, holistic strategy. Digital strategy and planning is one of the areas we thrive in. It's something we love to do, and we know how valuable it can be for our partners to be able to rely on us to mark that as a completed project.
Take a look today at all the torches you are juggling. I'll bet you can share a lot of that and head into the weekend with a much quieter to-do list.
As someone still recovering from keeping way too much in the Mine bucket, this is near and dear to my heart. Feel free to connect with me at LinkedIn or on Twitter (@tim_kauffold). Maybe there's some things on your to-do list I can help move off.