Meet Dennis Caplinger: Our Small Business Guy With Big Ideas

Name:
Dennis Caplinger
Position:
Director of PointA, the small business division of Oneupweb.
What's your average day like at Oneupweb?
It's a blink. I get here, make a checklist and start knocking items off it. Mixed in, though, are some random lunch discussions and the daily stories from Gillian Cobb.
Tell us about a favorite client moment.
A client said yes to everything we presented, and our two-hour meeting was over in 30 minutes, so we hung out and drank beer for the rest of the time and just got to know each other better.
Tell us about a favorite Oneupweb moment in general.
So many so far. I have similar interests to several employees, from tech news to our love of the outdoors. Recent coworker stories I've enjoyed were about Elk Rapids' Townie the Turkey and the neighborhood guy who will take care of problems for a case of Labatt Blue.
What's your favorite blog, and why?
I read arstechnica.com daily. It has everything you need to know about technology, with no politics, sports or fluff pieces.
What makes Traverse City appealing?
It's not one thing – it's the culmination of all the little things: The small-town life with the mid-city amenities. The beautiful scenery, covered in either rain, snow or sun. The people that say hi and genuinely seem to care about their neighbors and community.
What do you really do at Oneupweb?
Judge people for their beverage choices and make exclamatory statements about things I feel strongly about.
What do you do when you're not at work?
Do maintenance on my log home and tinker on random projects, mechanical, electronic or otherwise.
If you were stuck on a desert island, what office tool would you bring, and how would you make your deadline?
Coffee, the greatest of office tools. A cup will let me enjoy the moment before I start working on building my remote office beach hut.
Years from now, what will stick out most about 2018?
My wife and I making a miniature human.
It's 5:30 p.m. – what's your cocktail of choice?
Beer or whiskey. No fruit, no frills. Right now, my favorites are Whistle Pig 10 Year Straight Rye with an ice cube, and my own beer, a chocolate coffee imperial stout I call Beerly Beloved.
What's the last song you intentionally listened to?
Ed Sheeran's "I See Fire." It gives me the goosebumps every time. "If this is to end in fire / then we should all burn together."
Favorite Spotify/Pandora station?
Morning Commute on Spotify
What do you carry in your purse/man-bag?
The murse, if you will, contains the following: knife, checkbook, tide pen, pen, mechanical pencil, stylus, dongle assortment, flash drives, leather-bound notebook (with an assortment of paper to draw, diagram or write in), and the MacBook Pro. Typically, there is also a Nalgene water bottle clipped to the strap with a carabiner.
What's your secret guilty pleasure?
I enjoy spacing out. A good TV show, movie or fantasy novel will let me escape from this world for a short time.
Favorite book/movie/album/TV show/etc.?
Book: "Towers of the Sunset" by L. E. Modesitt Jr.
Movie: "Star Wars"
Album: I am unsure of what an "album" is. Is that like a Spotify playlist?
TV Show: NCIS. Leroy Jethro Gibbs is my spirit animal.
Tell us something weird/unique/quirky about yourself.
I have the opposite of ADHD. I can hyper-focus on one thing. A gift and a curse, as I can't multi-task. Don't try to hold a conversation with me while I'm looking at a screen or reading. Also, I have only one speed: I move forward at a pleasant clip, also known as a mosey.
Describe yourself in 3 to 5 words.
Handy, bearded brewer and technophile.
What would you not be caught dead wearing?
A cardigan, skinny jeans, salmon-colored anything, flower prints. Just let me wear my Kuhl pants and a flannel.
What's one of life's simple pleasures?
Sitting with a beer and soaking in a beautiful view.
The internet is listening: Give us your words to live by.
You have a limited amount of shits you can give in life. Be selective about who and what you give them to.
For PointA inquiries, general dialogue, demagoguery or diatribe, talk to me here: dcaplinger@oneupweb.com.
Up Next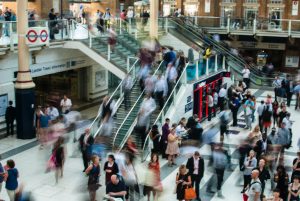 When you've worked in marketing for a couple of decades, you've surfed hundreds of waves of change in digital marketing. Through it all, these have been the top digital marketing FAQs we hear at Oneupweb. Cruise our answers to these marketing questions, and feel free to ask us something directly. Who should I be marketing...