What You Lose When You Choose a Drag and Drop Website
When an out-of-the-box website is best for your business: Never, really.
Written by: JD Antosiak, Web Developer at Oneupweb
With so many drag and drop website builders nowadays, the real meaning of being a web developer has gotten lost somewhere. There is a world of people who think they could simply make an award-winning site in their free time, with no designers and no experience. The problem with this mindset is we miss out on all the beauty and skills that come from hiring an experienced programmer.
The reason some consider going with a self-build is the overwhelming amount of "no experience needed" editors making people think it's the best route. For some small-budget businesses this may be true, but there are plenty of website development agencies that will build you a website to fit your budget and provide you with the support you won't get with free builders. At Oneupweb, we even created a small business division called Point A to help clients just like that.
So, Why Shouldn't I Use A Drag and Drop Website Builder?
If you want a good real-world example, think about this: You're planning your wedding and need a photographer. You can ask your friend to take photos on their iPhone or you can hire a professional photographer. What about when it comes time to paint your house? Sure, you can do it yourself, but can you deal with the stress that comes with managing such a large project? What about having to look at the obvious imperfections and unfortunate decisions that even skilled amateur painters leave behind?
So, What Exactly Makes a Professionally Developed Website Better?
Human developers can stay on top of industry trends daily, which allows them to adapt to new technology faster than drag and drop website software companies. Here at Oneupweb, developers and designers take a minimum of 30 minutes a day just to read. Thirty minutes to stay up to date with industry trends, new technologies, security issues, compatibility issues, user experience trends, user trends, user testing, frameworks, coding languages to learn, new plugins to consider and the list goes on. It's a field that moves fast. Good designers, good developers, and excellent IT staff are worth three times their weight in gold. If you're lucky enough to find one of these creatures in the wild, capture it for us, because we'd love to add them to our team.
Take a second to think about how many different screen sizes there are. How many different resolutions are there. Is it a tablet or a phone? Are we looking at it on a portrait or a landscape view? The number of things developers need to consider seems endless some days. Yes, AI and bots can account for a lot when you work with a drag and drop platform, but nothing beats the human factor in the website design process.
Being almost six years into the website development game, I wanted to take a look at some websites that I appreciate – all designed and developed by Oneupweb or professionals working at other agencies/design firms. Maybe I appreciate them more than the average person, but hopefully after reading why I appreciate them, you can too.
Examples of Sites Designed and Developed by the Staff at Oneupweb
To show what type of website you receive by working with a professional developer versus a drag and drop template builder, I want to take a moment to point out some beautiful sites, both that we have built and that I found out in the wild. Some are beautiful for the design they bring, and some are beautiful from a technical perspective. There's a magical thing that happens when a client can pour out their feelings about their company and a designer can turn that into something tangible that an experienced developer gets to bring to life. That's my day to day. I get to bring life to these inspirations.
Let's start with some sites designed and developed by the team here at Oneupweb. Fun Fact: Two of these sites we made with Gutenberg, which is a plugin that will eventually be the core of WordPress. It isn't even officially released yet, and we are using it as if it's been around forever.
Three of my favorite sites we've launched recently are full of color and make you feel good when using them.
Oryana
It had been awhile since Oryana updated their website. Faced with the fact that their site was missing key features, and had begun to look outdated, the team at Oryana decided it no longer presented them as a leader in TC for new ideas and positive change.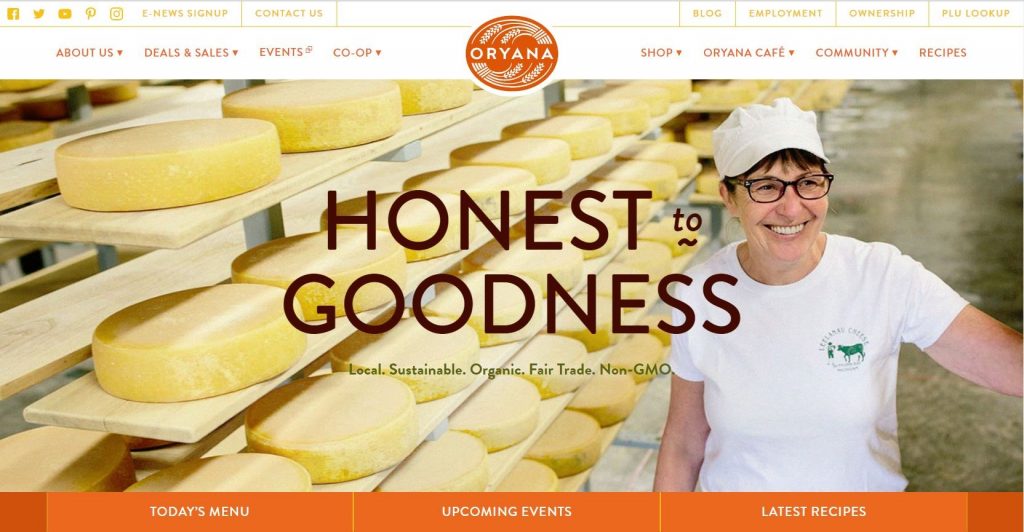 FEED
The FEED homepage redesign was an opportunity brought to us by a Chicago-based pediatric nutritionist who saw an opportunity and wanted to take her business in a new direction. In order to reach her newly found target audience, she recognized something had to change. We were able to create a beautiful parallax design that provided a better experience for her clients and helped her reach a new, larger audience.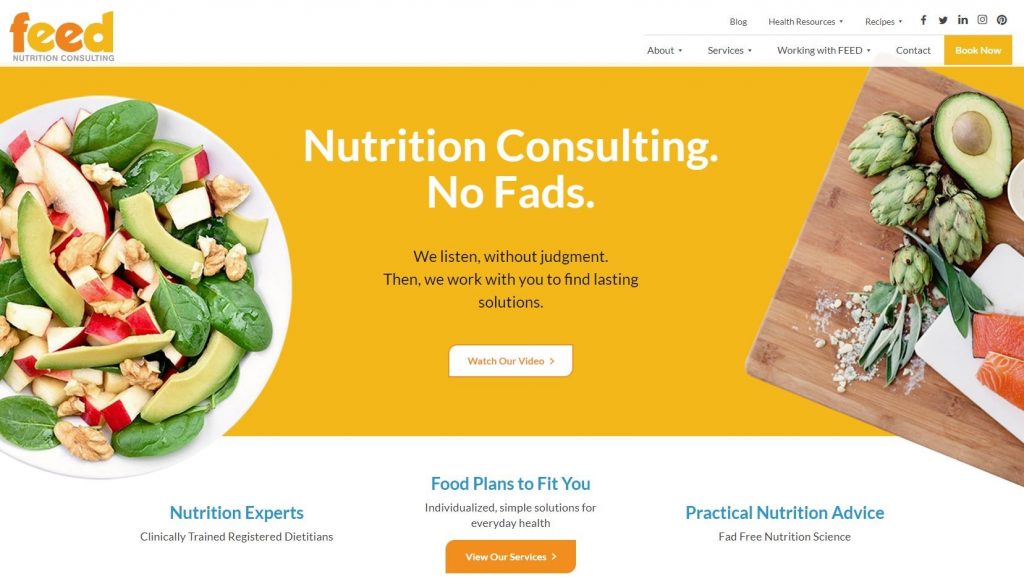 Sugar2Salt
Local breakfast restaurant Sugar2Salt enrolled the help of our small business division, Point A, to make something that represented them beautifully and answered their customers' most common questions. Their ultimate goal was to have a site that looked as good as their artisan breakfast plates and that freed them up to focus more on making delicious food rather than answering customer's questions over the phone.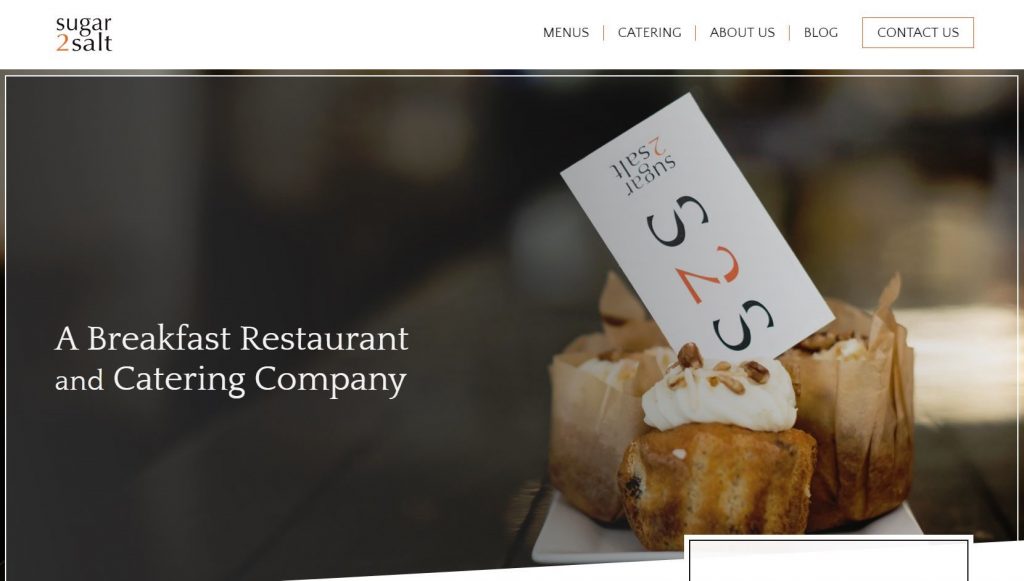 The International Kitchen
The last site I'd like to showcase from our portfolio is one we made for a culinary travel company. It is equal parts beautiful and technical.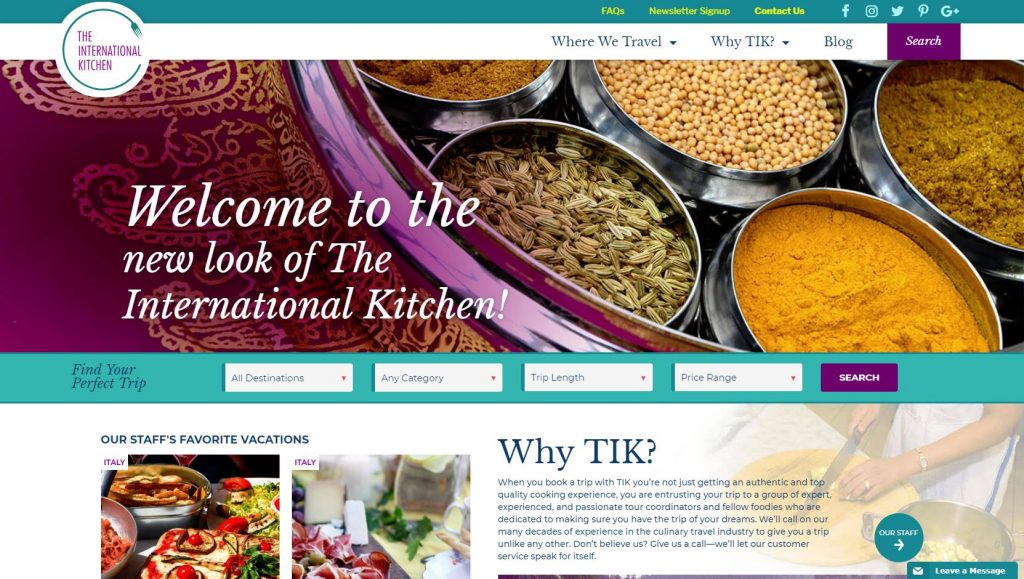 From a development perspective, the complexity involved in The International Kitchen site is through the roof, and the client got a product that screams high quality. The goal of their redesign was to give the user a modern experience – with an updated logo and color scheme and new vibrant imagery and copy that helped the user envision themselves on the international culinary adventure trip of their dreams. We also wanted the user to be able to access more information on the trip page, and offer easily digestible pieces – so we updated the user experience on the trip pages. Another objective was redesigning the checkout process and making it easier for users to convert.
Other Great Sites in the Wild
There are a couple other sites not developed by our team that I would like to mention for the sake of this conversation.
Belmond
This site is elegant in every way possible, which is perfect for this luxury hotel and elite adventure travel company. Notice how there is a good chunk of white space? White space is good; there is nothing wrong with white space. The images and movements of everything flow perfectly together. The team hit this out of the park.
Madeon
http://www.madeon.fr/adventuremachine/
On this website, the official homepage of French DJ Madeon, you get to play DJ and create your own beats. It's just a fun site. After you're done goofing around, think about the time spent making this page. What technologies had to come together to make it work properly. Think about the hours spent testing and beating heads against the desk to get every detail just right. Have you ever had someone say "pixel perfect," because I have.
Brndwgn
Lastly, there's a branding agency that has a site I've always adored. This version of it is their third facelift that I've known of, and I can't fully tell you why I love it so much:
It could be their name. It could be the use of the color pink but whatever it is, I can't get enough. Good design is hard to notice sometimes because it's just a natural flow. Your eyes are pleased, and you don't notice the hours spent designing it perfectly. However, if I moved something off-center you would notice it immediately. They have excellent use of videos and photography, the font they've used is great, and even the tone of the content matches the design.
Conclusion
With do-it-yourself web design software, almost anyone can throw together a site and get it on the web, but the perfection that comes from every detail can't be faked, dragged or dropped. Professional web design is what makes surfing the web so enjoyable. That's what happens when you bring on experts who get to spend every day doing things they love to do.
If you're ready for a professional to take the wheel, reach out to the team at Oneupweb. I can't wait to make your new website everything you dreamed of.