Facebook is Changing the World
Facebook's Founder & CEO Mark Zuckerberg delivered his anticipated keynote speech yesterday during the social media network's developer conference – F8.
The following is why I think Facebook is on its way to changing the world:
 Facebook has already changed the way we interact and communicate with people. With over 400 million registered Facebook users, chances are you, your mom, your sister, your uncle, your aunt, your friends from college, and your cousin – who you met only once about 15 years ago – are all on Facebook. And chances are, you are "friends" with all these people. Facebook allows you to make connections with these people when you otherwise couldn't – or wouldn't.
Zuckerberg introduced Facebook's Open Graph and Social Plugins yesterday during the F8 conference. This Open Graph protocol will change the way people interact not just with websites, but with brands and businesses entirely. Some of Facebook's partners launched these features on their websites yesterday: CNN, IMDB, Yelp, New York Times, ESPN, Levis, and Pandora – to name a few. Facebook's Open Graph and Social Plugins allow websites to integrate Facebook features with a user's existing social network.
View the example below from CNN (click image to enlarge):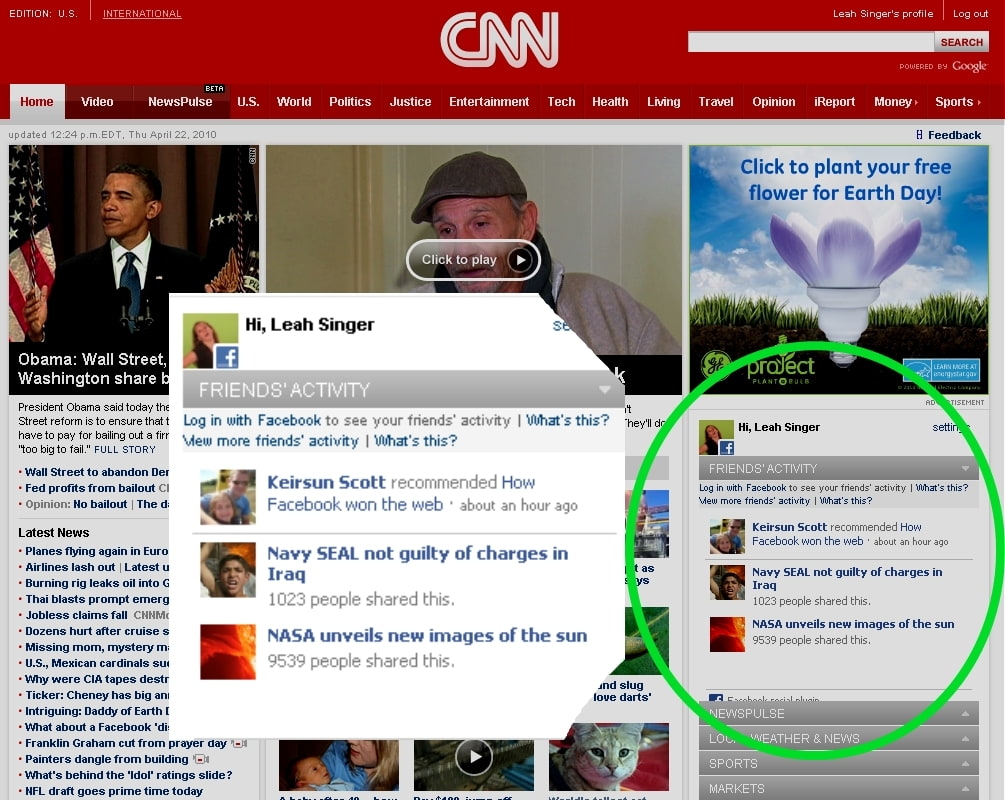 Under my "Friends' Activity" I can see what my friends recommend on CNN. As you can see, my colleague Keirsun recommended the CNN article 'How Facebook won the web.' This activity feed also includes a list of other CNN articles that Facebook users have shared.
And that is only one piece of the pie.
Facebook's various Social Plugins allow different types of websites to integrate the right plugins for their brand. For example: Like Button, Recommendations, Comments, and Live Stream are just a handful of the plugin options.
This Open Graph is essentially dissolving Facebook Connect, which accumulated 100 million users in a single year. With the Open Graph, that number will surely rise.
What do you think? Is Facebook changing the world in which we communicate? Will its Open Graph and Social Plugins change the way we function online? Please leave us a comment, we'd like to hear from you on these major announcements.