Facebook PPC: Frequency Capping Is Key
We've talked previously on StraightUpSearch about how Facebook's Pay Per Click advertising campaigns can integrate with existing digital marketing initiatives quite nicely. Steven discussed some of the ways to target a specific audience through Facebook back in October.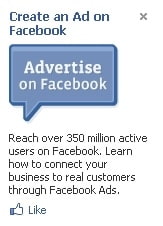 Once you've caught up and had the time think about all the unique targeting options that Facebook provides, you should start planning your ad messaging out for the next several weeks. Why? Think about your own perception of advertising. What types of advertising do you welcome and what types do you despise? For me, there's nothing worse than going to commercial break only to see the same commercial you've seen during every break for the past three months. You'll find the same concept to be true on Facebook. It's very important to make sure that your message remains fresh and helpful to the user. Since you'll be targeting and re-targeting the same audience, complacency in your message will quickly make your ad invisible to users. Here are a few reasons why:
1. Facebook's targeting abilities also make it easy to choose a specific niche audience. Depending on your budget, size of the audience, and audience usage, your ad may be seen by one person, multiple times per day. Scale this out over the course of a month and at the end, the user will be pretty tired of seeing your ad.
2. Facebook and other social channels are different in nature than search advertising. In search, users are seeking out a solution to a problem which classifies it as 'pull' advertising. Within social networks, users are served unsolicited offers which qualifies social PPC as 'push' advertising. This puts much more pressure on the ad to be creative, unique and compelling.
3. Users have the ability to vote down your ad. Facebook recently added the feature where users can choose to hide certain ads. If your ad message and offer become stale, there is a good chance that the user will choose to no longer have your ad served to them.
When planning out your ad messages, consider customers' buying behaviors, upcoming product launches and upcoming promotions. You may even consider creating an exclusive promotion for Facebook users once in a while.
No matter how you do it, make sure you keep your messaging fresh. If you don't, I can guarantee that you'll quickly see plummeting impression volume, click-through rates and conversion rates in no time.
And as always, it may be a good idea to consult a professional digital marketing agency like Oneupweb to help you get started!