CNN Highlights Facebook Profile Customization
I have this family member of mine who is really into the game applications on Facebook – Mafia Wars, FarmVille and Farm Town to be exact.
I'm thankful that she's on Facebook as we otherwise would not communicate as frequently as we do, however, I must say I'm not that interested in reading about her recent accomplishments in FarmVille in my News Feed.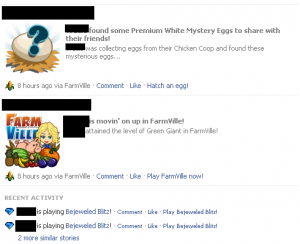 Furthermore, my 54-year-old mother recently joined Facebook to better keep in touch with me and my sister. I'm thrilled that she's able to see photos of the grandkids easier and communicate with us better, however, one thing I'm not interested in her hearing, or rather seeing, are photos from one of my girlfriend's bachelorette parties. Granted, it was pretty tame as far as bachelorette parties go (and it was years ago), but nonetheless, I'd rather mom didn't lay eyes on those.
Thankfully, CNN Tech has come to the rescue.
Recently, CNN reporter Doug Gross wrote an article, accompanied with a slide show, that can help people better customize their Facebook profiles, so they don't have to hear about their relative's score in Bejeweled or have their mothers never look at them the same way after she saw some bachelorette party photos from a few years back.