Free Dunkin' Donuts Donuts
Mmmmmm. Donuts.
Donuts are good. Free donuts are even better. And that's exactly what Dunkin' Donuts is doing this Friday, June 4th. OK, so they aren't exactly free, you have to buy a beverage, but still – buying a small coffee and getting a free donut in return sounds pretty damn good to me.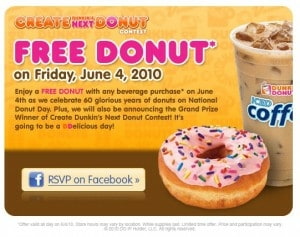 I bring this up because Dunkin' Donuts is really good at Facebook marketing.  If you haven't been to DD's Facebook Page, I suggest spending a few minutes reviewing its many custom Facebook tabs, one of which is regarding the free donut promotion.
To point out the obvious, Dunkin' Donuts is a huge multi-national business; it isn't your beloved mom and pop store just up the street from your apartment.  It's a well known name that could easily obtain thousands of fans without breaking a sweat. But DD doesn't have thousands of fans – it has nearly 1.5 million fans. And these fans are active. Just yesterday DD had nearly 50 Wall posts submitted by fans, and that doesn't include the multitude of "Likes" and comments made to all those posts either.
In order to keep DD's Wall semi-organized and user-friendly, the company issued a "DD Facebook Etiquette"  – below is an exerpt:
…when we see behavior threatening to the DD FB community or individuals within it, in accordance with Facebook's Terms of Service (http://www.facebook.com/terms.php), we will delete comments (hint: when in doubt, keep the profanity out!)
DD is trying to keep things rated G to PG-13ish on its Facebook Page. And I commend that. They are trying to protect their brand and their dedicated Facebook fans. If you have a complaint about Dunkin' Donuts, no problem, post it on its Facebook Wall. But it's probably not a good idea to lace it with profanities. DD will most likely delete it and your complaint will go unnoticed and unrectified.
If you are the director of marketing for a small business or the VP of Marketing for some major corporation, I suggest thinking about how Dunkin' Donuts has modeled its Facebook marketing. You don't have to give away free donuts (although it wouldn't hurt) but keeping your social media marketing fresh and worthwhile for your customers will keep you top of mind.