Friday Content Roundup: HoloLens, Plastique and More
Bringing together some of the fun/cool/interesting/weird stuff we found on the Internet this week.
Wait—is it seriously Friday already? What the hell happened this week?
We've been busy around the office and that's awesome. In the mix of that busyness, a few things circulated around the office and became topics of email and lunchroom conversation.
Let's start with PLAS+IQUE by Frank La Rant. I'm actually wearing a pair of Plastique pants right now.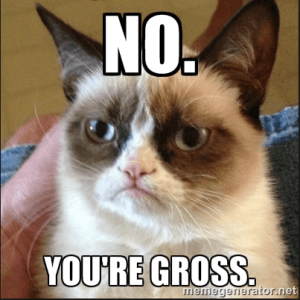 Easy there, Grumpy. But in seriousness, this came courtesy of Nicole Steffen. It's a great campaign by the Fruit of the Loom folk, specifically their agency partner Crispin + Porter. These guys went all out with the marketing push, creating an NYC billboard, commercials and even a Frank Le Rant LinkedIn profile.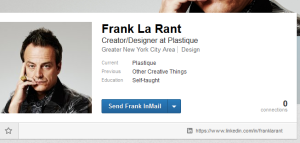 Next up, Rob VanderStelt is totally nerding out over Microsoft's HoloLens, and more than a few us are also drooling. I mean, come on—they put a hologram on top of a little robot and ran it through a virtual obstacle course.
Which brings up an obligatory meme asking a question of deep importance: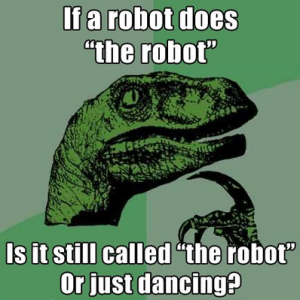 Take some time with that one. While you're puzzling it out, Jared Yaple was intrigued by Wired's The Risk & Fall of Silk Road, and for good reason. It's not only an incredible story (with drugs, murder and the black market of the Internet in the mix, how could it not be?) but it's also written extremely well (kudos, Joshuah Bearman!).
How about a couple examples of stuff I liked this week? I have two picks—Apple Juice and Wink Fun. Apply Juice is not only fun and playful, but the idea is so simple—dig it on many different levels.
As for Wink Fun, this site highlights fun and interesting toys—stuff from tabletop games like Pandemic (heralded by Nicole Emenhiser as a great way to relax and distress with your friends) to Kapla Blocks.
That's it from here for now, at least. We hope you enjoy your weekend (it's going to be beautiful in Traverse City) and come back next week for a fresh content round up.