Friday Content Roundup: Let's Be Real for a Second Here, Guys
This is the Friday content roundup, where we bring you a sample of the interesting/weird/goofy/fun stuff we found on the Internet this week.
Welcome back to Friday, people! But let me forewarn you—this week, things were a little more somber than in past roundups.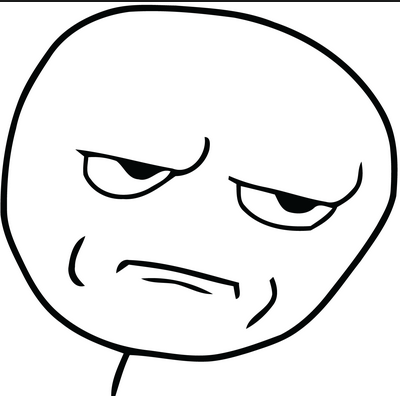 Maybe it's the weather. Maybe it's the time of day. Maybe it's an iron deficiency. I don't know. But in any event, it is what it is, right?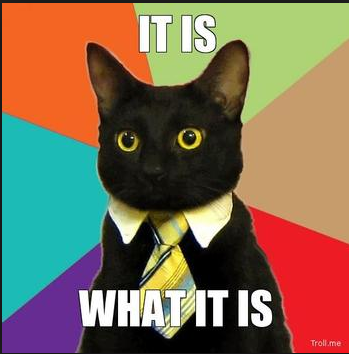 You tell them, Business Cat.
So let's get started:
Social What?
The greenest member of our Oneupweb team—Mr. Dan Hanson—shared Marketing Land's recent article: Everything Marketers Want to Know About Social Media Marketing But Are Too Afraid To Ask, because apparently many marketers are actually Andy from Parks and Recreation: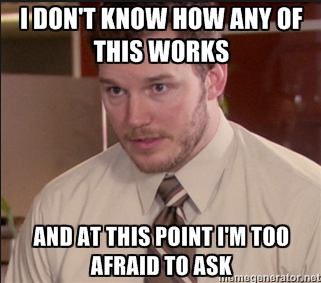 In all seriousness, this is a useful article courtesy of Sahil Jain, CEO of AdStage, who aggregated several questions asked by marketers at a recent social media event.
You can check the article out yourself, but it's more fun to gamify it a little bit before you do. I've selected five of the questions asked in the article—check them out and then take some time to answer them yourself. I've given you some tongue-securely-in-cheek answers, but seriously—try to answer them yourself.
1. What are the two social media platforms I should be on?
Too easy:
Friendster
AOL Instant Messenger (My handle is SnarkyMcSnarkSnark or LawManBoy).
 2. I am looking to build our profile and followers. Any suggestions?
Yes, actually: Be the cooler, smarter, more personable version of whoever you are right now. Then sit back and watch the dollars roll in.
3. I would love to use social media, but I'm worried about negative feedback. What's the best way to get around this?
Stop being such a [expletive deleted]. And see my answer to Question 2.
4. How do I get people to engage with something that isn't inherently "sexy"?
What are we talking about here, marketing something that lives in the back of a Volkswagen? I could go on about how it's about what's on the inside that counts, but come on. This conundrum is impossible to solve.
5. What do you see as the next big platform in social? What will it do differently?
I see the next big platform in social as this thing that aggregates all of our personal information, including payment information and voting information, into one account that we'll all be required to have and where literally everything we do will be 100% transparent—wait, that's the plot of Dave Eggers' The Circle. Never mind.
Twitter Who?
Keeping in the social media vein, self-described contrarian and Oneupweb account manager, Jared Yaple, brings us an interesting long-form read about Twitter: What Twitter Can Be.
So, what can it be?
Before delving into Twitter's potential, why not look at Twitter's biggest challenges. According to a recent article from the Wall Street Journal, indifference is this social network's biggest hurdle. Despite Twitter's apparent saturation, four out of five of us don't use it regularly.
Even The Atlantic's creating content around Twitter's troubles. In Derek Thompson's The Unbearable Lightness of Tweeting:
[B]y my calcuations here, Twitter is sending less than 2 percent of its overall engagement back to the web…In the last month, I've created nearly 2 million impressions for Twitter. Whether those are good for my Twitter persona and my pride is a qualitative question whose answer resides outside the bounds of an analytics dashboard. But it is quantitatively not a good deal for The Atlantic. Something I already suspected has now been made crystal clear: 99 percent of my work on Twitter belongs to Twitter.
Here, the malaise is of a different sort: users attempting to leverage Twitter to drive traffic back to their web properties (as opposed to keeping them on Twitter), find the network lacking.
Which brings me back to Jared's article—what can Twitter be?
Chris Sacca, the author of the article Jared shared, makes it clear that he doesn't work for Twitter and isn't a spokesperson for the network, but in his long form article, he sees the promise of this social network as long as Twitter can (and I'm quoting here):
Make Tweets effortless to enjoy
Make it easier for all to participate, and
Make each of us on Twitter feel heard and valuable
The article goes on in great detail about how Twitter can accomplish each of the above bullet points.
If Twitter happens to do that, "countless users new and old will find Twitter indispensable, use Twitter more, see great ads, buy lots of stuff, and make the company much more money along the way."
Doesn't seem so hard.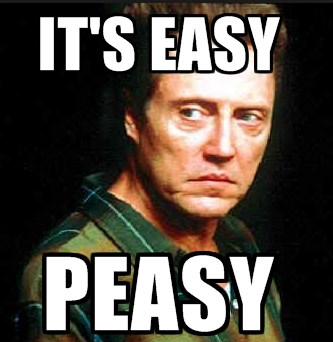 The Invincible Iron Fish
No, this is the not Iron Man's equivalent of Peter Porker, the Spectacular Spider-Ham, this particular iron fish is a reusable iron supplement that promises being able to fix iron deficiencies without the need for pills or doctors. It was shared by the always-health-conscious Sara Ariza.
According to the World Health Organization, iron deficiency is the most widespread nutritional disease in the world, affecting 2 billion people worldwide. The scary thing—it's both difficult to treat and detect, with symptoms like fatigue, exhaustion and loss of focus.
Lucky Iron Fish is out to help change that. They sell iron fishes (each made out of local recycled materials) and all you have to do is drop the fish into a pot of boiling water for ten minutes before cooking whatever it is you wanted to cook in said pot (typically it's soup). Doing so provides an entire family with up to 75% of their daily iron needs.
Check the company out here, and if you're so inclined, lend them some support—they're doing a good thing.
And Now For Something Completely Different: Salmon Slicers
Courtesy of Dave Waeltz, foodie and account manager: Finding the Perfect Slice.
We introduce you to Len Berk, an 85-year-old New Yorker who gave up 40 years' worth of being a CPA to spend time doing something he loves: slicing up lox (which is salt-cured salmon).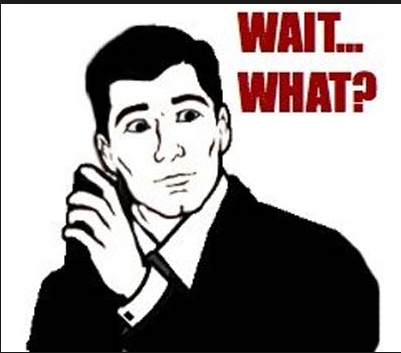 I admire Mr. Berk because I'm not sure I'd have the courage to do what he does (and I'm not talking about slicing salmon because I'm actually pretty decent in the kitchen). After reading the article, I asked myself if I could walk away from a decades-long career like his (having, of course, to imagine having a decades-long career). I don't know that I could, or would for that matter. Even after finding the equivalent to Berk's love for lox-slicing, if I'm honest I'd probably always consider it a hobby and treat it as such, mainly because I'd be too afraid of the unknown implications of walking away from everything and I'd constantly wonder if I was making a big mistake.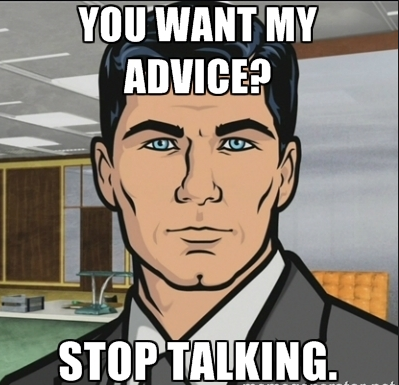 Okay. That Got a Little Heavy
Just in case those of you out there thought I was taking this blog post a little too seriously, here's a video of a bunch of goats running back and forth on a farm.
And that does it for me this week.
Until next time.
Previously, on content roundup:
Last Week: Buckets of Chicken and Golfing Revolutionaries
Week of May 22: Jerk Moves from Jerky Town
Week of May 15: OG Hamburglar Out on Parole and Dread Pirate Roberts
Week of May 8: Denim Day in Jerky Town
Week of May 1: Hololens, Plastique and Apple Juice