Friend Collectors
We're on the back side of October now, heading straight to Halloween. It seems that retailers have decided that Halloween marks the official start of the holiday season. The decor and gifts are showing up all around. Something odd about a ghoulish mask an aisle away from a laughing reindeer, but I digress…
One of the key activities during the holiday season is the holiday party. I think this year presents a great opportunity for us to look at the parallels between a holiday party and social networking—or more specifically, how we behave at each.
For simplicity sake, let's frame the discussion around Facebook and Twitter.
Imagine an office holiday party that you will attend as a date or guest. You'll mingle, you'll shake hands, you'll meet lots of folks. A few interesting tidbits will fly, you'll have a laugh or two, and you'll invariably have more than a few moments of, "what is wrong with that cat?".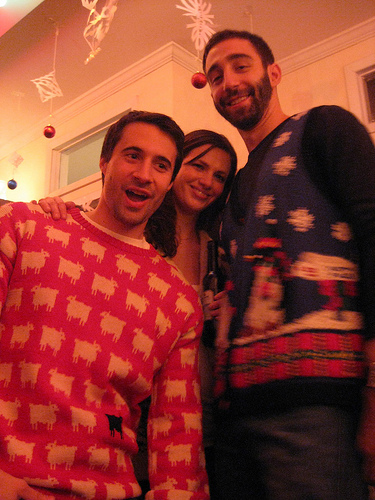 This party is a lot like Twitter or a Facebook Business Page. It's a nice place for small talk and chit chat. No one is particularly invested or looking for long-term friendship. Sure, it can happen, but it's not usually the expectation.
Now, jump ahead a couple of weeks and consider the follow-up from the party. Maybe you met a really interesting individual at the party. Someone who seemed to be a kindred spirit of sorts, so you'd like to look him up.
(I will now pause to clear my Internet conscience. The following is not an entirely original theory. I read something very similar months ago, but I have no idea now where that was. So my form of sharing is as follows: tip of the cap to the author, whoever you may be.)
Would you look to connect with this new friend by just showing up at the front door, knocking, and walking right in? Once you were in, would you look through all the photo albums, scope out the CDs and DVDs, and then just hit the road again without a word?
How is that different from the drive-by behaviors in Facebook and LinkedIn?
In all honesty, you'd probably be more likely to show up at that house and say, "Hi Dale, I'm Tim. We met at Spacely Sprockets holiday party. We were talking about widget dynamics when Evelyn tripped under the mistletoe and took a header into the cheese log. Good times! Anyway, wanted to keep up that talk about the widgets."
See what happened there? I told Dale who I was, how he knew me, and why I was knocking on the door. Chances are pretty good that ol' Dale is going to be a lot more eager to engage in a real conversation with me. In fact, I'd be pretty lucky to even get let in the house with the first approach. With the second, I'd probably be welcomed in for a few snacks and a great conversation.
As we all have more and more opportunity to reach out and connect, take a minute to think about how and why you're doing it. Don't make your network a stack of disposable contact cards. Really connect so you can contribute some real value.