From Soapbox to Zune, Creativity is Overrated
The advances that technology has made in just the last few years are astonishing. From receiving a personalized monthly diagnostic e-mail from your car, to reading about a military coup as it is occurring, there seems to be almost no limits to where creativity and technology can take us.
Unfortunately, instead of taking this "The Sky's the Limit" approach to technology, many companies are deciding to go the way of the Lemming.
The perfect example of this "follow the success" mentality is Microsoft. If we look at what Microsoft has been working on, we find the Zune, an iPod rip-off, Soapbox, a spiffed up version of YouTube, and their newest venture to bring Microsoft Works online, a blatant attempt to compete with Google Spreadsheets and Writely.
Although this wait and react approach to marketing and product development will undoubtedly result in profits for Microsoft, the end result is a market diluted with a handful of similar products with few or no discernable differences or added benefits to users.
So, let's all forget about creativity and just see how many versions of the same product we can produce.
On a side note, I will be reprinting this article again next month, but this time I will make the text blue.
Up Next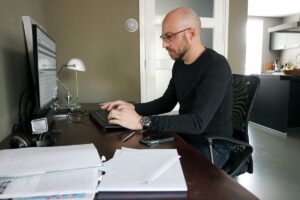 Blogs are an incredible tool for building brand awareness and even driving sales. The best way to get long-term benefits from your business's blog posts is to prioritize SEO and thorough topic planning. Here are the basics and the detailed logistics to know.   The Basics 1. Choose effective topics. Successful content marketing requires creating...