Get Your Popcorn Ready! Twitter & Football
It's no big surprise around the Oneupweb office that I'm quite partial to the game of football. As my daily lunchtime game conversations and Detroit Lions mouse pad, apparel and truck decal (yeah, I know) can attest, I am a full fledged football fanatic.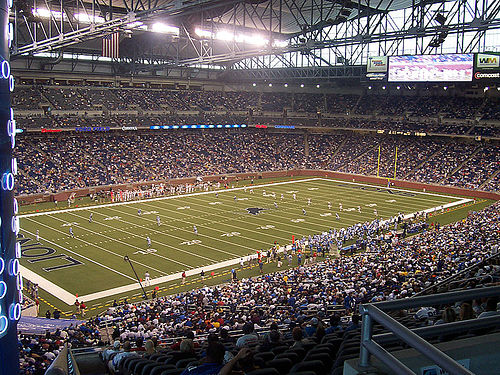 Now that both the college and professional seasons are in full swing, I'm watching a lot of games. Besides the usual pre-game predictions and in-game analysis, I'm seeing something different being used on the gridiron this season: Twitter.
By now everyone should be fully aware of Twitter's rapid growth around the world and its infiltration into our daily lives. But football? Really?
It's only two weeks into the season and I think I've seen Twitter used by almost every network that broadcasts games. Whether it's on-screen graphics showing the latest Tweets from college coaches describing the pre-game excitement of their teams, NFL players wishing their alma maters good luck on upcoming contests, or reporters using the personal Twitter accounts of players and coaches to acquire breaking news, Twitter is now enjoying widespread use in the world of college and professional football.
Actually, it makes perfect sense. What better way for broadcasters and sports analysts to find and spread the latest news than the real-time environment Twitter provides?
Social media has already been adopted in other news outlets, so why not the wide world of sports? Of course, certain limitations are always necessary so the system is not abused, but I'm not talking about players tweeting from the sideline. I'm talking about broadcasters using Twitter as a means of informing their audience by providing information that is useful (such as fantasy updates) or at the very least, entertaining.
While it still seems a little strange to me that a violent game such as football is now using things called "Tweets," it's starting to grow on me. I think football broadcasters have, to at least some degree, hit the nail on the head with their use of Twitter. They've identified their audience, what that audience is looking for, and used Twitter accordingly.
Businesses who are not using Twitter know they should be, and can learn something from its use in the football world. It's not as simple as just using this handy social media tool, it's about using it correctly to reach your audience and provide them with the information or services they're looking for. We can help you do that at Oneupweb.
Game on.