Getting Spreadsheety – 7 Tips for Better Market Research
I really know how to shut down a party sometimes—and not in the 3am dancing on the tables kind of way. Often, when asked what it is I do, I can cause the eyes of the polite asker to glaze over.
"I design and deploy research instruments for the sake of gathering meaningful information for businesses. I do competitor analysis, brand research, user and customer experience research…" and the poor soul is lost in what my wife likes to refer to as "spreadsheety land."
1 in 10 of these conversations, however, rockets into excited chatter about their unique business challenges and ways they can mine useful information to guide marketing and brand strategies. The truth of the matter is – you are probably sitting on a goldmine of untapped information about your customers, hot leads and prospective customers.  And if you can ask the right questions and look in the right places, you can have yourself a cracker-jack DIY research portfolio.
In spreadsheety-ville, my researcher peers and I share our stories from battle. Often the research we propose is the first component to be cut from a campaign if the client is limited by budget.  We are often caught making the uphill case that research is crucial for any digital campaign—it should be the first thing you have in hand before spending those limited marketing dollars. Fact: The marketing world we live in now must be guided by meaningful data – and the insights that come from this information. If you think you know your customer, but don't have the data to back it up. It's all guesswork.
Do you know why they choose you over your competitors?  Or the other way around?  How did they find you in the first place?  Who are your most lucrative customers? Who are your word of mouth brand advocates? How can you leverage all of this to guide marketing strategy?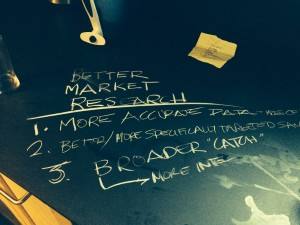 Here are 7 tips for better market research:
Know ahead of time what insights you are looking to gain from your survey.  Crafting a meaningful survey instrument is going to be your biggest challenge here. Resist the urge to ask about everything.  Ask the most relevant questions and keep it under 25 questions.
Keep them interested – Don't ask dull questions; don't frontload demographic data at the outset. Use their language and stay away from marketing speak. Make sure to them something fun about themselves.
To the interweb!! The internet has been a real leveler in the market research space; it allows the seasoned marketer to take up the research mantle ourselves even when budgets are nonexistent. Look at what your competitors are doing and saying online. Find your customers and brand advocates on your social media channels. Look at the conversations your competitors are having in their social media channels.  You would be surprised at what you can learn by listening to this online chatter.
Start digging into your existing data – Can you segment your contacts by title and industry? Start there. Look at purchase behaviors segmented by product line, frequency of purchase. Who are your super customers? Isolate these segments and look for other commonalities. Mine your CRM database, customer feedback surveys, or get on the phone and call someone – You'd be surprised at how easy it can be to get a new customer or a longtime customer to speak to you about their experience of your brand or company.
Host an online survey – Typeform, Surveymonkey and Google Forms are two of many free platforms that allow you to create and deploy your own survey with ease. Use social media and existing email lists to push the survey out.  Think about the best time to reach this audience and plan your push around times that the majority of your users are online. Since you are doing this on the cheap, you probably don't have budget allotted to incentivize people to respond. Think about unique offers that you can make—is it giving them a free piece of collateral, for example? Regardless, those who choose to respond are giving of their time to provide your company with free research. Make sure to give them something to buy into.
Reassure respondents—Always  assure users of the confidential nature of the data collection. Let them know that you will being using this information to improve the overall customer experience and performance of your product or service offering and that you will not share their data with any third party.
Try to stay objective in your collection—It is a difficult proposition to examine closely the people that you spend your days marketing to.  Sometimes it's just better to bring in an outsider professional, who can the look at the whole of your marketing operation, put fresh eyes on your existing data and discover new insights that will drive your customers and prospects closer to your brand.
What are your market research challenges? I am always looking for the 10% of you to get spreadsheety with about your marketing strategy.