Google Event Success
After all the excitement surrounding the Google event last night, it was here and gone in the blink of an eye. But with over 50 in attendance, what a success it was!
Google approached us a couple months ago to co-host an event with them called "Let's Put Traverse City on the Map." The goal of the program was to help business owners and managers get their business online with Google My Business and Google+. We jumped at the opportunity, not only to work with Google, but because we feel so strongly about local Traverse City businesses being represented and active online.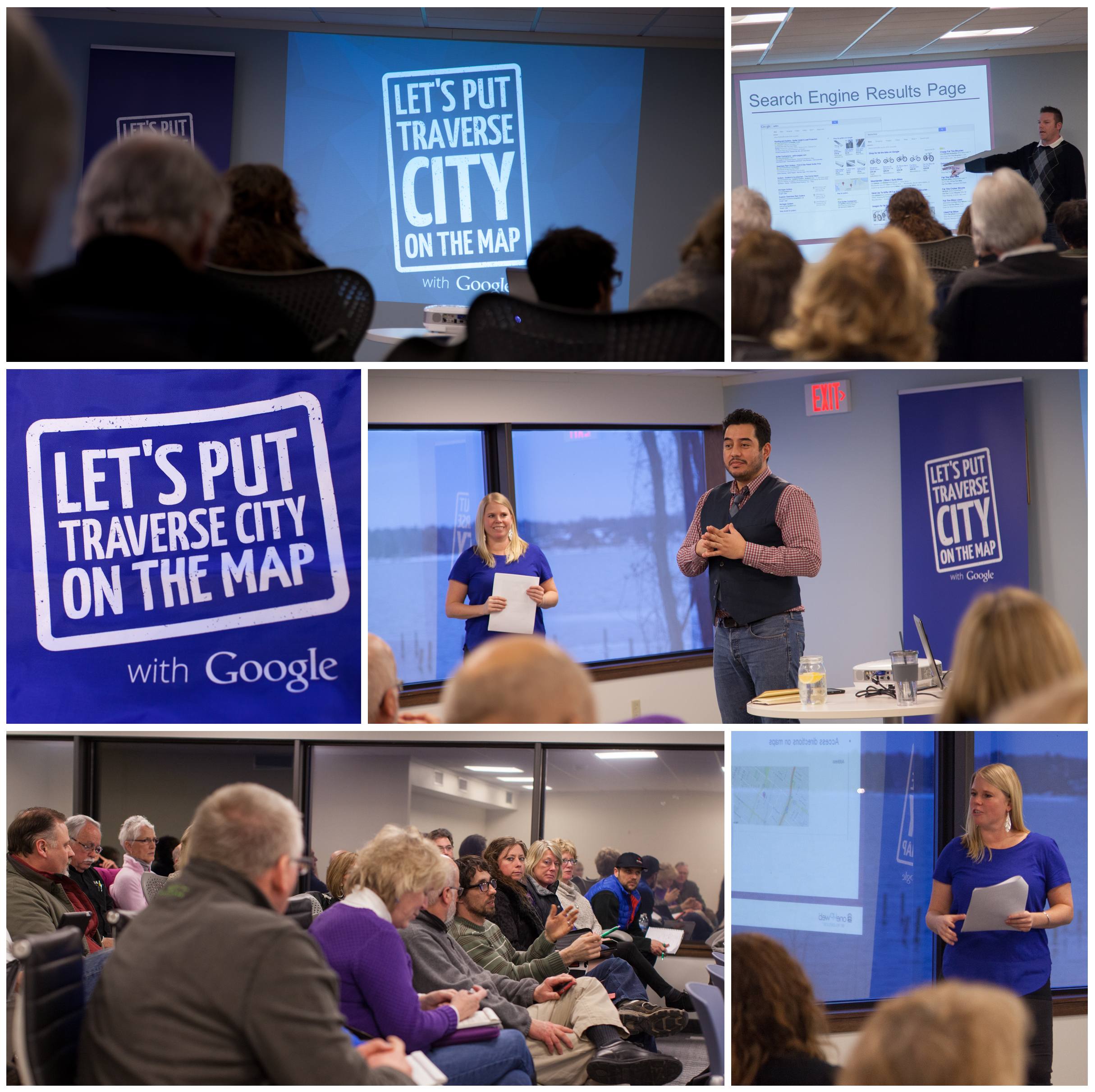 What is Google My Business?
Google My Business is the fast and easy way for businesses, products, brands, artists, and organizations to manage their online presence. Through a dashboard, business owners can provide information about their business, including hours, contact information, and other data that will make it easier for customers to find crucial information about them in a Google search. Google is targeting this free service to local businesses eager to reach out to the many customers seeking information online, though businesses with regional or national audiences have access to the platform as well.
The end result is that a business' information displays in Google search results, on Google Maps, and on Google+. Google My Business members will also be able to respond to reviews posted on Google+ directly from their dashboards, keeping everything in one place.
Google+ Page Integration
By setting up your Google My Business presence, you'll automatically generate a Google+ page, which is great for reinforcing Google optimization of a business' online presence. This is beneficial because Google+ pages themselves are also commonly displayed highly in Google search results, meaning more online visibility and website traffic for businesses.
Game Time
When starting to promote the workshop, we really didn't know what to expect, but we filled up fast with over 50 people registering and 55 attending the event. There was a wide range of business owners and managers here, with companies ranging from banks and schools to wineries and bike shops. It was fabulous to see the range of industries and the interest people had in growing their businesses.
It Pays to Play with Google
Google My Business offers business owners easier, more convenient business information integration in Google search results. Because the service helps companies appear more often in Google search results, participation provides a competitive advantage.
How has setting up your Google My Business account helped to grow your business?