Google Hot on the Heels of Bing Twitter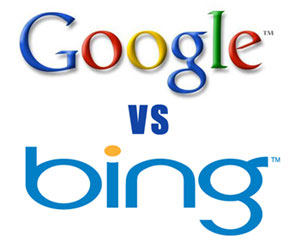 Shortly after Bing revealed its new Twitter search engine, which fully integrates tweets into Bing search results and incorporates Facebook data as well, Google's Marissa Mayer announced that they will be launching a new Google product called Social Search.
Not only does this announcement follow right behind Bing's announcement, but it also (interestingly enough) falls right in line with an additional announcement of a recent Google/Twitter deal. At this time, the two have not really been linked, but the deal couldn't hurt, right?
While there are still very limited details available, Marissa Mayer's Web 2.0 Summit announcement did include a few tasty morsels. Google's new Social Search will be launching in Google Labs over the next few weeks with a plan to integrate results from people in your social network. This will function primarily using your Google profile, where you will fill out the social networks that you are a member of, like FriendFeed. Google will then (I'm assuming) scan who you are connected to and return results based on those people. A key ingredient in this process is local information and image searches, according to Mayer as reported on TechCrunch. This would also hold true for Twitter as Mayer also mentioned that tweets would be integrated into regular results as well.
So am I going to run right out and sign up for a Google profile so that I can see results from my tweeple and socially savvy friends? Unfortunately not. Mainly because my "friends" typically post about how cute their dogs are or how the weather is really crappy today—not exactly the most useful information.
However, if you connect to other people outside your social circle, like journalists for example, this product could be more useful, as searching for journalism related queries will not only bring back posts and comments but "regular" related results as well.
In the past, some people in the industry have debated over whether or not search results could potentially be influenced by people and friends in general. Do I think my friends are going to take search results by storm? Not really (no offense guys), but I do think that it will be interesting to see just how these search results will become integrated and what the impact will be.
As for more specific details on how the product works, what impacts it will have, how it will be integrated, etc… I apologize, but things are still pretty fresh off the press right now. I speculate either way that this product will be pretty neat, and that the integration of Twitter, Facebook and other social networks is inevitable—especially since it is already happening.
What do you think? Would having tweets and real-time posts show up in your search results be helpful, or a chaotic mess of cute puppy posts and irrelevant agendas?
Stay tuned to StraightUpSearch.com for more details as they become available!