Google Search Console Improves Search Queries Data
Back in October of 2013, Oneupweb Brand Manager Marta Turnbull authored a blog post detailing Google's plan to expand "not provided" search term data and thus withhold keyword data from Google Analytics and other reporting systems. In that post, she also discussed how future improvements to Google Search Console (Formally Google Webmaster Tools) would make it a go to resource for gathering keyword specific data and identifying actionable search insights.
On January 7th, 2014 Google used these words to announce the update:
To help jump-start your year and make metrics for your site more actionable, we've updated one of the most popular features in Search Console: data in the search queries feature will no longer be rounded / bucketed. This change will become visible over the next few days.
This update improves the accuracy of the search queries data, allowing digital marketers and webmasters to get a better sense of how users are finding their website and when users are clicking through to their site. With this expanded data in your arsenal, it's easier to identify content that needs to be added or improved on your site to grow your revenue.
For example, if you notice that you are consistently receiving a low amount of clicks for your target keywords; it's time for you to reconsider your current content marketing strategy.
In addition, this update makes the search queries data more cohesive for webmasters who manage a mobile site (e.g. m.example.com) on a separate URL from desktop (e.g. www.example.com). By utilizing the Mobile Filter in the Search Queries section of Google Search Console, you can now access data pertaining to:
• Queries where your mobile site (e.g. m.example.com) appeared in search results for mobile browsers
• Queries where Google applied a Skip Redirect. Skip Redirects refer to instances when a user is redirected to the corresponding mobile page, despite the desktop URL (e.g. www.example.com) being shown in the results.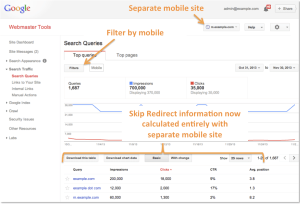 Google released the following statement regarding the update's impact on Skip Redirects:
Prior to this Search Queries improvement, Search Console reported Skip Redirect impressions with the desktop URL. Now we've consolidated information when Skip Redirect is triggered, so that impressions, clicks, and CTR are calculated solely with the verified m.site, making your mobile statistics more understandable.
As we inch ever closer to a world with 100% "not provided" search term data, it's refreshing to see Google taking steps to improve the data we do have access to, making it more reliable and actionable.