Google Office 2.0
How do you tap into Microsoft's $12 billion/year Office application revenue stream? If you're Google, give it away for free of course.
Google recently announced the beta release of Google Apps for Domains.
Google Apps for Domains is mainly targeted towards small to mid sized businesses, offering Gmail, Instant Messenger Chat, Shared Calendars, and a simple web page creator application.
What does this mean for businesses? It's Google's way of attempting to convince millions of Microsoft Exchange and Messenger clients to move over to Google's free applications.
Rumor has it that Google also plans on adding Google Spreadsheet and the recently acquired Writely to the overall offerings.
From an IT standpoint, this is a substantial shift in thinking. No servers to house or maintain? No Windows Exchange problems?
From a monetary standpoint, this could be a huge savings for any small to mid sized business. While you can import/export spreadsheets and text documents with these services directly to and from Google's online servers, Google is hoping that the next trend will be online creation of documents.
Naturally, all this comes with controversy. Nothing is truly free after all.
How will Google monetize all these free offerings? Every time you send office documents, Google will prompt you to open documents in Google's new suite, allowing for collaboration and, presumably, making money from advertising.
And there's the privacy controversy, as with all Google products. Before you sign up, you may want to carefully read the disclosure.
Up Next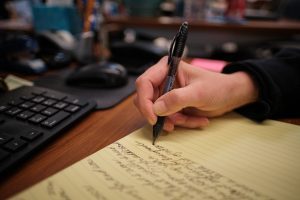 As content creators, we're continuously building content (for our agency and for our clients) to best meet the needs of potential and existing customers. While meeting those needs is important to us, the ultimate goal of content creation is always to drive leads and sales. Gated content is a valuable part of many marketing strategies,...