Oneupweb : Hey Tweetie, You're Looking Good
The honeymoon is over; Twitter has decided to undergo a little plastic surgery with a few nips and tucks. With numbers increasing daily, everyone has dipped their hands in this social channel. Even those folks who thought that tweets were found in the local bakery are now surprised to learn that it's not as intimidating as they once thought. In fact, last month Twitter decided to hop on the Google Instant bandwagon and offer a "Who to Follow" feature, which automatically suggests people you are not currently following (folks who you might find interesting to know). There are people out there that have similar interests, occupations and hobbies as you. And this feature helps you find them, talk to them and eventually visit them in the real world, instead of in the virtual environment. You never know who will be knocking on your door at 2 a.m., so be selective.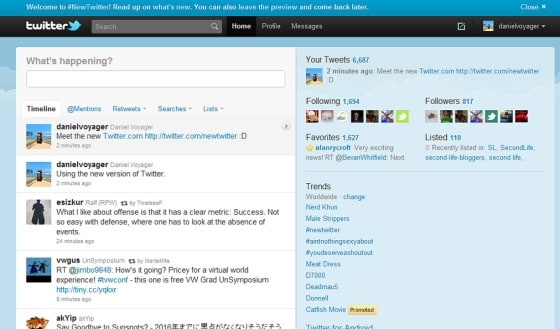 We now live in a world where if you are not instant, you are boring. Like any dinner party, Twitter knows we like to name drop. And like any dinner party, you have to look good. Well, Twitter is all about that, in fact this week they rolled out a full redesign of their website known as The New Twitter. This redesign will provide users with an easier, faster and richer experience when using Twitter. With a mini profile view and even a new bird, eventually everyone will have an updated version of Twitter at their fingertips. Even our social marketing department wrote a blog about this new feature of Twitter. Be sure to check it out!
And for those of you, who feel that Twitter is character heavy, check out Flutter. It's not new, it's not easy, but it will certainly make you smile. Before you know it, you'll want to "flutterize" too.