Holiday Cards: Make a Statement This Year
The holiday season is fast approaching, and that means the Oneupweb design team has been hard at work thinking about what we could give our clients and friends. Last year we designed a cookbook called One for the Road which turned out to be quite the hit. This year our tune has changed some and we want to share something a bit different with our clients and friends. It's something thoughtful, fun, and very simple—but I can't tell you because that would ruin the surprise. So you're just going to have to wait until it arrives.
However, while we were hard at work thinking of some amazing holiday ideas, we started thinking about holiday greeting cards. A company greeting card may not be the same as a diamond ring or a brand new car, but it may well help put your name to the top of your clients' "friendly and awesome businesses" list. It could also have a profound impact on your prospects, among others.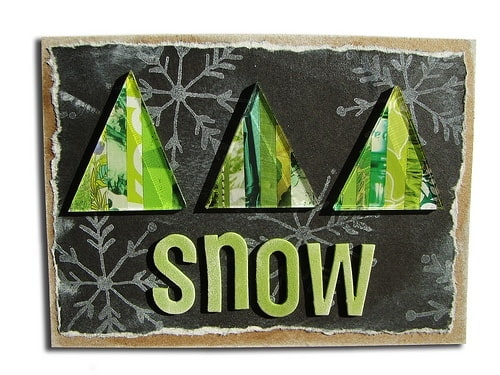 So how do you design a greeting card that makes people stop and say "wow", like the one shown above? First, it must stand out from all the ordinary company greeting cards. You know, the ones with the typical living room decked out in the vintage holiday fashions such as an iced over window and popcorn strung all over the tree, people ice-skating on a pond, or birds in a tree. Rather, a well designed greeting card will be personal and will send a unique message that gives your customers an idea of who and what your business is all about.
In other words, give your holiday card some personality. Whether it's a silly bold statement, a joke (make sure it's appropriate), a cool custom illustration made by someone in the company, or even a funny photograph of your employees at a holiday party—giving your greeting card some personality will show you care enough to really make a statement. It also shows that you care about the details. And speaking of details, don't forget to include your logo, phone number and web address.
Many companies don't put the effort into sending out a holiday greeting card or holiday gift, but they should. You're missing out if you're not taking advantage of such a simple gesture. Holiday greeting cards give you the chance to say something about your company, who you are, and what you believe in. Make a statement this holiday season and differentiate yourself from the crowd. Design a business card that sets you apart, brings light to your company, enhances your current business relationships, shows your appreciation of supportive clients, attracts new customers, and reminds old clients that your still alive and kicking (with style).
Of course, if you need any help, Oneupweb is here.