How To Make How-to Content Convert
A man who was not young told me that Millennials have to be the dumbest generation ever because they never recall anything from memory. Instead, they just pick up their phone and find the answer. While this theory certainly makes a great bar room debate, part of the claim is indisputable:
Millennials use their phones for informational searches all the time.
Just the other day I was out for lunch. The conversation steered toward Burt Reynolds. And before you knew it, we were all sitting around trying to think of the name of the sheriff in Smokey and the Bandit. My first instinct was to pull out my iPhone, but I resisted. The name was on the tip of my tongue. My buddy wasn't as disciplined and reached for his pocket.
As I racked my brain he pushed a button and asked Siri, "What's the name of the sheriff in Smokey and the Bandit?" Siri had to think about it for a second and then returned a Wikipedia page that clearly showed the answer:
Ahhh! How could I forget that!? Anyway, the point of this story is to illustrate a trend in search behavior. According to Google, "searches related to 'how to' on YouTube are growing 70% year over year, and more than 100M hours of how-to content have been watched in North America so far this year." In addition, 67% of millennials believe they can find a YouTube video on anything they want to learn. And then this…
Providing the right content (the answers or instructions) can result in a healthy dose of traffic to your company's blog or website. But we know these searches are informational. They aren't navigational and they definitely aren't transactional. Users seeking information are at the very top of the sales funnel. Some marketers may argue they aren't in the funnel at all. I disagree.
Here's how to make your how-to content convert
For this example, I'd like to let Google autocomplete provide a topic. It appears there are many people trying learn how to change… a diaper. I can only imagine this situation. What a mess. Their next query might be "how to sanitize my iPhone."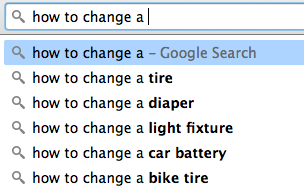 So, let's say I am an organic baby diaper company. I realize there are a lot of new parents (or aunts or uncles) who have no idea how to change a diaper. In order to get my brand in front of these potential customers I create a page with step-by-step instructions and a very sharp instructional video. Three months pass and the video is blowing up. There are loads of video views and tons of sessions. The only problem is that users are leaving the page after they learn all they need to learn. Sure, brand awareness is great and all, but I want to sell some stinkin' diapers!
Added Value
How-to content provides an opportunity to creatively promote your own product or service. The key word is creative. A blatant sales pitch may turn some users away. Therefore, use your products in the demo. Display a watermark of your logo in the bottom corner. And say something about your product that can make the task at hand easier. For example, our organic diapers have bright green sticky tabs so you can quickly identify which side is up and which side is down —- even in a dark nursery!
Calls to Action
This is the most obvious piece to the puzzle. Does the content have a call to action? You'd be surprised how much of a difference a call to action can have. Make sure it's clear, make sure it offers something of value and make sure it's highly visible. If a certain piece of content has an above average bounce rate, one of the first places I look is the call to action. For this example, I may try a button that looks like a diaper with the words, "Show me easy-to-change diapers." It's clear, it pops and it piques the reader's curiosity.
YouTube Annotations
A good portion of your viewers may not be watching the video on your landing page. They may be watching the video on YouTube. Basic YouTube optimization tells us to include a link in the video description. But don't underestimate the power of YouTube annotations. Having a well-crafted call to action pop up at just the right time can be highly effective. Strike while the user is in a state of "so that's how it works."
Secondary Conversions
Yes, you want to sell diapers. Follow these tips and your chances will increase, but it's still a pretty hard sell. Consider other ways nurture the lead. See if you can get him or her to sign up for your newsletter or follow you on social media. These are great ways to keep your brand relevant until the user is ready to buy. Annotations, on-page text, buttons and even popups are all effective ways to promote a secondary conversion. Because if they aren't going to buy, at least see if they want to keep in touch.
These are just a few ways to optimize your how-to content. If you have any other tips, please share them in the comments below. And if you'd like to see how Oneupweb can turn your informational or instructional content into sales, let's talk! And if you're the owner of an organic diaper company, click on Buford T. Justice below…