How to Use Twitter Quick Promote
Interested in advertising with Twitter but feeling a bit overwhelmed? If so, I've got good news. Twitter recently launched Quick Promote, a simple-to-use ad buying shortcut for both desktop and mobile.
As described by Twitter, the feature allows advertisers to quickly promote a tweet, bypassing the traditional Twitter ad dashboard on desktop and Android devices (with an iOS version coming soon). As a recent Twitter survey revealed, users who see a relevant Promoted Tweet are 32% more likely to visit that business. That's why I believe this is a great opportunity.
How Does It Work?
Using Quick Promote is simple. Promoted tweets are created within a user's timeline, or by using the Twitter Ads campaign dashboard.
The first step is selecting a tweet to promote. Choose your tweet, click/tap on "View Tweet Activity," and then click/tap on "Promote this Tweet." As a pro tip, choose a tweet that has already performed well.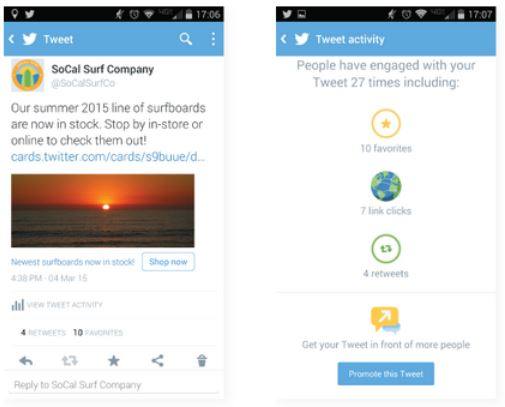 Once a tweet is selected for Quick Promote, you must then select an initial budget. Moving forward you can change the bid at any time from the ads dashboard, but this isn't necessary. Finally, launch your campaign and view real-time results by either clicking the "View Activity" icon found on all promoted tweets, or directly on the tweet's detail sheet in your Twitter Ads campaign dashboard.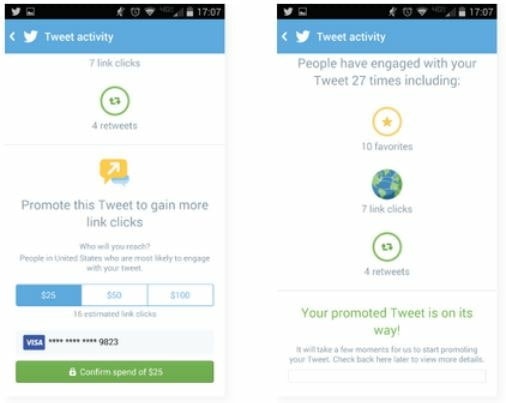 Who Will See Your Tweet?
Your newly promoted tweet will be seen by users similar to those currently following you on Twitter, and other Twitter users likely to be interested in topics mentioned in the tweet. Modified geotargeting is also available through the Twitter Ads campaign dashboard, if you want to further refine the campaign.
Why Should You Use Twitter Quick Promote?
Great question! Now that the Twitter sales pitch is over, let's get down to the brass tacks. Here are four reasons why I feel you should consider using Twitter Quick Promote.
1. Extended Reach
Simply put, Twitter Quick Promote gives your business the opportunity to extend the reach of your best-performing tweets. You already know which tweets have performed well. Now you have an easy pathway to promoting those tweets.
2. Increased Interaction and Engagement
There is a clear opportunity to increase interaction and engagement with a wider range of Twitter users. Choose a tweet that has already provoked engagement with your current list of followers and promote it to those that are interested in your industry.
3. A Quick and Easy Opportunity
One of the greatest benefits of Twitter Quick Promote is that it gives your business a quick, hassle-free way to promote tweets without having to commit extra time to campaign management. This is perfect for testing Twitter's advertising options and for growing your brand at the same time.
4. Discover Which Tweets Resonate
Finally, a Quick Promote campaign will give you direct results, allowing you to make performance-based decisions about whether or not to launch more goal-based campaigns. This will help ensure your Twitter advertising dollars are spent wisely and effectively.
What's Your Next Step?
Your next step is as simple as choosing a tweet you want to promote, setting a budget, launching a campaign, and reviewing performance.
The results will be a great low-cost opportunity for you to test advertising with Twitter, extend your brand reach, gain interaction and engagement, and decide whether or not launching a broader campaign makes sense for your business.
If you have any questions, or would like help with a campaign, send me an email at jyaple@oneupweb.com